Budget
Senate lawmakers approve 'historic' state budget, raft of constitutional amendments
The measures were approved after extensive debate in the legislature's upper chamber.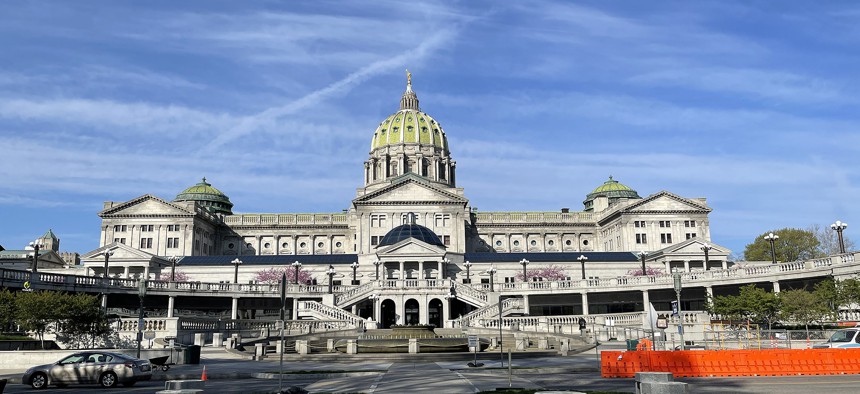 The Pennsylvania Senate kept things interesting right up until the very end of their scheduled July session days.
With the prospects of a state budget deal looking slim just 24 hours earlier, and after impassioned late night debate on a series of hot-button constitutional amendments, lawmakers on Friday sent a state budget package to Gov. Tom Wolf's desk, while also setting in motion the potential for a series of major ballot questions for voters to decide on next year.

With a bipartisan vote Friday morning, the Senate approved a $45.2 billion spending package, sending it to Wolf for his signature. The budget agreement was approved by the state House a day prior, and would usher in increases to education funding, drastically cut the state's corporate tax rate and put away money in the state's emergency budget reserves. 
Democrats and Republicans alike framed the budget package as a historic feat that invests in Pennsylvania citizens while putting money away for the future.

Democratic leaders, speaking on the budget agreement on Thursday, praised the budget's investments in education, including a $525 million increase in basic education funding, its $225 million allocation to the state's Level Up initiative and a $100 million increase in special education funding.
"We are poised to enact the largest increase in education funding in the history of the Commonwealth of Pennsylvania," said state Sen. Vincent Hughes, the ranking Democrat on the Senate Appropriations Committee. "To have this kind of increase for the children of Pennsylvania, their teachers, those who work in schools – I think it's significant."
The spending plan also would expand the state's Educational Improvement Tax Credit program, create a child care tax credit equal to 30% of a similar federal credit, establish a state-run grant program for election funding and provide more property tax and rent rebate money for senior citizens.

Most Republicans also had high praise for the agreement, with Senate Appropriations Committee Chair Pat Browne saying the budget "is about investing and setting the stage for a bright future for our great Commonwealth."
Browne said the budget will benefit the state's children, and said lowering the state's corporate tax rate to 8.99% – with a path to 4.99% – will improve the state's tax structure and make Pennsylvania's economy more competitive.

"This is an example of the collective, cooperative, collaborative action that our constituents want from us," Browne said. "This is governing." 
Lawmakers came to agreement on the budget plan after a Senate Republican spokesperson said talks were deteriorating Thursday morning. However, the Senate began moving budget-related legislation later on Thursday, and ultimately approved the spending plan with a 47-3 vote on Friday.

But while lawmakers were ultimately able to send the budget legislation to Wolf with bipartisan support, the mood in the Senate chamber remained contentious on Friday as Republicans pushed through a series of proposed constitutional amendments that would have far-reaching impacts on abortion and election policy, among other issues.

Lawmakers sparred over Senate Bill 106, which proposes five separate amendments to the state constitution that voters would have the final say on if approved by both chambers of the General Assembly in two consecutive legislation sessions.

One of the most controversial amendments considered by the Senate was one that would underscore that the state constitution "does not grant the right to taxpayer-funded abortion or any other right relating to abortion."

Democrats accused Republicans of laying the groundwork to ban abortion in the state, though Republicans pushed back on Democrats trying to frame the measure as an abortion ban.

"This is a bad day for this state. This is even a worse day for this chamber to go down this path – changing constitutions is supposed to be about empowering people, giving people rights, not removing them," said Hughes. 
State Sen. Katie Muth, a Berks County Democrat, also spoke out against the measure. "This is a direct attack on women's freedom. Women cannot be free if they cannot make decisions about their own bodies," Muth said. "I'm sure the men in the room wouldn't be real thrilled if we had the reverse. Mandating vasectomies at age 18 telling you what to do with your reproductive health – imagine how that will go over."

But Republicans accused Democrats of using inaccurate messaging on the proposal, noting that it would not change the state's Abortion Control Act, which allows abortion through the first 24 weeks of pregnancy.

"Let me be very clear and set the record straight – this amendment changes nothing. It does not change the law and it doesn't affect any abortion law or regulation currently on the books. It simply maintains a status quo," said state Sen. Judy Ward, a Blair County Republican who sponsored the measure.

State Sen. Kristin Phillips-Hill, a Republican from York County, echoed Ward's remarks. "Abortion laws in the commonwealth – should this pass today – will remain completely unchanged," she said. "Neither the Supreme Court of the United States nor the vote we cast today changes anything about Pennsylvania's current abortion laws."
The measure, which also includes separate amendments to establish universal voter ID requirements and require post-election audits by the state auditor general, ultimately passed with a 28-22 vote. 
The legislation will need approval by the House this session – as well as by both chambers next legislative session – before the questions go to voters in a referendum.