Education
Lindsey Williams calls for universal free school meals as pandemic-era meals provision ends
Williams is introducing legislation that would provide free school meals to all public school students.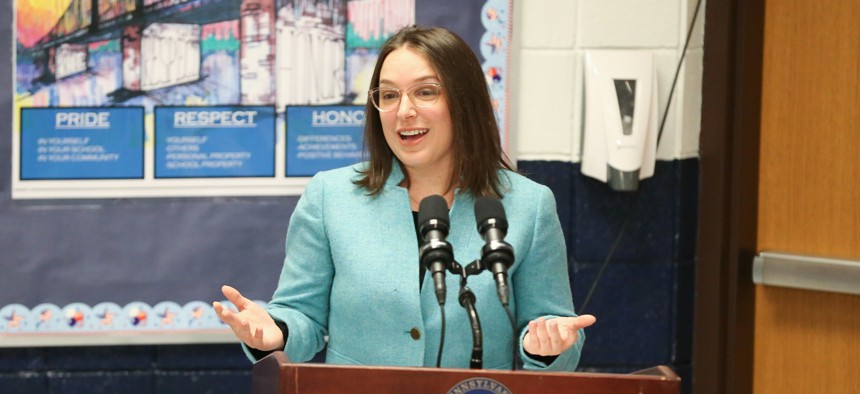 As students return to the classroom this week around the commonwealth, so do concerns about student meal debt. 
School lunches have been free for public school students throughout the last two years, but for this academic year, many students are back to having to pay for their meals or qualify for free and reduced lunch. 
State Sen. Lindsey Williams, a Democrat from Allegheny County, has called for public schools to provide universal meals in the commonwealth to ensure no student goes hungry or into debt over the price of a school lunch.  
Williams introduced a cosponsorship memo earlier this month seeking support for her universal school meals legislation. 
The federal government provided waivers and funding to help schools give out free breakfast and lunch to students during the peak of the pandemic, and those waivers were extended through the summer months. While Congress is still providing federal reimbursements for schools that offer free meals this school year, Williams said many school officials and advocates were caught off guard by the provision ending. 
This should be a no-brainer in terms of how we help our kids show up, stay fed and ready to learn in school and address rising costs for families at the same time.
- State Sen. Lindsey Williams
"I think everybody anticipated the federal government continuing with the free breakfast and lunch, and then when they didn't, all of a sudden advocates started scrambling and it was too short (of a timespan) to get it into the budget," Williams told City & State.  
As lawmakers couldn't consider the issue during the state budget negotiations earlier this summer, Williams is hoping for Gov. Tom Wolf to take administrative action or for her legislation to receive bipartisan support once lawmakers are back in Harrisburg in September. 
Williams said providing universal free breakfast and lunches in public schools would cost an estimated $264 million, but that dollar amount isn't much considering the need and the state's overall education budget.
"This should be a no-brainer in terms of how we help our kids show up, stay fed and ready to learn in school and address rising costs for families at the same time," she said. 
Some local school districts are taking things into their own hands to provide meals or partner with food banks. In the North Penn School District in Montgomery County, the district is covering the costs of free breakfast for all students and free meals for any student that qualifies for a reduced-price lunch. Officials from the school district said meal debt grew to more than $26,000 in 2020 at the height of the pandemic. 
The commonwealth also updated its income guidelines for the free lunch program. For a student to be eligible, they would have to come from a family of four with a household income of no more than $36,075. Those that are eligible must fill out a Household Meal Benefit Application, and those who are already members of programs like the Supplemental Nutrition Assistance Program are also eligible. 
Williams, a Democrat, is the minority chair of the Senate Education Committee. She said that while she hasn't discussed the proposal with Senate Education Chair State Sen. Scott Martin, her Democratic colleagues on the committee have signed onto her memo. 
Martin, a Republican from Lancaster County, couldn't be immediately reached for comment.