Philadelphia
Jim Kenney's ban on guns in parks, rec centers criticized as 'meaningless' amid state's firearms laws
Even those with permits to carry could be charged with trespassing – or worse – if caught with guns in city parks.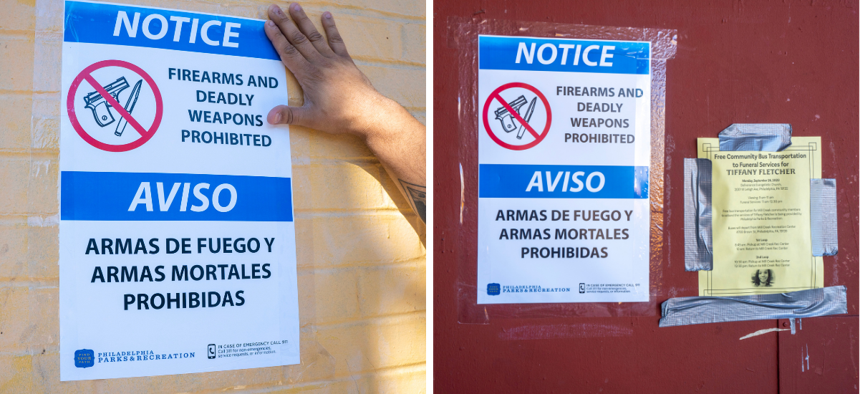 Philadelphia Mayor Jim Kenney took gun violence matters into his own hands Tuesday, signing an executive order banning guns and weapons from city parks and recreation centers. 
The order has some questioning not only the legal ramifications given the state's preemption on local gun laws, but also the effectiveness of such a measure. 
"He is basically making an executive order that has no actual impact and is illegal under the Pennsylvania Constitution," At-Large City Councilmember David Oh told City & State. "It's meaningless."
The latest move by the City of Philadelphia to curb ongoing gun violence comes weeks after Tiffany Fletcher, a parks and recreation worker, was struck by a stray bullet and killed at the Mill Creek rec center. Kenney said at the press conference Tuesday the order would ban guns and other deadly weapons from city recreation facilities including parks, pools and playgrounds.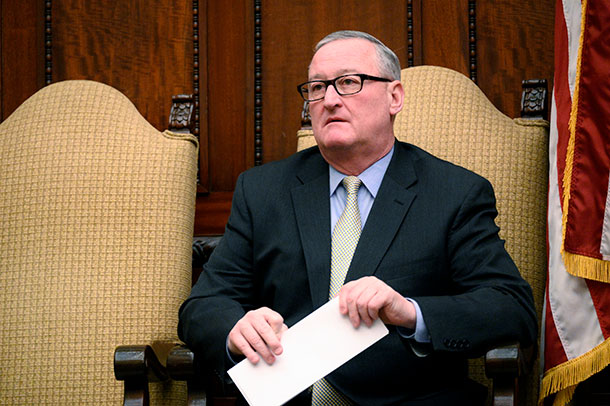 "We will not tolerate the endangerment of children and families while they are in the care of our treasured community spaces," Kenney said. "And we must do everything we can to protect the public as well as the dedicated staff that make these facilities run."
The city has reported nearly 300 gun violence incidents at recreation facilities since 2019, including 18 incidents this year. Much like previous attempts by city officials to regulate firearms at the local level, this order is expected to face legal challenges. 
Kenney has long blamed the state's preemption law – a statewide regulation prohibiting municipalities from creating local gun laws – for the increasing gun violence in the city. In the past, the courts have struck down local laws attempting to ban assault-style weapons, limit handgun purchases and prohibit guns in parks, citing the commonwealth's preemption law. 
Philadelphia District Attorney Larry Krasner, who's in his own battle with lawmakers in Harrisburg over their attempts to investigate his office, called the executive order a "very positive step forward." Krasner said penalties for violating the order will depend on the individual case, but that anyone who goes past city signage citing the ban can now be charged with trespassing. 
We will not tolerate the endangerment of children and families while they are in the care of our treasured community spaces.
- Mayor Jim Kenney
"They're going to face the usual charges for possession of firearms and charges for anything else bad that they do on those sites," Krasner said. "But thanks to this executive order, their activity will also be treated as trespassing … they're going past signage, going past (with) their knowledge that they're not permitted to do it, and therefore, they are not allowed to be on those premises."
Kenney argued this gives recreational workers more authority to call the police when they see someone with a weapon or someone threatening to go get one. 
Executive Order 2022 04 by City & State PA on Scribd
City Councilmembers Cindy Bass and Jamie Gauthier, who have championed various efforts related to reducing gun violence, also joined Kenney Tuesday, saying they support any efforts to keep guns out of youth's hands. 
"I'm hopeful that the next step that we take as a city is finding ways to better reach these kids. It was very striking to me that the young man caught for the Tiffany Fletcher shooting is 14 years old," said Gauthier, who represents the 3rd councilmanic district. "There have been countless incidents where the people on both sides of a gun are getting younger and younger."
While calling for more law enforcement action concerning gun violence, Oh – the lone at-large Republican on City Council – said nothing is stopping recreational workers from calling the police now. 
"(The order is) something completely fake," Oh said. "(Kenney) has things he can do. He is the head of the police department. He has a police commissioner and he should instruct them to enforce the law."
This order is a management and operational directive, which differs from previous legislative attempts to ban the possession of firearms at city parks. The Kenney administration argued – as the city owns these recreational properties – it has the authority to limit guns within them. 
Kenney said he's aware this order will likely face legal challenges similar to gun control efforts in the past, but that it won't stop him from trying to address the issue.