Policy
Wolf's new executive order on voter registration, explained
Voter registration applications will now be available at more state facilities.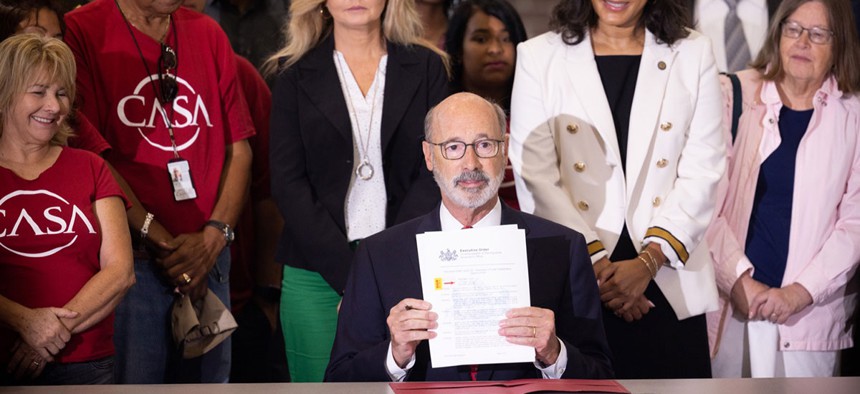 Gov. Tom Wolf signed an executive order on Wednesday that he said will "make it easier for Pennsylvanians to find all of the materials they need to register to vote."
The executive order is filled with lots of jargon, and comes at a time when there is a lot of activity surrounding Pennsylvania elections – over a third of Pennsylvania voters lack confidence in the results of the 2020 election, and bitter feuds in statewide contests have prompted multiple visits to the state by current and former presidents. City & State has put together a guide to understanding Wolf's latest executive order, and how it impacts voters ahead of November's midterm elections. 
What does Wolf's executive order do?
Wolf's executive order adds six state agencies to the list of commonwealth departments that already provide voters with voter registration materials, which include voter registration applications and instructions about the registration process. Under the executive order, state agencies must now provide voter registration information at the following locations and events:
Events at the Pennsylvania Farm Show Complex
121 state park office locations
Libraries
PA CareerLink offices
State veterans homes
The order establishes the Department of State, the Department of Agriculture, the Department of Conservation and Natural Resources, the Bureau of Community Corrections at the Department of Corrections, the Department of Education, PA CareerLink offices and the  Department of Military and Veterans Affairs as dedicated "Voter Registration Distribution Agencies." This means that voter registration applications and other materials will now be available at offices and locations overseen by each state agency. 
What changes under the executive order?
Put simply, Pennsylvanians will have access to more voter registration applications and instructional materials than they did prior to the executive order. 
A range of state agencies and programs were already required to provide voter registration opportunities to voters under the National Voter Registration Act of 1993. Under the federal law, voter registration applications and other materials are available at county assistance offices, state mental hospitals and intermediate care facilities, student disability offices at state universities, military recruitment centers and other offices that oversee state programs. 
Now, additional state agencies and locations will provide access to voter registration applications and instructional materials in response to Wolf's executive order, which takes effect immediately.
Does this have anything to do with a new election funding program?
The Wolf administration also announced this week that it has determined how much counties will receive as part of a $45 million election security and integrity grant program, though the initiative has nothing to do with the governor's executive order. 
The $45 million Election Integrity Grant Program, as it's known, will provide state funding to counties for election-related security costs, ballot printing, training for election officials, compensation for election staff, secure storage and transportation of voting machines and processing voter registration applications, among other uses.
The program was created through a bipartisan agreement between state lawmakers and the Wolf administration this summer, which also bans counties from taking grants from outside organizations.
Wolf's full executive order can be viewed below.
Gov. Tom Wolf's Executive Order on Voter Registration by City & State PA on Scribd