Labor
Pennsylvania's unemployment rate drops to 4% in October
The state unemployment rate is at its lowest level ever dating back to 1976.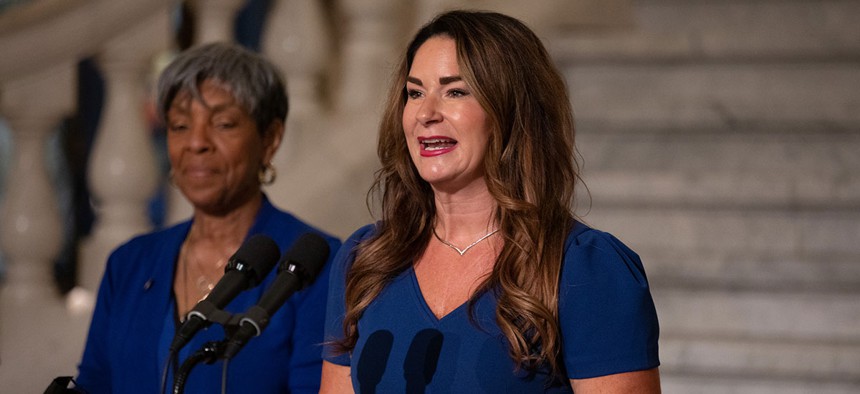 Pennsylvania's unemployment rate decreased to 4% in the month of October – down a tenth of a percent from the month prior – according to preliminary data provided by state and federal officials on Friday. The figure marks the lowest unemployment rate the state has seen dating back to 1976, according to historical records from the U.S. Bureau of Labor Statistics. 
Jennifer Berrier, secretary of the Pennsylvania Department of Labor & Industry, said the latest drop in unemployment is a "historic opportunity" to reflect on the value of workers. 
"Individually, we work to follow our passions and support our families. Collectively, Pennsylvania workers are the engine of a world-class economy," Berrier said in a statement. "A low unemployment rate is an excellent economic indicator, but our work is far from over. We must remain vigilant in our efforts to invest in growing our labor force, developing skilled workers that meet the needs of Pennsylvania employers and attracting talented workers to the commonwealth."  
The state's unemployment rate spiked to 16.5% in April 2020 amid pandemic mitigation measures implemented by the Wolf administration, which forced many businesses to close their doors and caused unemployment claims to skyrocket. Prior to the pandemic, the commonwealth hadn't seen an unemployment rate in double digits since October 1983, according to Bureau of Labor Statistics data. 
Since the peak of the pandemic shutdowns, the state's unemployment rate has gradually shrunk but is still significantly higher than the national average of 3.7%. 
In the month of October, the state's labor force increased by 2,000, with the largest gains this year being made in the trade, transportation and utilities sectors. 
With divided government in Harrisburg, strengthening Pennsylvania's workforce is a bipartisan issue that should receive top priority in the new legislative session.
- Alex Halper
Alex Halper, vice president of government affairs with the Pennsylvania Chamber of Business and Industry, said the latest unemployment numbers are encouraging, but that some businesses are still struggling to find workers. 
"Many Pennsylvanians have left the labor market entirely and may not be reflected in unemployment figures," Halper said in a statement. "We were pleased to see the General Assembly send two workforce development bills to Gov. Wolf's desk at the end of this legislative session addressing the labor shortage, including H.B. 987, which eliminated automatic driver's license suspensions for certain non-driving related offenses; and H.B. 1829, which removed several unnecessary impediments for young people seeking employment. With divided government in Harrisburg, strengthening Pennsylvania's workforce is a bipartisan issue that should receive top priority in the new legislative session."