Philadelphia
SEPTA signs agreement to make it easier for minority-owned businesses to work with the transit system
Philly and Chicago have signed an agreement that would allow small and minority-owned businesses to work for both agencies under one certification.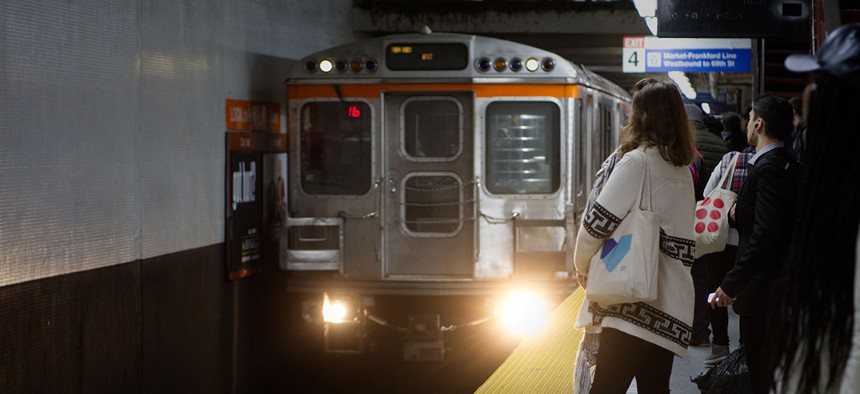 By Daniel C. Vock
The leaders of transit agencies in Chicago and Philadelphia signed a first-of-its-kind agreement Monday that would make it easier for minority-owned businesses to work with both systems.
Under the 11-page agreement, companies that gain certification as a small business enterprise for one of the agencies will automatically obtain it for the other agency, too.
"All of this is intended to open up new opportunities for the SBEs (small business enterprises) and the DBEs (disadvantaged business enterprises) that do business with us in totally new markets, without having to go through a lot of the paperwork and other barriers they may face," said Dorval Carter Jr., the president of the Chicago Transit Authority. "From my perspective, what does that mean? It means I'm getting a better pool of companies that can compete for and get business at the CTA."
Carter said it made sense for the two agencies to work together because they provide a similar scope of services, from city buses to heavy rail subways, and, as a result, work with the same kind of contractors for infrastructure projects.
Leslie Richards, the general manager of the Southeastern Pennsylvania Transportation Authority, knows firsthand how burdensome it can be to qualify as a women-owned business since she went through the process as a contractor earlier in her career. She said efforts to make it easier for minority-owned businesses to get government contracts in Philadelphia could benefit the city, which she noted has a bigger share of poorer residents than most large U.S. cities.
"Who we contract with has always mattered in our efforts to advance equity," she said. "At this moment (following the passage of the federal infrastructure law), we have a once-in-a-lifetime opportunity to create general generational wealth for small, minority- and women-owned firms like we have never had before."
Carter and Richards signed the agreement in Washington, D.C., in a room packed full of transportation industry executives, many of them in town for the Transportation Research Board's annual meeting.
The high-profile event marked an early victory for the Equity in Infrastructure Project, a group founded last year that is working to coax state and local agencies into hiring traditionally underrepresented companies as prime contractors.
Phillip Washington, the CEO of the Denver International Airport and a co-founder of the project, said arrangements like the Chicago-Philadelphia agreement will ensure better representation of minority-owned businesses in government construction jobs. 
Washington, who has been nominated by President Joe Biden to lead the Federal Aviation Administration, hopes that eventually agencies can develop a nationwide database of those companies to make it harder for bigger contractors to say they made "good-faith efforts" to find minority-owned businesses for subcontracts but came up empty.
Carter and Richards both told Route Fifty their agencies started to explore the agreement because of the prompting of Washington and John Porcari, a top transportation official in the Obama administration and the other co-founder of the Equity in Infrastructure Project.
Richards said SEPTA had long sought to promote better equity in the contractors it selected, but those efforts stalled because leaders worried they would run afoul of federal law. When the Philadelphia agency started working with their Chicago counterparts, they found that many of those worries were unfounded.
"I said, 'We can do that. This is how another agency is doing it,'" Richards said. "CTA helped us step by step to do all of the things our team thought we might not be able to do."
"It also didn't hurt," Carter quipped, "that I was the former chief counsel of the FTA (Federal Transit Administration). I not only know those regulations, but also wrote (many) of them."
Daniel C. Vock is a senior reporter for Route Fifty, where this story originally appeared.