News & Politics
Here's what's next in the Larry Krasner impeachment process
A look back at City & State's top stories of 2022 and what's happened since.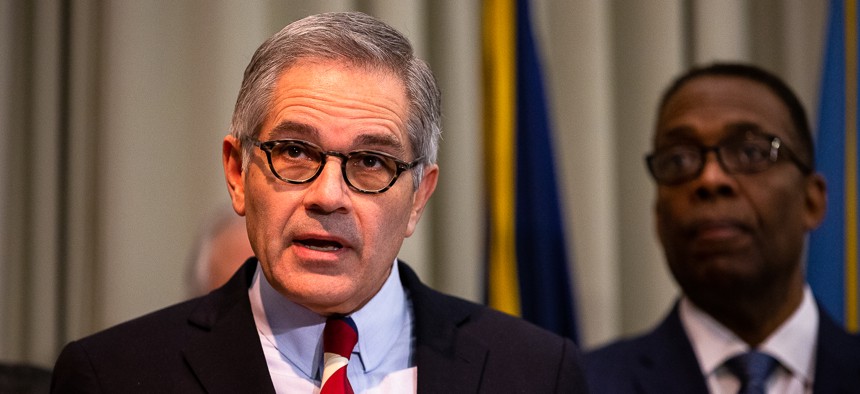 The second in a four-part series, City & State is revisiting some of our top stories of the year to see what's happened since we first reported them. Among them were stories surrounding the spat between Harrisburg Republicans and progressive Philadelphia District Attorney Larry Krasner and his ongoing impeachment process. It all began here … 
Nov. 15, 2022: House committee approves articles of impeachment against Larry Krasner
Nov. 23, 2022: Senate Republicans say they will begin Krasner impeachment process next week
The new state Senate is expected to pick up where the previous one left off with Krasner's impeachment. The chamber accepted the articles of impeachment passed in the state House along a party-line vote last month and is anticipated to begin the trial in January. Krasner argued in his formal response to the articles that the Republican-led efforts to impeach him are improper and lack sufficient evidence. 
Procedural rules passed in the Senate dictate the process of the trial. Impeachment managers Republican state Reps. Craig Williams and Tim Bonner and Democratic state Rep. Jared Solomon and their attorneys will present their cases, along with Krasner and his attorneys, who are also permitted to present a case. 
Krasner's impeachment trial – the first proceeding of its kind in three decades – is expected to begin in Harrisburg on Jan. 18, where a two-thirds vote on any of the seven articles of impeachment filed against him would be needed to convict and remove him. Republicans still hold the majority in the state Senate, with a 27-22 seat advantage. The party would need five Democrats to join them to meet the threshold needed to remove Krasner from office. One vacancy created by a GOP member's resignation in November could lead to an additional Republican vote in the chamber if the special election fills the seat while the trial is ongoing. 
Krasner has also challenged the impeachment in Commonwealth Court. A four-judge panel met Thursday to discuss Krasner's lawsuit, which asks the court to halt the impeachment proceedings due the legislators' lack of authority to remove local officials and their lack of evidence that Krasner met the impeachable standard of "misbehavior in office." The judges have not said when they would make a ruling. 
As the court weighs separation of powers and how they relate to the legislature and courts, the Senate will move on with the trial.
Previous reporting can be found here.