Capitol Beat
Senate Republicans say they will begin Krasner impeachment process next week
Republican lawmakers are aiming to hold the impeachment trial in January.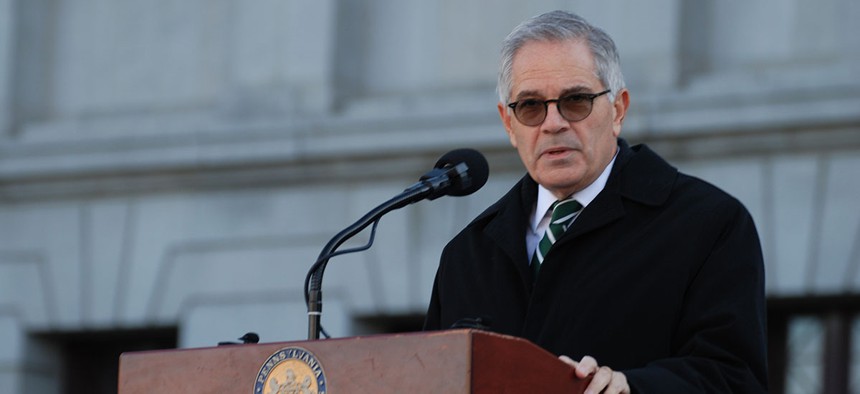 Republican leaders in the Pennsylvania Senate say they will begin the impeachment process of Philadelphia District Attorney Larry Krasner next week.
The state Senate will return to session to consider three procedural resolutions on Nov. 29 and 30 to begin the impeachment process. Senators will vote on the third resolution, a writ of summons, on Wednesday. If the resolution is approved, it will require Krasner to come before the chamber for a trial.
Per a state Senate press release, Krasner would be required to answer the summons by Dec. 21 and to appear before the Senate on Jan. 18, 2023, at 11:30 a.m. for the beginning of the trial. 
Outgoing state Senate President Pro Tempore Jake Corman called the impeachment process a constitutional obligation.
"The Senate's constitutional obligations are clear, so we are prepared to fulfill our duties and continue the impeachment process of Philadelphia District Attorney Larry Krasner next week," Corman said in a statement. "The plan is to call the Senate back to session and convene for two days, Tues, Nov. 29 and Wed, Nov. 30, to officially begin our role in this process."
Citing his focus on reducing mass incarceration, Republicans have long blamed Krasner for Philadelphia's rising murder rate and began the impeachment effort in June with a special state House committee. 
While Krasner's office did not immediately respond to a request for comment, Democrats, including Krasner, have accused Republicans of trying to "erase" the votes of Philadelphians, who reelected Krasner by a wide margin last year. Last month, Krasner called the GOP-led impeachment probe into his office "an effort to impeach someone for political purposes."
A spokesperson for Krasner referred City & State to the District Attorney Office's past legal filings regarding the impeachment probe, declining to comment further.
House Republicans formally impeached Krasner on Nov. 16, sending the articles to the Senate for a trial. 
Erica Clayton Wright, a Senate GOP spokesperson, said the Senate will adjourn until January after considering the third resolution.