Environment
Into the wasteland: Meet the defenders of Allegheny County's waterways
Meet the activists trying to foil a new landfill.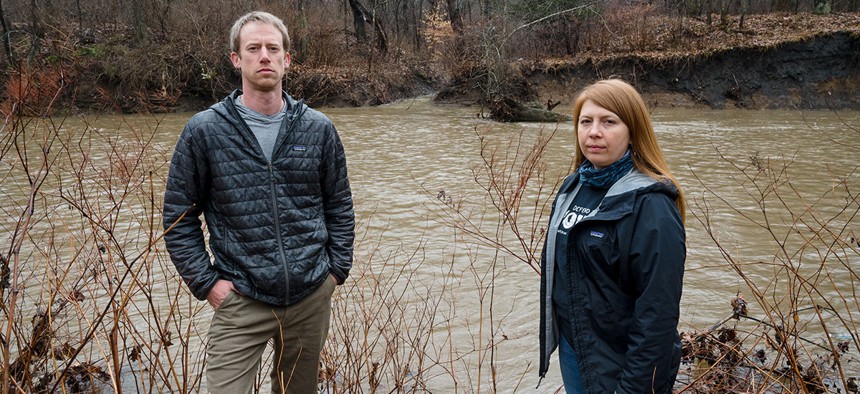 Diana Steck didn't expect to be leading the fight to preserve her air and water quality in Westmoreland County almost 40 years ago. It was only after she and her family began to develop health problems living in South Huntingdon Township that she decided to do something about it. 
Steck was 30 years old when her newborn baby boy started having respiratory issues and had to begin treatment for chronic infections. At the same time that she was dealing with her child's health issues, she herself developed a form of neuropathy where she couldn't feel temperature with her hands and feet. 
After several bad episodes, doctors diagnosed her son, then five years old, with non-A, non-B hepatitis. They found traces of aluminum in his blood work but were unable to find a cause. "They really couldn't explain what was causing it," Steck said.
In 1985, after discovering that a landfill – owned by what was then-Mill Services – had been operating in the neighborhood, Steck and other residents began speaking out against the company's operations and working to identify its impact on the community's health.  
Now, at the age of 68, Steck – who moved 10 miles north to North Huntingdon to get a reprieve from the myriad of health issues she faced in South Huntingdon – is having to relive the past and speak out against another proposed landfill. But the latest proposal in South Huntingdon Township is something new: the state's first hazardous waste landfill. 
"It's just mind-boggling," Steck said in a recent interview with City & State. "I can't believe that here we are, all these many years later, having the same discussion again over this new proposed landfill."
That proposal is from MAX Environmental Technologies, Inc., a landfill company based in western Pennsylvania. MAX, which operates landfills in Yukon and Bulger, is proposing the new landfill at the existing Yukon site in South Huntingdon, located about 29 miles southeast of Pittsburgh. 
At the Yukon site, MAX treats both hazardous and non-hazardous waste. Under its current permit, the facility can only dispose of non-hazardous waste, meaning it must treat the hazardous waste to render it non-hazardous, or dispose of it out of state. If the Department of Environmental Protection were to approve MAX's proposal, the company could then dispose of listed hazardous waste – waste that the Environmental Protection Agency considers hazardous regardless of its treatment status –  at the Yukon facility.
This area should not be a spoiled land for industry.
- Stacey Magda
MAX's proposal is in Phase 1 of the permitting process, as DEP weighs the exclusionary criteria for the site's location, including its impacts on the water supply, location in a floodplain, wetlands impact and proximity to farm areas and oil and natural gas areas, according to Lauren Camarda, community relations coordinator for DEP's Southwest Regional Office. 
The 14-acre landfill would hold 1 million tons of treated hazardous and non-hazardous industrial waste on MAX's existing 159-acre site. It would be the seventh landfill on the site, and would help the company phase out its sixth landfill as that nears capacity.  
For Steck and other residents living in proximity to the proposed landfill, MAX's track record only amplifies their fears of looming disaster. According to DEP records, the agency cited MAX Environmental Technologies for a staggering 270 violations across all programs statewide and collected civil penalties totaling $1,094,145 since 2009 – an average of almost 20 a year. 
While previous regulatory violations aren't considered as part of Phase 1's criteria, community concerns expressed during a December public hearing on the proposal suggest that residents are skeptical of MAX's record of proper site control. 
"The community is doing everything short of begging the DEP to give them a break," Stacey Magda, a community organizer with the Mountain Watershed Association, an environmental group that watches over the Youghiogheny River, told City & State. "This area should not be a spoiled land for industry."
During the hearing, residents took issue with the new site, which would be within one mile of nearly 500 homes and about two and a half miles from Yough School District. They said groundwater and air contamination from the landfill's byproducts have been causing health problems in the community for decades. 
Leachate, a liquid formed when rainwater filters through wastewater, can draw out chemicals and constituents from those waters, according to the EPA. Leachate from previous landfill leakages, in addition to air pollution residents call "fugitive dust," can create harmful health effects downstream or downwind.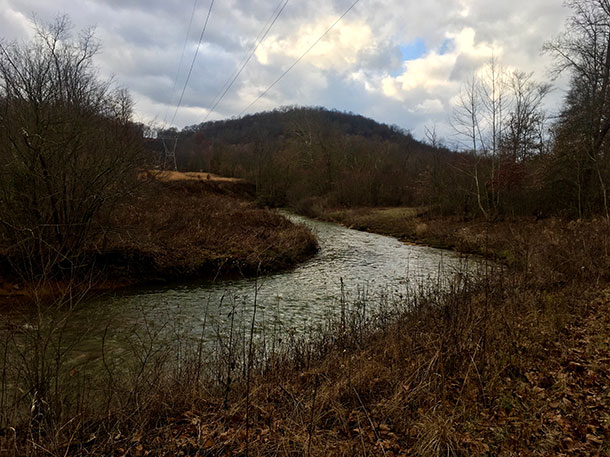 "The problem isn't isolated to Yukon," Steck said. "They dump into Sewickley Creek, which flows down into the Youghiogheny River, which is the drinking water source. In the air, they were constantly having problems. At night … the sky would just glow orange" from the particulate matter stirred up by landfill operations.
Residents began to theorize that leachate was seeping into area groundwater, contaminating the community's waterways, and that fugitive dust and other materials were being tracked off-site, further polluting the air. 
Steck – who ventured back to the area to testify at the Dec. 1 hearing – was one of about 20 citizens to oppose the MAX project. Citing her family's health issues, including her son's hepatitis diagnosis and her own neuromuscular disease, Steck said the situation has gone from being an environmental and health concern to a moral dilemma. 
"It really saddens me to see (residents) reblooming all of the trauma that my family and my friends' families experienced back in the 1970s, 1980s and early '90s," Steck said. "As I sat there and listened to the testimony of the folks who are in the trenches, living there right now and going through this again, it breaks my heart."
Zachary Barber, a clean air advocate for the nonprofit advocacy group PennEnvironment, said it's hard to believe a company will ensure the safety of a new landfill when it has failed to do so in the past. 
"As the company is treating this waste, there's always the possibility that something could go wrong, or that it might not be completely treated and then that waste could travel elsewhere. And given the existence of what seems to be a fugitive dust problem, it shows that there is the risk of waste at the site becoming airborne and traveling off-site," Barber said. 
He added that fines for previous violations, small compared to MAX's cost of doing business, have been "a slap on the wrist" and don't deter companies from ensuring better compliance in the future.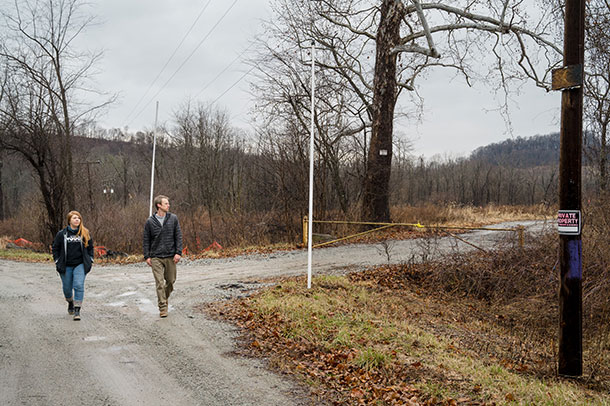 "Sadly, it's all too common that it pays to pollute here in Pennsylvania," Barber said. 
Carl Spadaro, environmental manager at MAX, told City & State there is a misconception that MAX is seeking to dump non-treated hazardous waste into the landfill. Any waste being disposed of, whether it's classified as hazardous or not, is required to meet the EPA land disposal treatment standards, he said. 
While recognizing that there is room for improvement in the company's efforts, Spadaro pushed back against the notion that MAX's landfills are the direct cause of the fugitive dust and other pollutants noticed by residents. 
"We can control odors better and we can control the potential for dust formation better," Spadaro told City & State. "We think we do a pretty good job of maintaining compliance, but obviously we've had exceedances. And while we don't think the exceedances pose any threat to human health or the environment, they're still exceedances. We report those exceedances and we report to DEP every month."
Spadaro, who previously worked as an engineer for DEP before joining MAX in 2011, has also had to dispel claims that DEP is giving him preferential treatment in the permitting process. He said the permitting process does not change and that he complied with all DEP rules regarding a transition to the private sector, including having no interaction with state regulatory officials for at least one year.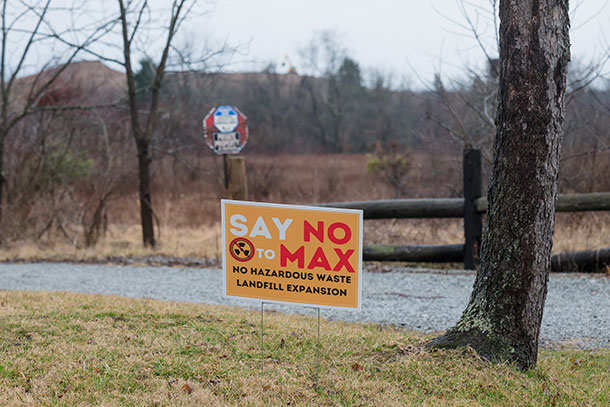 The area's history with landfills and environmental problems has led residents to say the government has deemed their community a "sacrificial zone." MAX Environmental's predecessor, Mill Services, opened its landfill in Yukon in 1963. Apart from a period of inactivity in the 1980s, the sites have been utilized to treat industrial waste for decades. 
Magda and members of the Mountain Watershed Association have picked up where Steck and her predecessors left off. The group continues to monitor the area waterways with the help of Youghiogheny Riverkeeper Eric Harder. 
"In one scenario we sampled their outfall, which goes directly into Sewickley Creek, a large tributary of the Youghiogheny River," Harder told City & State. "Some of the constituents we measured were within their limits, but there were also harmful parameters that are not regulated in their permit, so DEP was not requiring MAX to report how much arsenic was in the water." 
Harder said DEP's inability to regularly monitor every facility across the commonwealth and its discharge levels leaves it up to the companies to self-monitor, or concerned citizens to test the waters themselves. He wants DEP to implement more stringent reporting and testing requirements to ensure streams are being monitored more regularly and along the waterway that would show accurate readings. 
"We really feel that oversight has been lacking," Harder said. "That's where we would like DEP to focus: the health impacts. If there are any health impacts related to facilities like this, then those should be" DEP's top priority.
The new landfill could cost between $15 million and $17 million to open and, upon replacing the existing impoundment nearing the end of its lifespan, could expand operations at the facility for an additional 10 years.
Sadly, it's all too common that it pays to pollute here in Pennsylvania.
- Zachary Barber
Residents have also pointed to a 2015 South Huntingdon ordinance that prohibits businesses from dumping or storing waste within 900 feet of an occupied residence as another reason to reject the proposal. 
DEP expressed in an email that citizens' feedback on the project is an important component of its decision-making and that the local ordinance will be reviewed as they move forward with the permitting process. 
Spadaro said he believes state environmental regulations would supersede any township ordinance. 
"South Huntington Township is classified as a second-class township. They do not have any zoning laws or other land use laws," Spadaro said. "And even if they did, they can't supersede the state in regulating solid waste facilities."
As one of the founding members in the battle against the landfill, Steck knows how hard it can be to keep fighting year after year. She said many of the initial activists are long gone as well.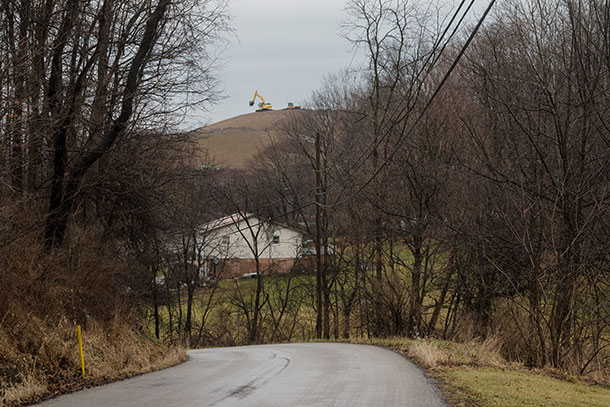 "Most of the folks that had been in our original citizens group either were too sick to continue fighting, or a lot of the leadership had moved out to just escape," Steck said. "There was really a defeatist attitude in the town."
During the few years she's worked on the issue, Magda has experienced the same type of attrition in her community. 
"The community of Yukon, they're beaten up. They're exhausted. They're burnt out dealing with this facility," she said. "They've been to too many public hearings with the DEP, too many protests, too many opportunities to do health tests and environmental testing and monitoring. They're completely exhausted."