Elections
Bipartisan state panel issues new report aiming to clarify mail-in ballot rules
Report recommendations include making secrecy envelopes optional and giving counties the authority to regulate drop boxes.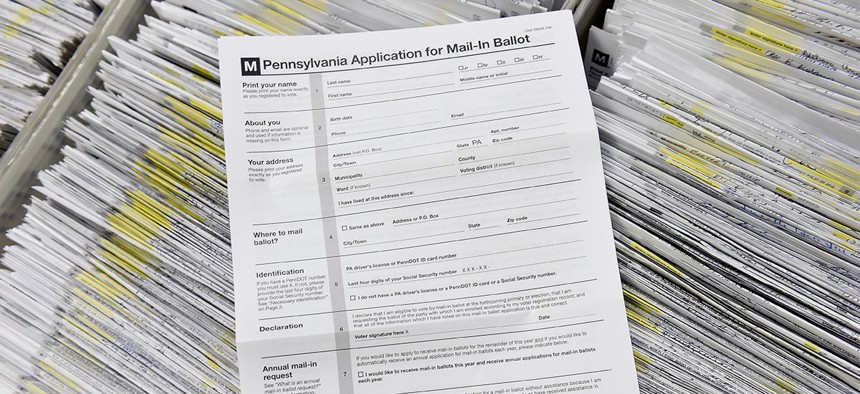 Since the implementation of Act 77, the 2019 law that allowed mail-in voting, county and elections officials have agreed on one thing: voters need clarity on how to do it. 
A bipartisan research group within the state legislature issued a report on mail-in ballots this week that addresses some concerns about mail-in voting, recommending the General Assembly clarify laws surrounding date and signature requirements, secrecy envelopes and drop boxes. 
"County election personnel responsible for actually running elections in the state of Pennsylvania have just been under incredible stress over the past three years," Pat Christmas, chief policy officer for the Philadelphia-based good government group Committee of Seventy, told City & State. "The pandemic was a big part of that but we also just happened to make some really big changes in election law right before that."
When passed, Act 77 was the most significant change to the commonwealth's election laws in years. Touted at the time as bipartisan, the elimination of straight-ticket voting, the addition of mail-in voting and the replacement and funding for voting machines quickly turned into a political battle between Democrats and Republicans.
Since then, election operations have been questioned, mail-in ballots have been disputed in court, and county officials have been left with more questions than answers as a result of the partisan divide in Harrisburg. 
County election personnel responsible for actually running elections in the state of Pennsylvania have just been under incredible stress over the past three years.
– Pat Christmas
Despite gridlock in the legislature, Christmas said the commission's Election Law Advisory Board's discussions over mail-in ballots have been constructive and that recommendations mainly involve administrative duties that "should be nonpartisan and apolitical."
Two years ago, the Joint State Government Commission was tasked to study the election law and related issues and make recommendations on how to improve the electoral process and implement best practices to ensure integrity and efficiency. 
The board, which consists of legislators from both sides of the aisle, the secretary of state and 18 others appointed by the governor and confirmed by the state Senate, has released two annual reports offering similar reviews of the state's mail-in voting system. 
Its third report, the interim report issued Monday, has five recommendations. They include: 
To change the word "permanent" when referring to mailing lists for absentee and mail-in ballots should be changed to "annual" to more accurately reflect the operation and purpose; 
To change the deadline to apply for a mail-in or absentee ballot to between 12 and 15 days prior to Election Day;
To make secrecy envelopes optional for mail-in and absentee voters; 
To clarify that the date required is the date of the signature on the ballot and that failure to date the ballot should not be the sole grounds to disqualify the ballot; and
To statutorily provide counties the authority to regulate drop boxes, and if drop boxes are used, minimum requirements should be established. 
Lisa Schaefer, executive director of the County Commissioners Association of Pennsylvania, said counties remain focused on reforms that promote election integrity. 
"We certainly learned a lot of lessons about the implementation of mail-in voting since 2020, and we're very eager to resolve a number of the questions raised by litigation," Schaefer told City & State. 
Another reform county and election officials have been "begging for" since Act 77 was passed, Schaefer and Christmas agreed, is to allow more time before Election Day to pre-canvass mail-in ballots. CCAP officials held a press conference in the state Capitol Wednesday outlining their legislative priorities this session, which included the call for better pre-canvassing. 
That recommendation – to allow extra time for counties to process ballots and flag any potential issues, while not in this interim report – has been included in previous publications. And while previous attempts to pass reforms related to pre-canvassing and Act 77 have stalled in Harrisburg, Schaefer is holding out for lawmakers to act upon it this year. 
"We're really just hopeful that the General Assembly will be willing to work with us on those initiatives this year so that we can restore confidence in our voters who are kind of watching all these questions about our election," Schaefer said. 
State Sen. Cris Dush, chair of the Senate State Government Committee, told City & State he hasn't had time to fully review the report, but that its recommendations raise concerns regarding drop boxes. Citing court rulings in Lehigh and Chester counties, Dush said the use of drop boxes should be reconsidered as they break the "chain of custody and thus destroy their evidentiary value" of ballots in the event of a court case. 
"To protect the integrity of the electoral process and not disenfranchise qualified electors, we need the Pennsylvania Supreme Court to reverse its unconstitutional ruling that usurped the role of the legislature under Article I, Section 4 of the U.S. Constitution and Articles II and V of the Pennsylvania Constitution," Dush said in a statement. 
The full report can be viewed here: 
January 2023 Mail-in Ballots: An Interim Report of the Election Law Advisory Board by City & State PA on Scribd