Budget
Gov. Josh Shapiro's first budget by the numbers
The governor delivered his first budget address to the state Legislature Tuesday, proposing a $44.4 billion spending plan.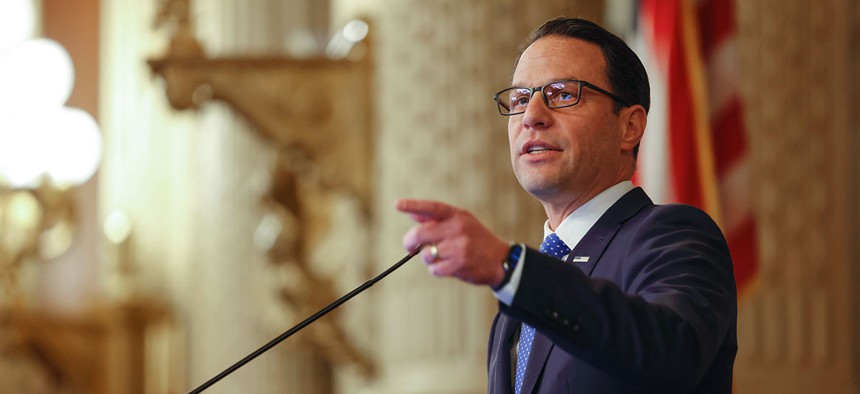 Gov. Josh Shapiro unveiled his inaugural budget during a joint legislative session in Harrisburg Tuesday, emphasizing a commitment to investments in public health, public safety and education. 
Shapiro's proposed budget estimates $44.4 billion in expenditures, with a focus on what he says voters wanted from the governor's office, including funding increases in school and mental health services, worker tax credits and infrastructure investments. 
"I took the oath of office, I spoke about the mandate the people have given us – they want us to reject extremism and division, and they want us to get real things done," Shapiro said during his opening remarks. "We have the opportunity to pass a commonsense budget that speaks to their needs."
Shapiro said the commonwealth has a unique opportunity as the only state currently with a full-time, divided legislature. Pointing toward the leaders of each chamber – Democratic House Speaker Joanna McClinton and Republican Senate President Pro Tempore Kim Ward – he said voters asked lawmakers to "put aside the gimmicks and partisan litmus tests" to deliver a budget that addresses pertinent issues with an emphasis on financial prudence.
The legislature will soon hold budget hearings with state agencies and negotiate state spending ahead of the commonwealth's June 30 deadline. 
Here are some key figures: 
– $567.4 million investment in basic education, a 7.8% increase 
– $103.8 million investment in special education programs, a 7.8% increase 
– 8.49% Corporate Net Income Tax rate, down from 8.99%
– $38.5 million to provide universal free breakfast for all state students, regardless of income
– $100 million in matching grants for schools to make environmental repairs
– $100 million in school safety and security grants to address physical safety enhancements in school facilities
– $60 million increase in funding for post-secondary education
– $23.8 million increase in career and technical education and industry trades
– $24.7 million in job retention and recruitment efforts in the fields of nursing, education and policing, including a $2,500 refundable tax credit for people in those lines of work.
– $16 million in additional SNAP funding to assist seniors and people living with disabilities, increasing the benefit from $23 per month to $35 per month
– $100 million in targeted funding to improve school-based mental health services, including an additional $20 million for county mental health services
– $66.7 million increase in child care services for low-income families
– $5.75 million for improving air quality testing and increasing the number of safety investigations per year
– $100 million in the Commonwealth's Violence Intervention and Prevention Program within the Pennsylvania Commission on Crime and Delinquency
– $16.4 million from the new Public Safety and Protection Fund for new trooper cadet classes and to train 384 new state troopers
– $6.4 million for criminal justice reforms and initiatives to reduce recidivism
– $479,000 in additional funds for the Human Relations Commission to investigate discrimination and strengthen enforcement activities
– $10.4 million in Preschool Early Intervention services to assist those with developmental and socio-emotional needs. 
– $4.2 million to create a Public Library Facilities Improvement Fund to provide capital improvements at small rural libraries