Education
Incomplete assignment: PASSHE officials delay action on tuition rates
The university system's board of governors decided to wait until after the state budget is completed to vote on setting tuition rates.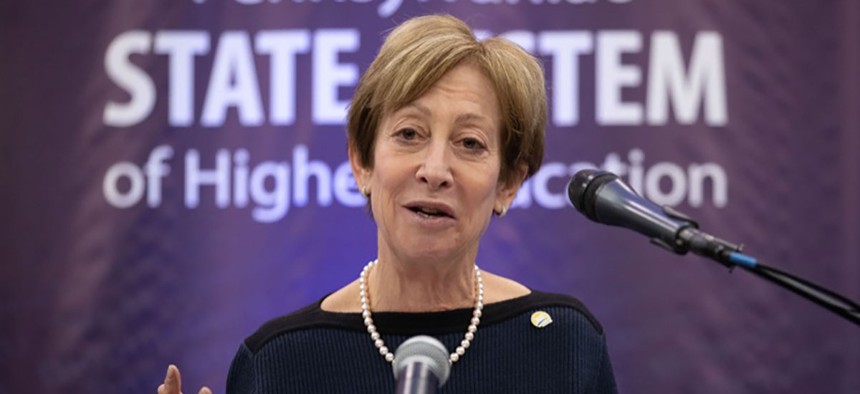 Officials overseeing Pennsylvania's state system of public universities on Thursday decided to defer a decision on whether to increase tuition for undergraduate students until the next state budget is finalized, giving the system's board of governors more time to decide on whether they will need to raise the cost of attendance at state-owned universities. 
The decision came after an extended discussion between Pennsylvania State System of Higher Education Chancellor Daniel Greenstein, several members of the board and students – all of whom signaled a desire to freeze tuition rather than increase it. 
But before the PASSHE Board of Governors can make that decision, board members agreed at Thursday's quarterly meeting that they need to know how much funding they will receive – and whether it aligns with their own budget ask – before making a decision on raising tuition. 
"With regard to tuition and tech fees that we would normally set in April, I think we're in a very interesting situation where we may not have enough information to make that decision now," said Cynthia Shapira, who chairs the board.  
Last October, the board approved its annual funding request, seeking $573.5 million in the 2023-2024 state budget to freeze tuition – a 3.8% increase from the current fiscal year. That additional $21 million would help cover inflationary costs, according to PASSHE.
The system is also requesting an additional $112 million to support efforts to direct students into fields experiencing labor shortages, like health care, education and social work. Of that funding, $99 million would be allocated for financial aid for students; the other $13 million would be used to fund the programs. 
In his first budget proposal, Gov. Josh Shapiro is proposing a 2% increase for PASSHE, which would bring their appropriation to $563.5 million – below the 3.8% figure the board of governors requested.
With the budget yet to be finalized and state lawmakers facing a budget deadline of June 30, the board agreed to defer their decision on tuition to their next meeting, which will be held in July. 
We may not have enough information to make that decision now.
– PASSHE Board of Governors Chair Cynthia Shapira
Greenstein, who has led a systemwide redesign and consolidation of PASSHE universities, stressed the importance of receiving the full 3.8% funding increase that the board of governors has asked for. 
"It would enable us to continue to invest in improving the student experience, and improving our outcomes and achieve all of the many things that our owners – the state – want to see us accomplish," he said of the system's funding request. 
The board ultimately punted on the decision, hoping they will have more information – and the money to freeze tuition for the fifth straight year – by their July meeting. 
One day earlier, Republican leaders in the Pennsylvania Senate put out a statement urging PASSHE's board to once again freeze tuition. 
"Increasing tuition at this time would make higher education less accessible to students and directly contradict PASSHE's mission of providing a quality education at an affordable price," the leadership team said.  
The group of lawmakers – made up of Senate President Pro Tempore Kim Ward, Senate Majority Leader Joe Pittman, Senate Appropriations Committee Majority Chair Scott Martin and Senate Education Committee Majority Chair Dave Argall – warned the board of governors that a tuition hike could jeopardize the system's funding. 
"We firmly believe PASSHE universities cannot raise tuition and then expect to also receive increased state support," the leaders said. "Investing in higher educational opportunities will help to prepare the next generation to meet our workforce needs; we are committed to working together to adequately address the financial concerns of our higher-education institutions."
Republican state Rep. Brad Roae, a member of the board of governors, said deferring on the vote was the right decision. 
"I think, as the budget process moves along, about two months from now, we'll know how much money is in the budget for this system – that's where we can make a better decision," Roae said. 
Democratic state Sen. Judy Schwank, who also serves on the board, suggested that lawmakers, faculty, advocates and students communicate with key stakeholders about the system's need for more state funding as budget negotiations get underway.
"We need your assistance in helping to make this happen," Schwank said.