News & Politics
Josh Shapiro signs bill eliminating out-of-pocket costs for some breast cancer screenings
The new law will require insurers to cover one breast screening per year for women at a high risk for cancer.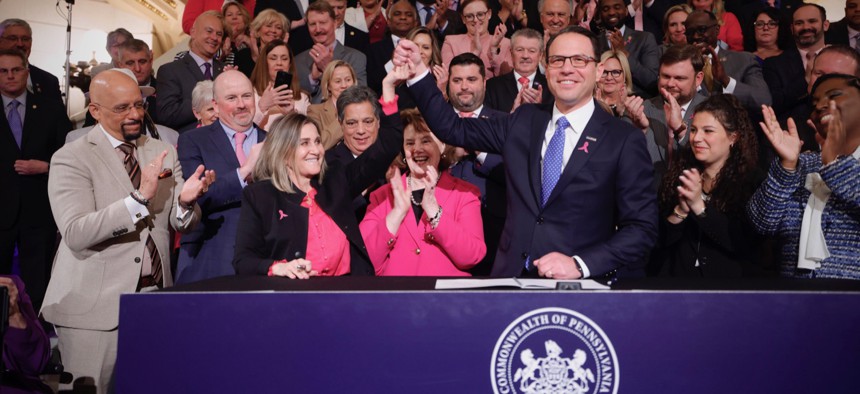 In his first bill-signing since taking office in January, Gov. Josh Shapiro on Monday signed legislation into law that will eliminate out-of-pocket costs for breast cancer screenings and testing for women who face a higher risk of the disease.
The legislation, Senate Bill 8, was approved unanimously by lawmakers in the Pennsylvania House of Representatives last week. It would require insurers to cover all costs for one supplemental breast cancer screening each year, meaning there would be no copay, coinsurance or deductible for people deemed to be at a high risk.
Senate Bill 8, once it takes effect, will also require health insurance policies to cover genetic counseling and genetic testing for variants of the BRCA1 and BRCA2 genes, which put people at a higher risk for breast and several other types of cancer, according to the National Cancer Institute. 
No one should avoid getting these potentially life saving treatments because they can't afford it.
– Gov. Josh Shapiro
"By taking away the burden of cost, we can ensure that more women … can get life-saving health care that they need," Shapiro said at a press conference before signing the bill. "We can give more women the tools that they need to make informed choices over their health care. I want you to know that's a really big deal.
"No one should avoid getting these potentially life saving treatments because they can't afford it," Shapiro said, adding that because of Senate President Pro Tempore Kim Ward – the sponsor of the bill – "they won't have to."
Ward was diagnosed with breast cancer in December 2020 – right around the time she was elected majority leader of the state Senate. She said Monday that her own personal experience battling breast cancer helped inspire the legislation. 
"Based on some of the experiences that I had going through the journey, these are a couple of things that I (thought) we could do," Ward said of the measure, which will be enacted as Act 1 of 2023. "We can do big things in this legislature, and this was a very good first start to helping women and families."
According to the American Cancer Society, roughly 12,830 women are expected to be diagnosed with breast cancer this year. From 2015 to 2019, roughly 132 women per every 100,000 were diagnosed with breast cancer in the commonwealth. And from 2016 to 2020, breast cancer killed roughly 20 people in Pennsylvania for every 100,000 people. 
Shapiro said Monday that the bipartisan collaboration that led to the passage of SB 8 lays the groundwork for more collaborative efforts in Pennsylvania's politically-divided General Assembly.
"This is just the start. We have a lot more work to do, and this spirit of goodwill and compromise needs to continue," the governor said. "We have to continue to find common sense solutions to the big problems our communities face every single day."