Economic Development
Shapiro announces $400M workforce training program
The initiative will dole out grants to companies that commit to training new employees.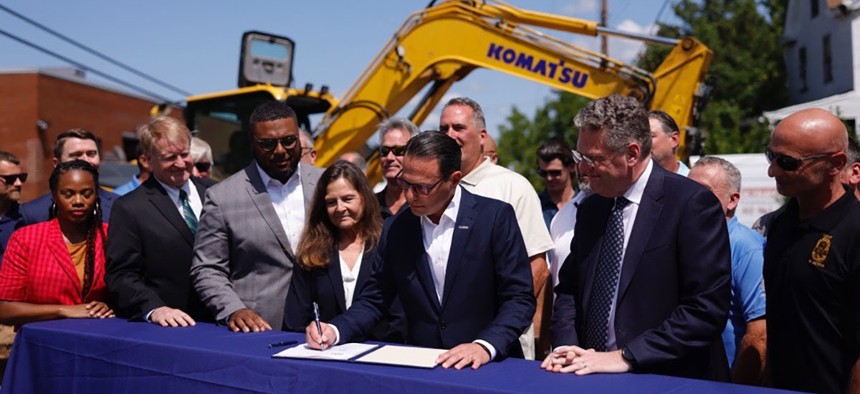 Surrounded by allies in government and labor during a visit to Pittsburgh, Gov. Josh Shapiro announced the creation of a new $400 million workforce training initiative on Monday that he said will leverage federal funds to address – and, ideally eliminate – workforce shortages plaguing the state. 
"It's very clear: More trained workers equals quicker progress, cleaner water, better infrastructure, more economic opportunity for Pennsylvanians," Shapiro said.
The governor created the Commonwealth Workforce Transformation Program through an executive order he signed on Monday. The initiative that will distribute money made available for workforce training programs under the two laws was recently enacted at the federal level. 
The grant program, which applies to organizations working on federally funded infrastructure projects, will distribute grants of up to $40,000 for each new worker hired by an eligible company. The funding, made available through the federal Infrastructure Investment and Jobs Act of 2021 and the Inflation Reduction Act of 2022, could create 10,000 new jobs over a five-year span, according to the Shapiro administration. 
Eligible costs that are covered by the program include wages, payroll taxes, training costs and costs associated with apprenticeship programs. 
"When a contractor or a union is working on a federally funded project, they will be encouraged to hire new workers and provide them with meaningful on-the-job training, whether through a pre-apprenticeship program or an apprenticeship program – or through their local training center," Shapiro said. "If they commit to training them and keeping them on the job for at least six months, the commonwealth will reimburse them for the cost of these workers and their training up to $40,000."
Shapiro said that Pennsylvania is the first state to roll out a workforce development program of this kind. 
"This is an unprecedented executive order," he said. "No other state is doing this – yet."
The Democratic governor was joined by Lt. Gov. Austin Davis, Pennsylvania Secretary of Labor & Industry Nancy Walker, Allegheny County Executive Rich Fitzgerald, U.S. Rep. Summer Lee, Allegheny/Fayette Central Labor Council President Darrin Kelly and other state and local leaders. 
Shapiro has signed several executive orders focused on workforce challenges and labor, including a January order that eliminated degree requirements for 65,000 state jobs, and another aimed at reforming how the state receives and approves permits. 
You can read the full text of Shapiro's latest executive order below.