News & Politics
As his first order of business, Shapiro undos college degree requirement for state jobs
The executive order – affecting 65,000 state jobs – came on the new governor's first full day in office.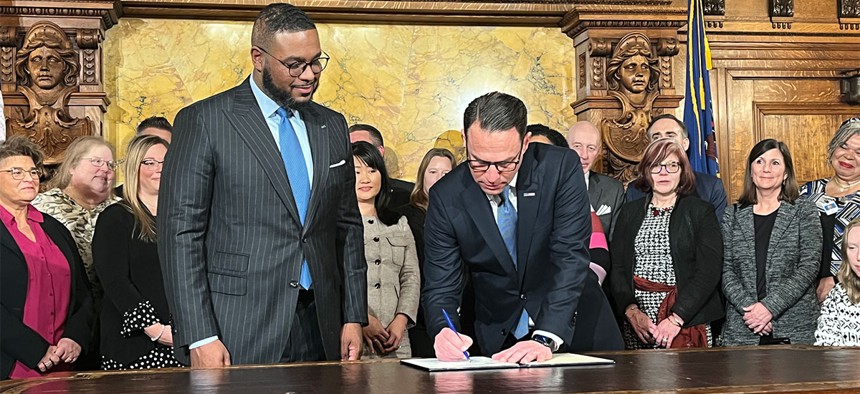 In his first official action as head of state, Gov. Josh Shapiro signed an executive order Wednesday that will open up thousands of state jobs to non-college graduates for the first time. 
The executive order eliminates four-year college degree requirements for roughly 65,000 positions, accounting for 92% of all state positions. 
"In Pennsylvania, the people should decide what path is best for them, not have it decided by some arbitrary requirement or any arbitrary limitation," Shapiro said at a Capitol press conference. "My view is if you're qualified for the job, then you should get the job here in Pennsylvania."
Shapiro was joined by Lt. Gov. Austin Davis, who said the executive order is "a significant step" toward breaking down employment barriers in the state. 
"I come from a lower, middle-class background and I know directly what this will do for working class folks – to give them a chance to serve their community, but (also) to join the middle class and to live the American Dream," Davis said. 
The executive order also directs the Office of Administration to prioritize skills and experience on job listings over education. His administration will also conduct a review of the 8% of state jobs that will still require a college degree moving forward. 
Additionally, the Shapiro administration rolled out a new website – employment.pa.gov – that lists more than 500 open job listings that don't require a college degree. He said the executive order is key to addressing workforce shortages that have hit various sectors across the commonwealth. 
My view is if you're qualified for the job, then you should get the job here in Pennsylvania.
– Gov. Josh Shapiro
Spokespeople for House and Senate Republicans did not immediately respond to a request for comment. 
In addition to his executive order, Shapiro also touched on the status of the state House, which has yet to take any votes in 2023 amid an impasse over House rules and the consideration of a proposed constitutional amendment. The governor said that the chamber "will sort itself out" and said he doesn't expect gridlock in the chamber to impact his agenda. "They'll work through their issues, and I know they'll be prepared to receive my budget address on time and legislate on these important issues that we've been talking about."
As for the funding of his inaugural festivities, Shapiro deflected a question about his decision to shield private donations from public view, stressing that "no taxpayer dollars were used to fund the inaugural celebrations."
"We're going to follow all of the laws required with reporting and disclosure," he said.