News & Politics
Shapiro urges PA Senate to advance $45.5B budget plan
The Democratic governor said the budget plan will 'do a lot of good.'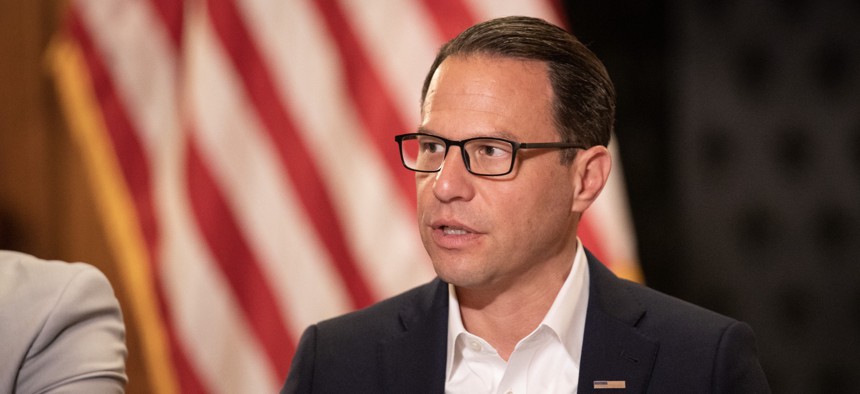 A $45.5 billion spending plan is just inches away from Gov. Josh Shapiro's desk, but before the governor can sign the budget legislation into law, the GOP-controlled state Senate will need to sign the bill – a key procedural step that is currently preventing the budget plan from reaching the governor's desk. 
Speaking to reporters Thursday afternoon, Shapiro called on Senate lawmakers to return to Harrisburg and clear the procedural hurdle preventing the budget bill, House Bill 611, from advancing to his desk.
"We should not delay getting the good people of Pennsylvania the help and the support they need," Shapiro said. "I hope the Senate will be responsible stewards of the public trust and return to Harrisburg to sign this bill – a necessary administrative function before it can come to my desk for my signature to make it law." 
Shapiro said the $45.5 billion spending plan "will do a lot of good all across Pennsylvania."
However, Senate Republican leaders have expressed a feeling of betrayal after Shapiro said he would veto $100 million in funding for a private school scholarship program that would have provided vouchers for students in low-performing public schools to attend private schools. Shapiro had previously indicated his support for the concept, but said Wednesday that he was "unwilling to hold up our entire budget process over this issue."
The inclusion of the scholarship program drew opposition from Democrats who control the state House, as well as teachers unions in the state, and the budget legislation was not called up for a vote in the House until Shapiro promised to line-item veto the scholarship funding. 
Senate President Pro Tempore Kim Ward, Senate Majority Leader Joe Pittman and Senate Appropriations Committee Chair Scott Martin said Wednesday night that Shapiro "decided to betray the good-faith agreement we reached, leaving tens of thousands of children across Pennsylvania in failing schools."
But Shapiro said Thursday that the three main parties involved in negotiations – his administration, Senate Republicans and House Democrats – had never reached a budget agreement that all sides agreed upon.
"In the end, Senate Republicans did not close the deal with their House counterparts," the governor said. "Rather than closing a deal that was within reach with House Democrats, instead, they chose to send the state House a budget that was not agreed upon by all three parties."
Ward, the top-ranking Republican in the state Senate, didn't appear to agree with Shapiro's characterization of budget negotiations. In a statement Thursday, Ward encouraged Shapiro to rethink his stance on the voucher program.
"Gov. Shapiro can still deliver on his campaign promise to Pennsylvania to give 'every child of God a chance to have a good education' by signing the budget that was passed by the General Assembly, without blue-lining the PASS scholarship program," Ward said. "The truth is, there was a deal regardless of what Gov. Shapiro says publicly and he knows there was a deal."
"The outstanding question is: Will Gov. Shapiro deliver on his promise or will he leave Pennsylvania's most vulnerable kids trapped in failing schools?" Ward continued.
Ward did not say whether the Senate would reconvene before Sept. 18, which is the chamber's next scheduled session day. 
The $45.5 billion spending plan, which has been approved by both the House and the Senate in its current form, would increase basic education funding by $567.4 million and expand funding for two educational tax credit programs by $150 million. 
The plan contained in HB 611 would also deposit $500 million into the state's Rainy Day Fund, and It includes funding for 384 new Pennsylvania state troopers.
Lawmakers in both chambers have also approved separate legislation that would expand the state's Property Tax/Rent Rebate Program by increasing the maximum allowable rebate, as well as the number of people eligible for the program. That bill, House Bill 1100, also awaits a signature in the state Senate before heading to Shapiro's desk.
Legislators must still approve budget legislation for state-related universities, including the Pennsylvania State University, the University of Pittsburgh and Temple University. An effort to do so on Thursday failed, as lawmakers did not meet the constitutionally mandated two-thirds majority needed to approve the education funding. 
Lawmakers also still need to advance code bills, which are budget-enacting bills that direct spending allocated in the general appropriations bill.
This story has been updated to clarify that the Senate does not need to convene in full to sign the bill.