News & Politics
Understanding public-private partnerships in Pennsylvania
How P3s are used to improve transportation infrastructure in the commonwealth.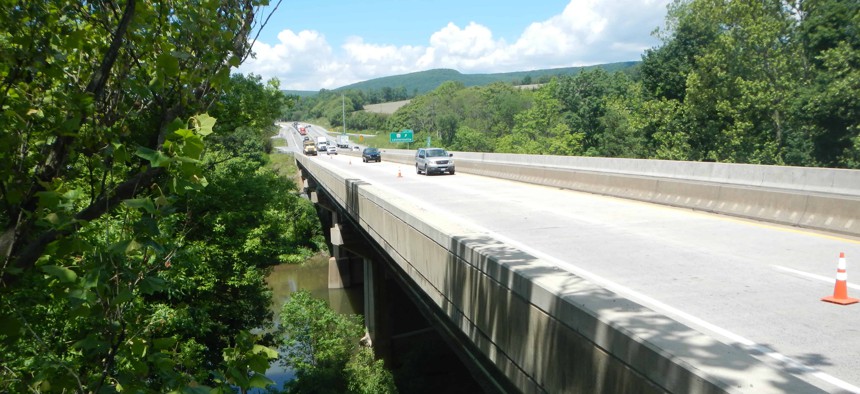 Public-private partnerships have a long and storied history in the Keystone Stone. From the revolutionary 18th-century agreements that resulted in the construction of the Pennsylvania Turnpike to the recent legislative battles over bridge tolls proposed for a series of repair projects, P3s, as they're often called, have long played a crucial role in Pennsylvania infrastructure. 
Since the current iteration of P3 legislation was signed into law by then-Gov. Tom Corbett in 2012, Pennsylvania's public-private partnership law has given the Pennsylvania Department of Transportation and other authorities and commissions the option to take advantage of these special partnerships, which ideally encourage a new level of collaboration between the government and the private sector.
But what, exactly, are public-private partnerships – and how have they been used to improve transportation systems across the Keystone State? City & State has put together a primer on the basics of P3s – and what they mean for travel in the commonwealth. 
What are public-private partnerships?
In Pennsylvania, public-private partnerships are agreements between government entities and private-sector entities to complete transportation projects. Under this contractual agreement, a government entity can transfer a combination of engineering, construction, operation, financing or maintenance duties to the private sector for a fixed period of time, according to PennDOT. 
"It's a way to make use of private funding for governmental purposes, essentially," said Eric Bugaile, a government affairs specialist at Archer & Greiner PC, who spent 32 years as executive director of the Pennsylvania House of Representatives Transportation Committee
The state's P3 Transportation Board is responsible for approving public-private partnership projects, while the Office of Public-Private Transportation Partnerships, known as the P3 Office, "is responsible for the evaluation, structuring and implementation of partnership delivery solutions that are consistent with PennDOT's transportation goals," according to Alexis Campbell, a PennDOT spokesperson. 
Pennsylvania's P3 law has been leveraged for several major infrastructure projects over the last decade, including an $899 million Rapid Bridge Replacement Project, a project to build compressed natural gas fueling stations for public-transit buses, and the Major Bridge P3 Program.  
Bugaile said the $899 million bridge replacement project, which has resulted in repairs for 558 state-owned bridges in poor condition, was, in and of itself, worth the passage of the 2012 law. "If the legislation only did that, then it was well worth it because it delivered so many projects," he said.
However, the law – Act 88 of 2012 – had ripple effects across the state, Bugaile said. "A lot of individual counties are now doing projects that wouldn't have done it before," he said. "I think it spun off other things, too, in counties and in local governments."
What benefits do P3s provide? 
According to the National Conference of State Legislatures, while P3s don't directly serve as a funding source, they can create new financing opportunities and efficiencies that lead to savings. P3s can also improve project quality, improve access to technologies and help accelerate the timeframe of a particular project, according to the organization. 
Campbell said P3s provide cost savings for transportation projects and provide other advantages, including risk-sharing that protects against negative events and access to financial resources and new sources of capital.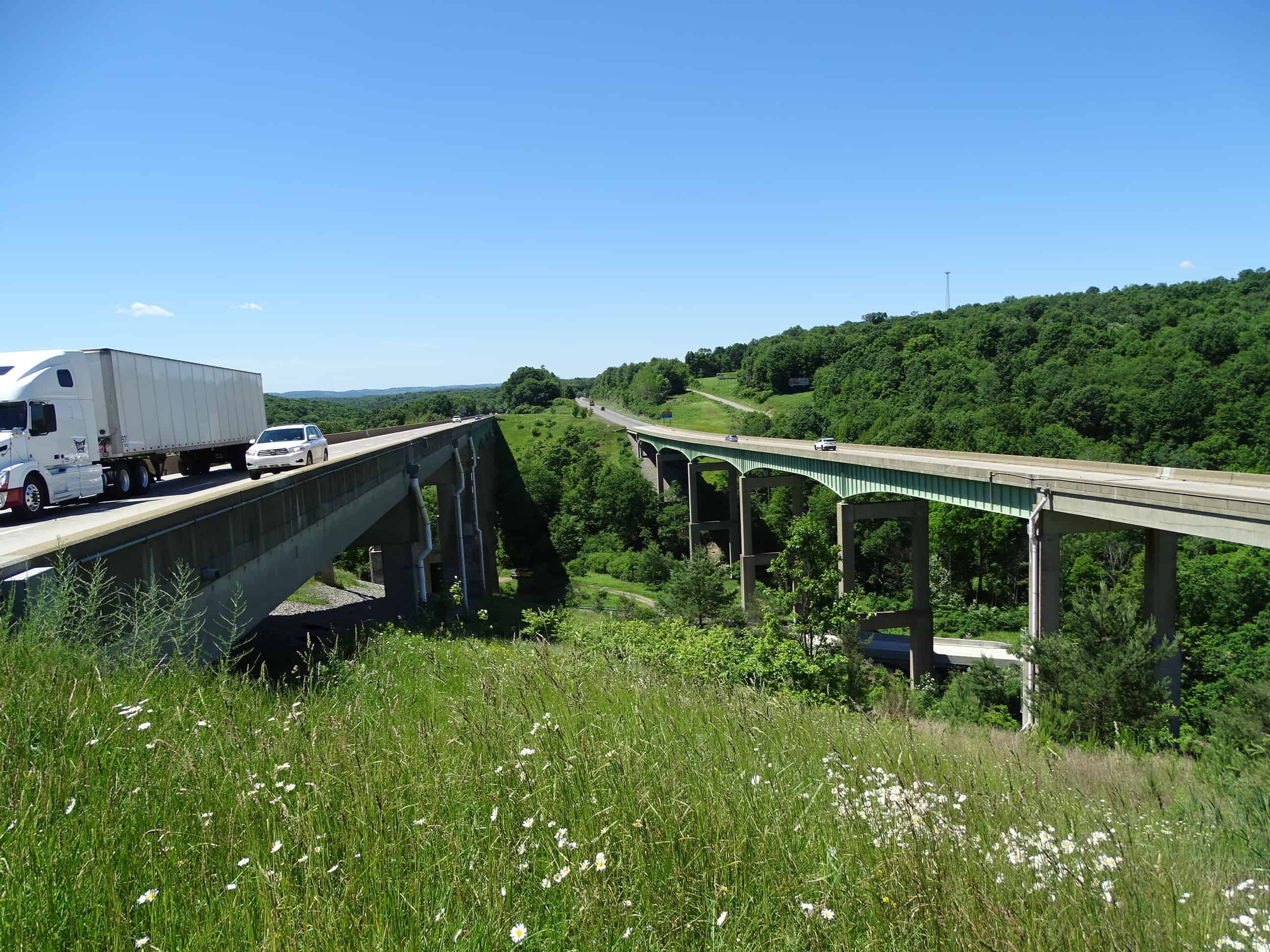 "If the P3 board determines a state operation or project would be more cost-effectively administered or delivered by a private company, the department or appropriate transportation agency can advertise a competitive Request for Proposal (RFP)," Campbell said. "PennDOT enters into a contract with a company to completely or partially deliver the transportation-related service or project."
Are public-private partnerships common outside of Pennsylvania?
Per the NCSL, 35 other states have laws on the books allowing government entities to take advantage of public-private partnerships. In some cases, the laws are comprehensive, while in other cases, states have narrowly tailored their laws to apply to specific entities and sectors. 
Campbell said many states use P3s for transportation improvements, and said that states have also used public-private partnerships for "social infrastructure" improvements like schools, prisons, hospitals and university housing facilities.
What does Pennsylvania's Transportation P3 Office do?
Pennsylvania's Transportation P3 Office works with "internal and external partners to identify candidate projects that may be suitable for public-private partnerships or any other innovative delivery method," according to Campbell.
Once projects are identified, the office handles technical and financial feasibility analyses to determine whether the project should be delivered using "traditional or alternative" deliveries, Campbell said.  
The office also provides staff support to the P3 Transportation Board, which reviews and votes on projects that are being considered under the state's public-private partnership law. The board consists of PennDOT Secretary Mike Carroll, Budget Secretary Uri Monson and appointees chosen by state legislative leaders and the governor. 
Wasn't there a P3 project that would toll bridges?
After the state's Transportation P3 Board approved the Major Bridge P3 Program in November 2020 to toll nine bridges across the state to pay for repairs, the plan was met with opposition. In June 2022, the Commonwealth Court ruled that the plan violated state law, and lawmakers later reached an agreement with then-Gov. Tom Wolf's administration – which became Act 84 of 2022 – prohibiting the bridges from being tolled. 
Repair projects for six bridges – the I-80 Canoe Creek bridges, the I-80 North Fork bridges, the I-78 Lenhartsville Bridge, the I-80 Nescopeck Creek bridges, the I-80 over Lehigh River Bridge project and the I-81 Susquehanna project – are still moving forward as planned, albeit without the tolls.  
According to the Transportation P3 Board's annual report for 2021-22, PennDOT has entered into a pre-development agreement with Bridging Pennsylvania Partners to handle preliminary work on the bridge repair program. The report states that PennDOT will "repay the amounts financed by the development entity through recurring availability payments over 35 years, beginning when construction is complete."
State Sen. Wayne Langerholc, who chairs the Senate Transportation Committee and fought against the plan to place tolls on the bridges, expressed concerns that the plan "is going to put us on the hook for a significant amount of money down the line."
And while construction on the six approved bridges is either beginning already or set to begin soon, Langerholc stressed that the state has other spans in critical need of similar attention. 
"We still have the other three bridges to address – the South Bridge, the Girard Point Bridge in Philly and the Bridgeville Bridge in Pittsburgh – so that's an issue we have going forward also," Langerholc said. 
A new way of doing things
Infrastructure improvements have been top of mind in Pennsylvania following the failure of the Fern Hollow Bridge in Pittsburgh and a bridge collapse on I-95 in Philadelphia – two events that have underscored the ongoing challenges with Pennsylvania's aging infrastructure. 
Innovation and collaboration with the private sector played a role in reopening I-95 in Philadelphia, including Gov. Josh Shapiro's administration recruiting the help of a NASCAR raceway to complete the temporary repairs. 
Public-private partnerships, however formal or informal they may be, may not always involve the governor or NASCAR, but they can lead to a new way of doing things, Bugaile said. 
"The traditional way of doing things is good in some sense," he said, "but you also have to be aware that there are ways that private entities can help that the public can't do."