Education
Colleges and their students register the need for course correction
With the economy and needs changing in classrooms and administrations alike, stakeholders want to make sure colleges and universities adapt with them.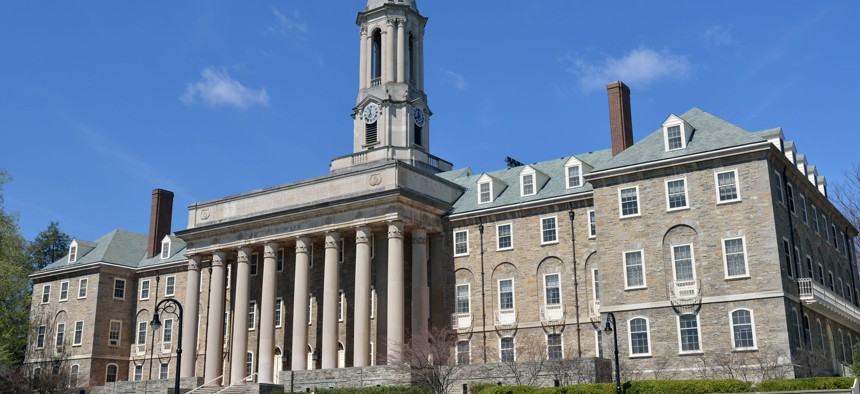 Pennsylvania colleges and universities have come a long way since Dickinson College and the University of Pennsylvania established themselves as some of the first institutions of higher education in the Keystone State. The state's so-called "normal schools," formed as facilities to train teachers, have since evolved into the Pennsylvania State System of Higher Education, a state-owned university system with 14 physical locations across the commonwealth. 
But what should that next evolution look like in an age where everything from artificial intelligence to labor market data is being factored into the future of education – especially when the needs of students and their institutions have changed so drastically? It's not an easy answer. 
"For a university to really understand: 'Who are my students? Why are they here? What am I doing for them and how do I ensure that what I'm doing for them is personalized to their needs to the best of my ability?' is a very complex set of questions, because it's going to be different institution by institution," said Dan Greenstein, the chancellor of PASSHE, the body overseeing commonwealth-owned universities.  
Greenstein has led the effort to redesign the state-owned university system, a process that involved integrating six universities into two larger institutions. In an interview with City & State, Greenstein emphasized the importance of making sure course offerings and academic programs set students up for careers where they can be successful. 
"The educational programs, the credentials that they offer – degrees, certificates – should align in some ways with career opportunities. That doesn't mean it's all science (and) business; there are so many wonderful humanities and social sciences and arts programs, which are so important and provide so many critical skills and perspectives," he said. 
"But it's important when offering courses in all disciplines to ensure that they're delivering learning outcomes, that students come away from those programs of study with skills that equip them for life," he added. 
Greenstein pointed to one initiative currently underway at PASSHE schools. He said the system is requiring institutions to use PASSHE's data system to show the market demand for new programs, degrees and academic credentials. While acknowledging that the system's schools have seen a roughly 30% decline in enrollments since the 2010s, he emphasized that "our credentialing productivity in those high-demand areas has actually stayed flat, which means we've increased proportionally."
An interconnected approach linking coursework to career outcomes is one component that educators and institutions from PASSHE and Penn State and Pitt to the state's community colleges are focusing on – but it's not the only part of the equation. 
In addition to the economy, student needs are also changing. Pennsylvania borrowers have some of the highest student debt levels in the nation, and as they work to complete their degrees and credentialing programs, students are also reporting increasing struggles with mental health and hunger. 
According to 2022 data examined and released this year by Gallup, nationally, 41% of college students said they considered "stopping out" – temporarily withdrawing from their academic program – for at least one term. Hispanic students, Black students and male students were more likely to consider stopping out. Among students who considered pausing their coursework, emotional stress (55%) was the top reason, while 47% listed personal mental health reasons as their top reason.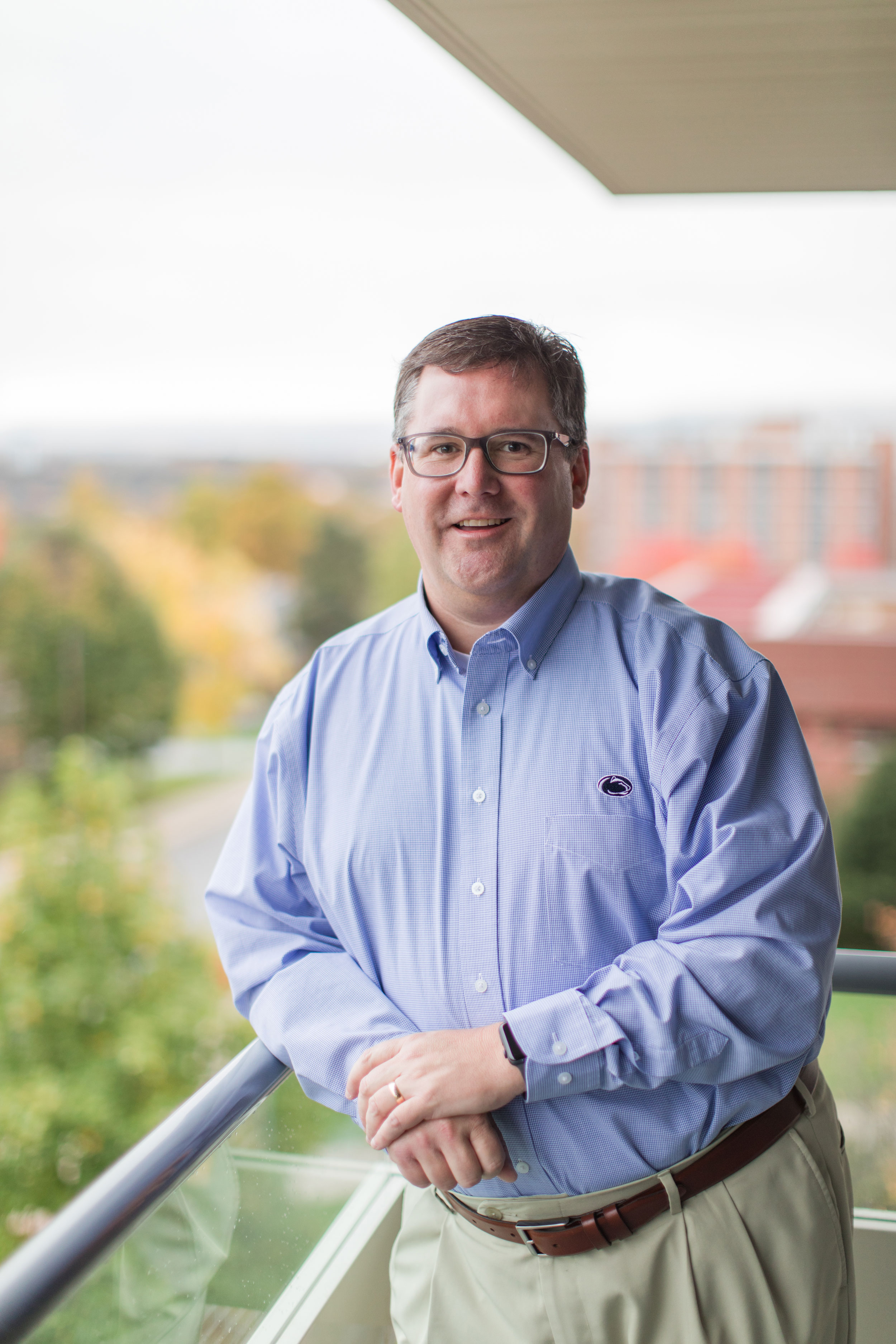 In Pennsylvania, people under the age of 30 are much more likely to negatively rate their own mental health, according to the Muhlenberg College Institute of Public Opinion's most recent annual health survey. According to the college's 2023 survey, which polled 417 adult Pennsylvanians in March and April, 35% of respondents under the age of 30 rated their mental health as "only fair" or "poor," while only 18% of people 30 or older rated their mental health the same way.
Brett Scofield, the executive director of Penn State's Center for Collegiate Mental Health, told City & State that CCMH's annual report underscored that when students take advantage of – and subsequently benefit from during – counseling services and extracurricular activities, they're less likely to drop out. 
"What we found this past year is, when students improve during counseling services, they are more likely to persist in school," Scofield said. 
Overall, Scofield said, colleges and universities have been receptive to student mental health needs. "Colleges and universities and programs have been exceptional at destigmatizing services. Students feel very comfortable asking for help now. Whereas, maybe 20-30 years ago, that was not as prominent – the destigmatization. It still is an issue, but it is less so. And there's been many programs implemented about identifying and referring students in need."  
In addition to stigma, Scofield said that misinformation about counseling services can dissuade students from seeking mental health care. He said students sometimes hear secondhand that counseling centers are full, or that they're referring people to outside services, without first checking with the counseling center. To address the high volume of students seeking counseling and mental health services, he added, colleges and universities have shifted to new models to make sure students are getting care. 
"Many schools recognize the supply-demand imbalances with their counseling services," he said. "In order to respond to this issue, several schools contract with telehealth companies to add treatment capacity, which helps meet those needs, especially during critical times of the year. This is a strategy we use at Penn State – University Park."
Innovation has been needed to address rising hunger levels on college campuses, as well. According to Feeding Pennsylvania, 2 million people in the state struggle with hunger, including 500,000 children. College campuses haven't been spared. 
Last year, then-Gov. Tom Wolf secured $1 million to develop a hunger-free campus initiative in the 2022-2023 state budget, creating a program to drive state funds to colleges and universities that are actively working to connect students with food and other basic resources. This year's budget, signed into law by Gov. Josh Shapiro, includes another $1 million for the initiative. 
More than 70 institutions of higher learning in the commonwealth are now designated as hunger-free campuses, meaning they have plans and programs in place to combat student hunger.
Robb Friedlander, the director of advocacy at Swipe Out Hunger, a nonprofit dedicated to fighting hunger that was originally founded on the campus of the University of California, Los Angeles, said student hunger has been exacerbated due to both changes in the economy and in who is attending college. 
"What we're seeing is more and more low-income, first-generation (and) parenting students on our campuses," Friedlander said. "At the same time, you (add in) increased tuition, increased housing costs, increased health care costs, increased transportation and so on – and it's really just kind of a double whammy for students."
Friedlander said the institutions that have been most effective at combating hunger on their campuses are the ones that have taken a more comprehensive approach, combining food pantries with other resources like clothing centers and housing and nutrition assistance programs. That state funding certainly helps, too, he said.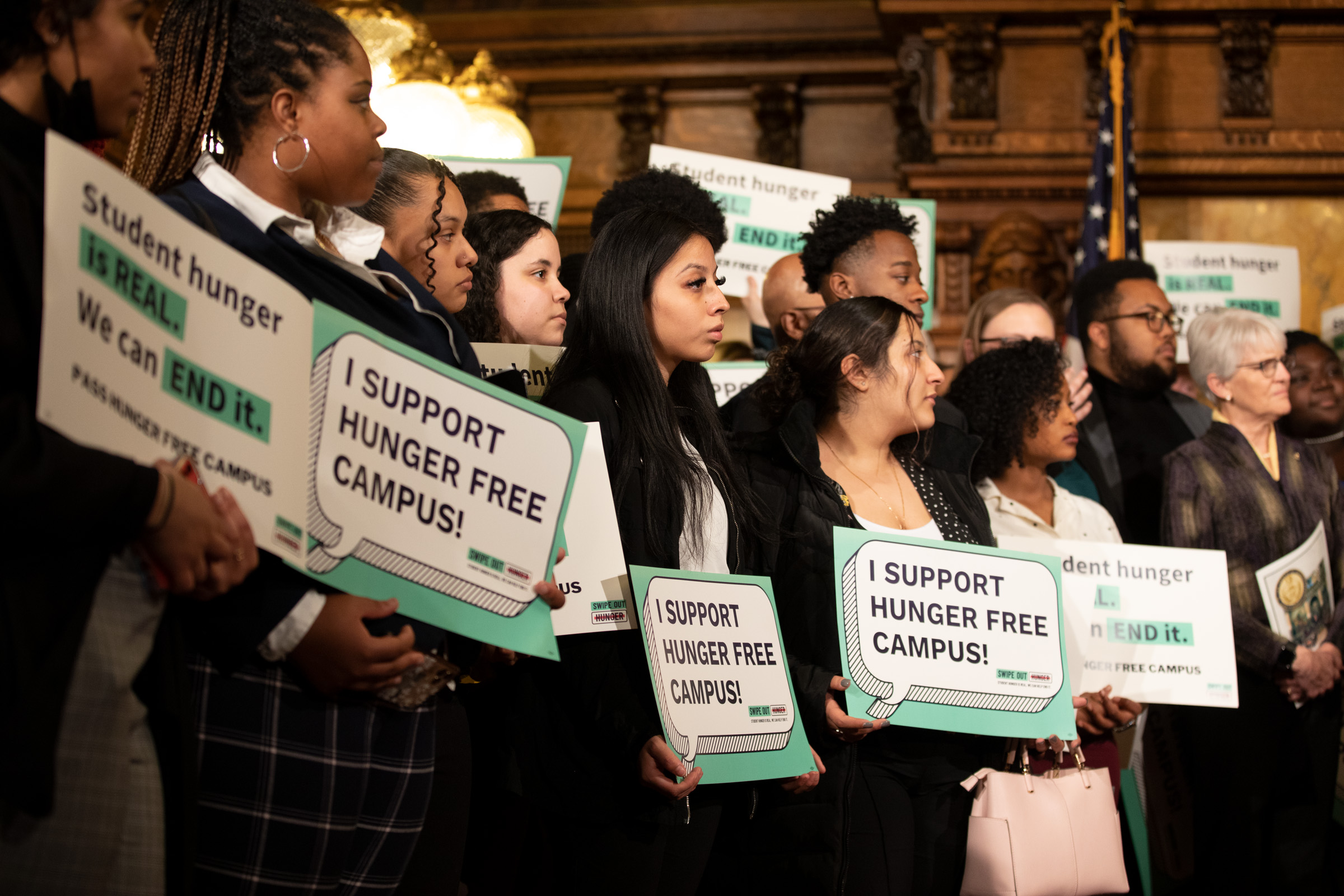 "All of these pieces, all of these wraparound services, are interconnected – the hard part about that is that that takes resources, that takes focus, that takes staffing," he said. "That's where we really believe that state funding is the key and is imperative there."
As for student debt: According to 2022 data from the Education Data Initiative, the average borrower in Pennsylvania holds approximately $35,385 in student loan debt. Borrowers in the state hold a combined $64.5 billion in student loan debt. (The federal average student loan debt is $37,338 per borrower, according to the organization.) 
Governors and state lawmakers have floated a number of different proposals to alleviate the financial strain of student debt. Republican state Sen. Scott Martin recently introduced legislation that would require all high school seniors in the state to fill out the Free Application for Federal Student Aid (FAFSA), which Martin says will make sure no students are unaware of the financial aid that is available to them.
Others have suggested using state funds to take the burden off of borrowers. In his 2023-24 budget proposal, Shapiro pitched a $2,500 per year tax credit program, which was not included in the final budget, that would have given tax breaks to recently certified teachers, police officers and nurses. During his time in office, Wolf unsuccessfully attempted to gain legislative buy-in on the Nellie Bly Scholarship Program, which would have provided students with scholarships to cover the cost of tuition at PASSHE schools and community colleges. 
All of these pieces, all of these wraparound services, are interconnected.
– Robb Friedlander
Greenstein said keeping the cost of higher education low is critical to the state's chances for helping as many residents as possible get their degrees – and, by extension, helping the state's economy.
"Making education affordable – it is so, so critical," he said. "We're the most affordable option in the state of Pennsylvania. By comparison to other comparable publics, we're still too expensive. For a middle-income family household to send one of their members to one of our universities – again, the most affordable four-year options in the state – you're asking them to basically sacrifice 40-45% of their discretionary income."
And when taking everything from workforce needs, to affordability, to hunger and mental health into account, it's likely going to require institutions to work in tandem with students, Greenstein said. 
"We need to do everything we can to ensure that our students are getting the biggest bang for the buck," he said. "It's a partnership. Universities and students have to work together to get across the finish line. But are we doing everything we can to ensure that? I think that's absolutely critical."