Pittsburgh
Unless states act soon, the 'AI rich' will 'only get richer'
A $62.7 million grant is going to a coalition of universities, philanthropic organizations and companies in southwestern Pennsylvania to increase workforce training in robotics and AI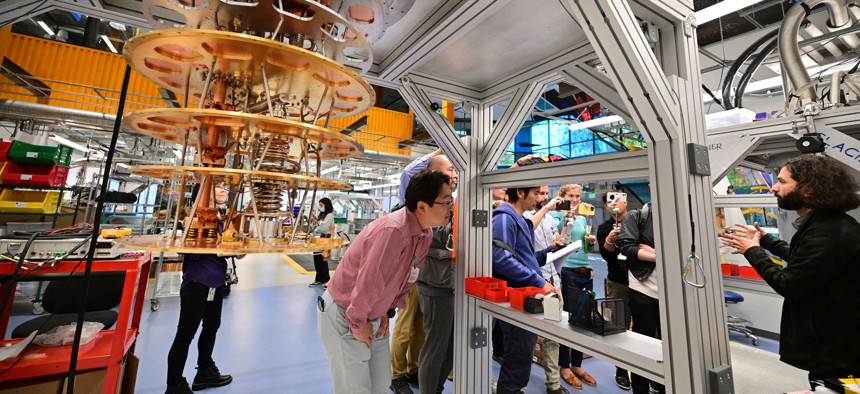 By Kery Murakami 
Artificial intelligence may be playing a bigger role in technology all over the world, but in the U.S. at least, the jobs and companies supporting it are concentrated in only a handful of places.
States, though, can do something about that, according to a new report by the Brookings Institution. Training people to work with AI as it becomes more widely used in manufacturing or helping local universities do more research in its development can position states to take advantage of the growing industry. 
But if they fail to do this, researchers warned, most parts of the country would continue to be left out while "the AI 'rich' only get richer."
Underlining just how many jobs in the AI industry are concentrated in only a few parts of the country, the Brookings report pointed to recent labor data from Lightcast. The analytics company examined job postings in the field of generative AI, a kind of artificial intelligence that creates text, images and other media. In May, nearly 60% of job postings were around San Francisco, Seattle and 12 other metro areas that are home to major tech companies.
In the preceding 10 months, about half of the job postings in the field were in just six metro areas: around San Francisco; San Jose, California; New York; Los Angeles; Boston and Seattle.
That reflects what Brookings researchers discovered in a 2021 study they conducted that examined where AI companies were located, patents filed or conference papers written. A quarter of those were in San Francisco or San Jose.
"Doing nothing will likely leave AI to concentrate even more," the report said, leaving out the rest of the nation as AI is increasingly used in industries like finance, health, transportation, education, food production and environmental sustainability.
Some parts of the country are trying to position themselves to play a bigger role in the development of AI, particularly with the help of funding from Congress and the Biden administration, the report said. The federal government has handed out nearly $500 million to universities over the past five years to create 19 National Artificial Intelligence Research Institutes with links to 37 states.
In September, the Economic Development Administration awarded $1 billion in Build Back Better Regional Challenge grants created in the American Rescue Plan Act to "transform local economies."
The Georgia AI Manufacturing Coalition, led by the nonprofit Georgia Tech Research Corporation, received a $65 million grant to create an AI manufacturing pilot facility. The facility will be a hub for artificial intelligence research and testing so that AI can become a part of significant Georgia industries such as semiconductor manufacturing, food production and defense.
Stationed out of the Georgia Institute of Technology, the facility will work with other higher education institutions in the state like the historically black Spelman College to increase diversity in the manufacturing industry.
Women only make up 18% of manufacturing workers in the state. Only 6% are Black. The goal is to increase those numbers over the next five years to 23% and 15% respectively by training them to use AI, said Aaron P. Stebner, a Georgia Tech associate professor in mechanical engineering.
"We need to address one of the country's greatest needs: creating a workforce with more capability, specifically related to technology and manufacturing," he said. "Just as we teach our students a series of skills that will allow them to be successful in future jobs in the decades to come, it's Georgia Tech's responsibility to upskill workers around the state who are in the middle of their careers and facing technology disrupters."
Making funding available to increase AI research at colleges and universities in other parts of the country "demonstrates how the federal government can effectively invest in countering AI sector geographical divergence," the Brookings report said.
Another $62.7 million grant is going to a coalition of universities, philanthropic organizations and companies in 11 counties in southwestern Pennsylvania to increase workforce training in robotics and AI. The goal of the project is to make sure the economic benefits of the new technologies "equitably reach rural and coal-impacted communities."
There's more that the federal government can do, the report said, including spending more money on programs like regional challenge grants.
"Yet states and regions also need to do more to access necessary resources and build up new AI ecosystems," the report said.
Kery Murakami is a senior reporter for Route Fifty, where this story originally appeared.