Philadelphia
Proposed supervised-injection legislation roils Philadelphia City Council
The bill would ban supervised injection sites from every district except one covering West and Southwest Philadelphia.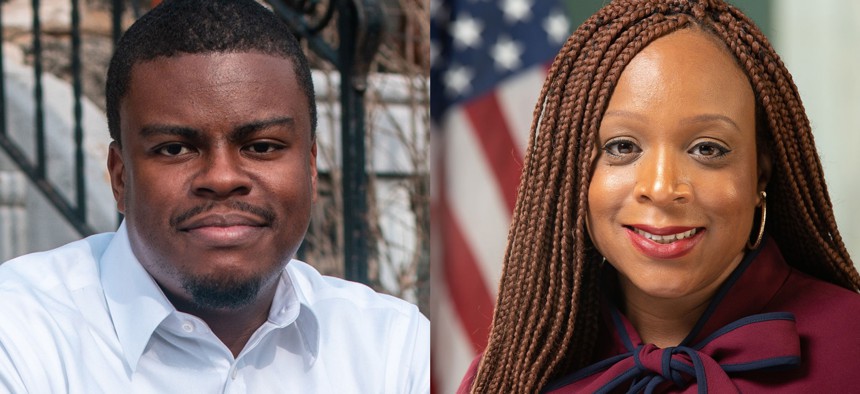 Philadelphia City Council kicked off its fall session with a little-noticed agenda item that could have big complications: a bill to ban supervised injections sites in most of the city. 
The legislation was approved by a 13-1 vote after impassioned input from councilmembers, health care workers and city residents. The bill would codify a ban on supervised injection sites in all parts of the city except for the 3rd Council District, which is represented by Councilmember Jamie Gauthier. 
Gauthier wasn't in attendance at Thursday's council meeting, but said in an emailed statement that she was "unwilling to deny my constituents their right to at least consider a tool that has been proven to save lives in other jurisdictions," adding that "there is no plan to implement an overdose prevention center in West or Southwest, or in any part of the city.
"I respect my colleagues' right to legislate zoning in their City Council districts, but I hope that they will change their minds in the future and join me in allowing residents to decide for themselves whether they want lifesaving overdose prevention centers in their neighborhoods," Gauthier added.
The bill itself would create a zoning overlay district that prohibits supervised injection sites in all council districts except for the 3rd District. 
Thursday's vote marked the latest chapter in an ongoing debate over supervised injection sites in Philadelphia. The injection sites, which proponents say prevent deaths by allowing recreational drugs to be consumed in a medically supervised setting, have remained a hot topic in Philadelphia since the nonprofit Safehouse attempted to open such a site in the city. 
Jabari Jones, who is running to unseat Gauthier in this year's election, said during the public comment portion of the meeting that he worried the bill would do more to encourage drug use than to stop it, adding that the bill "will send the next message that West Philadelphia is the new Kensington."
Jones told City & State that he spoke up at the council meeting because he saw Kensington's drug crisis unfold firsthand. 
"I became really alarmed that that same situation could happen in West and Southwest Philly," Jones said. "If a bill passed that banned safe injection sites from everywhere else in the city except here … advocates are going to try to take advantage of that and try to open one here in our district."
Instead, Jones said, the focus should be on prevention and treatment "that should also include the law enforcement angle of tracking down and stopping drug dealers as well as the distribution of drugs in neighborhoods." He added that "We need to have a serious conversation about treatment and unfortunately, a conversation about the potentials of having involuntary treatment in some cases for folks that are struggling with addiction. Because at the end of the day, we have to prioritize saving lives, rather than just allowing this crisis to kind of continue in a backroom somewhere."
Jones, who said that he only learned of the legislation and the carveout of his district on Tuesday, wasn't the only one to find out about it at the last minute. Carol Jenkins, the Democratic ward leader for the 27th Ward in West Philadelphia, also learned of the bill only this week. 
"I will say that I'm not sure that she did a lot of outreach to her ward leaders, district leaders and even her voters about this before she put it out there,"Jenkins commented. She referenced previous failed attempts to open supervised injection sites in Philadelphia by saying that the bill is "much ado about nothing. The feds won't allow them to open one, as you saw when they tried to open in South Philly, where are they going to open? There is going to be pushback in every community no matter where it is – it's not going to be popular, it's not going to be embraced."
However, a decision from the 3rd Circuit Court of Appeals in 2021 would likely prevent a supervised injection site from opening in Philadelphia at all, meaning Thursday's vote could be all for naught.
In its 2021 opinion, the court ruled that it would be a federal crime to open up a supervised injection site in the city. 
That hasn't stopped the facilities from opening up elsewhere, as supervised injection sites have opened in New York in East Harlem and Washington Heights. However, according to The New York Times, Damian Williams, the U.S. attorney for the Southern District of New York, has warned the organizations behind the centers that their actions are against federal law – meaning that the debate over supervised injection sites – in Philadelphia and beyond – is likely far from over. 
The bill now awaits action from Mayor Jim Kenney.