General Assembly
House Judiciary Committee to vote on McClinton pardons amendment on Nov. 14
The committee heard testimony on whether to amend the pardons process outlined in the state constitution.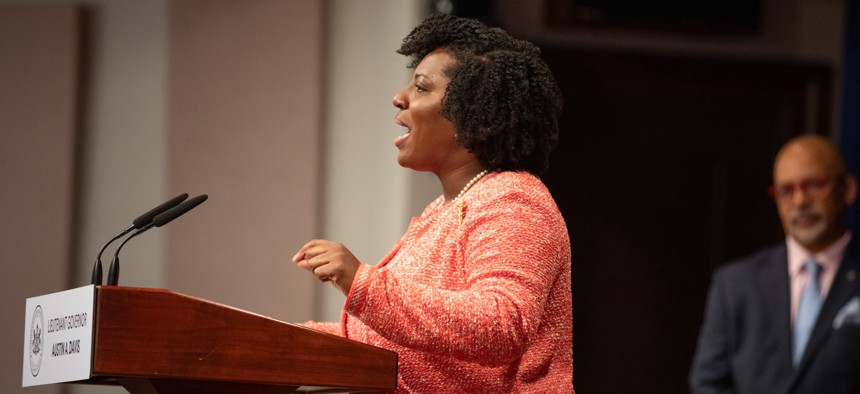 The chair of the Pennsylvania House Judiciary Committee said Monday that the panel will vote on a proposal on Nov. 14 that would amend the state constitution and lower the vote threshold required for the state Board of Pardons to recommend commutations for those with sentences of death or life imprisonment.
The proposal, House Bill 1410, is sponsored by House Speaker Joanna McClinton, who characterized the current requirement – a unanimous vote of the board – as a relic of 1990s tough-on-crime policies.
"Prior to the 1990s, to receive a pardon or commutation, these individuals only needed a majority three-fifths vote of the pardons board, a standard that served Pennsylvanians well throughout most of our history," McClinton said during the Judiciary Committee's public hearing on the proposal on Monday. "Now, 30 years later, wiser minds are prevailing and speaking out. And these wiser minds, including all of you … know that there's no proper, good or just reason to continue to overburden our correctional system or detain people when they no longer pose a threat to our society." 
In Pennsylvania, the governor has the sole power to grant pardons and commutations – but only on the recommendation of the Board of Pardons, which is comprised of the lieutenant governor, attorney general and three gubernatorial appointees. 
As the state constitution is currently written, those applying for a pardon must receive a recommendation from a majority of the Board of Pardons, while those seeking to have a death or life sentence commuted must receive a unanimous recommendation from the five-member board. 
State lawmakers amended the state constitution in 1997 to require those facing death sentences and life in prison to receive a unanimous recommendation from the Board of Pardons, rather than a three-fifths vote. The change came after Reginald McFadden, who had his sentence commuted by the state Board of Pardons in 1994, went on to kill two people and rape a third person in the three months following his release. 
However, it wasn't McFadden's story that drove the conversation at Monday's House Judiciary Committee hearing, but the testimony of others, including Nancy Leichter, who told the story of how her father, Leonard Leichter, died of a heart attack in 1980, just hours after two teenage brothers, Wyatt and Reid Evans, took part in a carjacking that targeted him. 
Leichter said the brothers took her father to a phone booth to call for help when he told them he had a heart condition. She said her family initially felt justice was served after the Evans brothers were sentenced, but she said her views toward their sentences changed over the course of her life. 
"As the years went by, my view of their sentences changed significantly. I began to think about the Evans brothers: Who were they? What had their life been like that terrible night? They were 18 and 19 years old at the time with the brains of teenagers – not fully developed. They were reckless and they were stupid," Leichter said, adding: "Thinking about myself as a teenager, I was reckless and stupid myself. I didn't cause anybody's death, but if I had done something like what they did, I don't believe that I would receive the same sentence that they received. I just don't think it would have happened."
Leichter continued: "The more I learned about them and the criminal justice system, the more I knew I had to try and help them get released. They had applied for commutation of their sentences, and they'd been turned down. They've shown compassion for humanity to my father by taking him to the phone. They were accomplices to the crime – they did not kill him. They did not intend for him to die. They didn't even know he had died until they were arrested."
Leichter advocated for the brothers' release before the Board of Pardons, and they were released in 2021.
The hearing also featured remarks from Kevin Butler, president of the Philadelphia chapter of the Gray Panthers, as well as Bryan Widenhouse, a senior policy associate with FAMM, a criminal justice reform organization – both of whom detailed their own experiences within the criminal justice system. 
Widenhouse said he spent more than three decades in prison; he was sentenced to life in prison without parole in 1990 at the age of 17 for second-degree murder, according to The Daily Advertiser, a Louisiana newspaper. Widenhouse said Monday that he now tries to mentor young people who come into contact with the criminal justice system.
"The truth is, there are many people languishing in prison who are just like me and could safely be returned to their families to help us build our communities better and stronger, and to use the knowledge that they have – like I do – to address people who are following in their footsteps," Widenhouse said. He said FAMM supports McClinton's proposed constitutional amendment. 
To amend the state constitution, lawmakers must pass an identical amendment in two back-to-back legislative sessions. If that occurs, voters can then choose to approve or deny the amendment in a ballot referendum. 
At the conclusion of Monday's hearing, Democratic state Rep. Tim Briggs, the chair of the House Judiciary Committee, said that while he originally wanted to hold a vote on HB 1410 this week, a vote will instead be held on Nov. 14.
"It will give us an opportunity to advertise our agenda, let the members percolate on today's testimony and other interested parties engage in the conversation," Briggs said. 
The proposed constitutional amendment earned the support of Lt. Gov. Austin Davis this month, who said the bill will "improve the commutations process, empower each member of the Board of Pardons to vote their conscience and allow for meritorious applicants to have a greater opportunity for a second chance."