Campaigns & Elections
House lawmakers approve bill moving PA's 2024 primary to April 2
Lawmakers considered two bills to move the primary, but only one passed.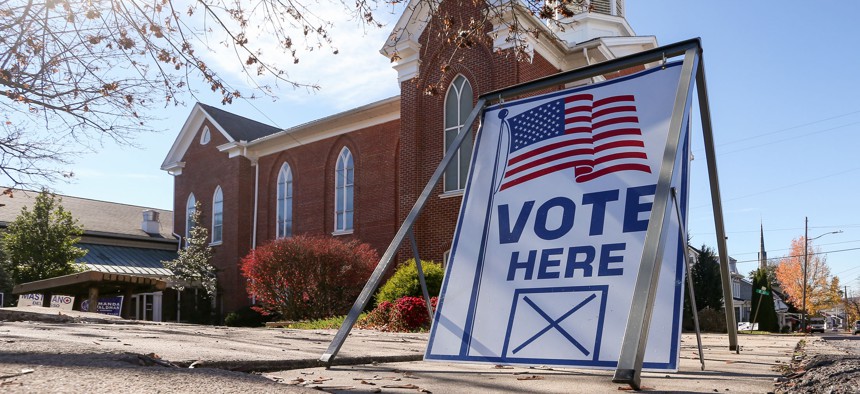 Lawmakers in the Pennsylvania House of Representatives on Thursday narrowly approved legislation to move the state's 2024 presidential primary to April 2, while rejecting another bill that would have moved the primary to a different date and made several overhauls to the state's chief election law. 
However, even as House lawmakers sent a bill changing the primary date to their counterparts in the Senate, concerns remained that legislators have already waited too long to change the date of next year's primary. 
The House voted 102-100 on Thursday morning to approve House Bill 1634, which would move next year's April 23 primary to Tuesday, April 2. However, it was a separate bill that led to a dramatic and drawn-out vote on the House floor on Thursday morning. 
Pennsylvania's current primary date conflicts with the Jewish holiday of Passover – prompting lawmakers to explore other options that would make it possible for the state's roughly 300,000 Jewish adults to vote, an action prohibited for observant Jews during Passover. Proponents of changing the date also say moving it earlier in the year will strengthen the collective voice of Pennsylvania voters during the presidential primary process. 
After passing HB 1634, House lawmakers considered Senate Bill 224, another bill seeking to change the date of next year's primary. SB 224, which proposes moving the primary to March 19, was also amended with language requiring voters to show identification at the polls and giving county officials three days to pre-canvass mail-in ballots. 
Lawmakers voted to add the voter ID amendment while the bill was on second consideration on Wednesday, and the bill was amended with additional election law changes during a House Appropriations Committee meeting that was held after 11 p.m. on Wednesday.
The later amendment also added language that would require the Department of State to conduct post-election risk-limiting audits for every election and also allow voters to place themselves on a permanent mail-in voter list to automatically receive mail-in ballots for future elections.
Republicans objected to the late meeting Wednesday night, with GOP state Rep. Ryan Warner calling the meeting and process by which the bill advanced "disgraceful" and "an insult to democracy."
"We had all summer – all summer – to address these issues. Here we are, 11:30 at night, shutting down debate, doing backdoor procedural movements to add amendments to bills," Warner said in committee on Wednesday. 
GOP lawmakers reiterated their concerns with how the bill was developed on Thursday morning. As legislators debated the bill ahead of a final vote, House Republican Leader Bryan Cutler likened the late-night committee vote to a 2005 scandal in which lawmakers voted at 2 a.m. to give themselves pay raises. 
"This throwback to the pay raise government is shameful. It's not worthy of our institution or the members," Cutler said, later adding: "This is more of what we saw earlier this week – a sprinkling of good policy wrapped around with a bunch of bad legislative ideas."
House State Government Committee Chair Scott Conklin, a Democrat, defended the process by which the bill was considered, noting that Wednesday's committee vote allowed the bill to be called up for a final vote in the morning. 
"As someone that has a history (in) this building, I remember those days when the midnight pay raise was voted on this floor in the middle of the night. I want to thank the speaker for not having a vote in the middle of the night like they did in the past," Conklin said. "I want to thank this speaker and I want to thank this leader for having this vote at 11 a.m. in the morning, while everybody's awake." 
House Democratic Leader Matt Bradford also defended how the bill was amended, noting that Democrats didn't try to block the voter ID amendment from getting a vote on Wednesday.
"Look, this humble majority let the voter ID bill go up. You got the voter ID bill – unanimously. You voted for your voter ID – your legislation. The majority of my caucus didn't. But you know what? That seemed to be the right thing to do to move the process forward," Bradford said. 
While Republicans criticized the process, there were plenty of material concerns voiced against the bill, the biggest being that moving the primary and implementing new election law changes would put too much pressure on election administrators. 
Lisa Schaefer, the executive director of the County Commissioners Association of Pennsylvania, told City & State in an email that moving the primary – regardless of the date – will likely present challenges for election workers. 
"We are now less than five weeks away from the November general election, which, while not garnering as much attention as a presidential election, is just as time-intensive to prepare for if not more so given the number of races on the ballot," Schaefer said. 
"In general, counties believe there is simply not enough time at this late date to implement changes for the 2024 presidential primary, regardless of the date chosen," Schaefer added, noting that counties would have to reschedule polling places and poll workers if the primary date is changed.
Ultimately, after two hours of debate on the bill and its contents, lawmakers overwhelmingly rejected SB 224 with a 26-177 vote. 
Cutler said after the vote that the result was "proof that the majority is not prepared." "You don't come to the floor as a majority leader and only get 27 votes for a bill, and you don't come to the floor simply to fail – and yet that is what we watched," he said.
It's unclear whether the Senate will consider HB 1634 after SB 224 – which was previously approved by the Senate – was defeated on Thursday. Schaefer, in her email to City & State, suggested that the window is closing for counties to have enough time to carry out the election on an earlier date. 
"At this date, counties can no longer guarantee that there will be sufficient time to make the changes necessary to assure a 2024 primary on a different date would be successful," she said. 
State Senate Majority Leader Joe Pittman seemed to echo those sentiments in a statement released Thursday following the House vote.
"We have tried to advance a new primary date out of respect for the Jewish holiday," he said. "Those efforts have clearly not been successful and the window to make any change is rapidly closing given the House actions this week."