Infrastructure
Wolf's $33B budget pushes education, workforce development funding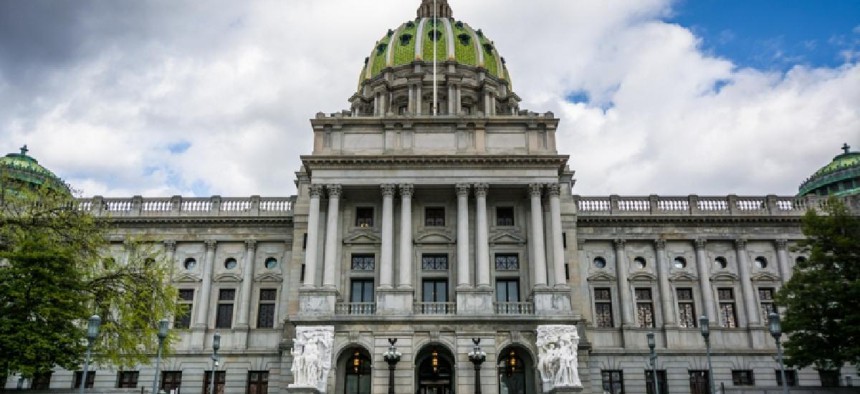 Gov. Tom Wolf Tuesday gave his fourth budget address, the last of his current term, calling for $33 billion in expenditures. His budget proposal would prioritize education funding and workforce development initiatives while once again calling for a natural gas severance tax, agency consolidations, and a per capita municipal fee to pay for State Police coverage of municipalities without their own police force.
The budget proposal includes no broad-based tax increases relative to the personal income tax and sales and use tax.
The proposal is $600 million greater than the governor's proposed budget for FY 2017-2018 and $900 million more than the $32 billion spending plan that was ultimately enacted.
Starting off with the heavier lifts in terms of legislative capability and desire, the governor is asking for a natural gas severance tax to help balance the budget. The tax he is proposing is a volumetric based tax that increases based on the price of gas.
While the tax is styled after House Bill 1401 – legislation currently under consideration in the House of Representatives that is expected to bring in between $150 million and $200 million in annual full-year collections – the governor's proposal doubles the tax rates in the House bill and is estimated to bring in around $250 million for the FY 2018-2019 budget.
"Pennsylvania is blowing most other states out of the water when it comes to production. And by joining every other gas-producing state and passing a severance tax, we could also join them by bringing billions into our own coffers," Gov. Wolf said. "Ask these oil and gas behemoths to pay their fair share for extracting Pennsylvania's bountiful resources, and we can build a brighter future for Pennsylvania."
In terms of agency consolidation, something the Republican-controlled Legislature was reluctant to do during last year's budget cycle, the governor is once again seeking to consolidate the Department of Health and the Department of Human Services into one agency.
He is also seeking to formalize the internal consolidation between the Department of Corrections and the Board of Probation and Parole into a newly created Department of Criminal Justice.
According to the governor's office, the formal mergers will make collaboration more effective, enhance service delivery and eliminate duplicative expenditures for redundant tasks.
"[B]ecause we've begun to take a new approach to our budget, I can come before you today with a budget that makes the investments we need to continue our progress without any tax increases on Pennsylvania families," the governor said during his address. "I'm going to keep doing whatever I can to reduce costs and streamline government, but we can do so much more to improve our fiscal future if we work together."
Also proposed last year, but not included in the final budget: the governor is proposing a $25 per person fee on municipalities not having a police force in order to subsidize State Police coverage.
While arguments in the Legislature focused on whether or not the fee is a long-term solution or could be considered double taxation, the governor's office has said that the fee is necessary to address the inequity of those municipalities receiving State Police coverage while not paying for their own law enforcement while other municipalities have taken such a task upon themselves.
The governor is also seeking funding for four new State Police cadet classes to add 100 troopers.
Hitting big Democratic asks, the governor's address prioritized education spending and workforce development.
In terms of spending, Wolf has called for an additional $225 million in education investment, including another $100 million in basic education funding.
The budget proposal also calls for $20 million more in special education funding, $30 million for Pre-K Counts, $10 million for Head Start, $10 million for career and technical education, and $15 million for investment in the State System of Higher Education.
Additionally, the governor is hoping for $40 million for the PAsmart program that is aimed at developing needed job skills for 21st-century careers.
Workforce development initiatives put forward by the governor include providing another $5 million in investment for the PA First workforce development tool and $12 million for funding Manufacturing PA to support the Pennsylvania Manufacturing Training-to-Career Grant Program, the Manufacturing Innovation Program, and Pennsylvania's Industrial Resource Centers.
"Developing a workforce that can compete and win in the 21st-century economy is the single best way to help Pennsylvania businesses grow – and attract new businesses to our Commonwealth," he stated. "There should be a place in Pennsylvania's future for anyone willing to work hard to make a better life – and I hope you're ready to work with me to make that happen."
The governor is also proposing increasing the minimum wage to $12 per hour from the current $7.25 per hour, which is couched in positive terms of not only providing needed state revenue, but reducing entitlement costs in the Department of Human Services by $101 million annually, with federal savings of $600 million annually.
In addition, the governor said he is seeking a $25 million state investment, with $5 million in federal matching funds, to expand access to high-quality child care. He stated that he hopes to work with the General Assembly to align state workplace standards with today's workforce and social realities by seeking pay equity, guaranteed earned sick leave, and sexual misconduct victim protections
Other budget highlights include a commitment to fully funding the state's annual pension obligation; increasing funding for services for Pennsylvanians with intellectual disabilities; and investing in new positions within the Department of Environmental Protection to prioritize protecting the environment while reforming the department's permitting processes.
The governor is also calling for the implementation of full combined reporting, with the revenue obtained there dedicated to offsetting the costs of reducing the corporate net income tax from its current rate of 9.99 percent to a more regionally competitive level of 7.99 percent by 2023.
Another $53 million is provided in the governor's proposal for modernizing the Statewide Radio System to comply with federal requirements.
Overall, Wolf struck a positive tone for Pennsylvania's outlook in addressing the joint session of the Pennsylvania General Assembly.
"[T]he Pennsylvania we all are so proud of – the place where you could work hard and earn a good living, raise your family in a strong community, watch your kids find opportunity of their own – it wasn't magically bestowed upon us. It was built, by generations of people who did hard things, together," he said. "Now it's our turn. It's our turn to make the tough decisions with courage and conviction. It's our turn to invest in new technologies, inspire new discoveries, and incubate new industries. It's our turn to build a stronger and fairer economy; healthier and safer communities; and new opportunities for the next generation. It's our turn to finish writing the next chapter in the story of this great Commonwealth."
Republican legislative leaders from the House and Senate responded to Gov. Tom Wolf's budget address Tuesday afternoon, saying the nearly $1 billion spending increase over last year's enacted budget proposed by the governor is a non-starter in their respective chambers.
"I think any time you are proposing a $1 billion increase in spending, there's a lot of questionable components to that we think will lead to tax increases in the future," said House Majority Leader Dave Reed (R-Indiana). "We want a responsible budget that spends only the dollars that are coming in to our citizens, to our Commonwealth, and to our state's coffers, but also does an effective job of actually meeting the core functions of government that our citizens expect on a daily basis."
Noting the adage of "the governor proposes and the Legislature disposes," Senate Majority Leader Jake Corman (R-Centre) also noted the governor's proposed natural gas severance tax is likely not going to happen since it was not supported by regulatory reform measures related to the industry.
"One of the disappointing parts was when he proposed the severance tax, but didn't propose the permitting reform, which was part of the agreement last year," he said. "I think it's highly unlikely that, despite his encouragement, that will get accomplished this year."
Doubling down on the need to avoid any spending increase was Senate Appropriations Committee Majority Chairman Pat Browne (R-Lehigh), who said the only thing that could put the current plans to have future year-end surpluses in danger is out-of-control spending increases like those proposed by the governor.
"We have to find ways to keep spending rates at the place they've been over the last 10 years – that's one of the accomplishments of this General Assembly," he said. "We are looking at more positive financial times, hopefully. Our numbers dictate that in relation to where we started last year, but if we put ourselves out and fly at 300,000 feet with 3.7 percent or 4 percent increases in spending, we are only putting ourselves at greater risk of ending back up there."
Browne also said the governor's proposed budget does little in the way of putting Pennsylvania in a place where it can compete in the new economic climate being spurred on by federal tax cuts.
"The governor's office, with all due respect, is competing for the worst state in the country to respond to the federal law with at least every single provision that leads to investment," he said. "If we want some of the huge amounts of investment capital coming into Pennsylvania, we have to take that seriously and respond favorably to that significant, generational change to federal tax law that the governor, as of now, has not included in his proposal."
Taking the sharpest tone in opposition to the governor's spending amounts was Speaker of the House Mike Turzai (R-Allegheny) who said that once again, "Republicans in the General Assembly are going to have to be the adults in the room. We are going to call to task the Revenue Secretary and the Budget Secretary to make sure that the expectations with revenues are exactly where they are, unlike the debacle of '16-'17 that the governor created," he said.
He said that the Republicans in the Legislature will be seeking a work requirement for able-bodied Medicaid recipients, linking any increase in education funding to increased accountability measures, seeking school choice opportunities, and focusing on job creation.
Senate President Pro Tempore Joe Scarnati (R-Jefferson) stated that it is incumbent on lawmakers to position the state to catch the wave of increased corporate investment in light of federal tax changes.
"It is about jobs, it's about the jobs climate in this state, and there's a wave coming across the country and that wave is money, reinvestment in all of our factories and in all of our job creators," he said. "If we do not, as Pennsylvanians, catch that wave, we are going to be left on the sideline again. We cannot do anything without a good job climate in Pennsylvania."
It wasn't all doom and gloom from the Republicans, however.
Along with repeated statements by the leadership that they hope to have a final budget product finished as early as May – a stark contrast to the post-June 30 wrap-ups seen in recent years – they also praised a number of the governor's initiatives, particularly his focus on workforce development and career and technical education investment.
"We also want to thank the governor for recognizing that our individual citizens and working families cannot pay any more dollars in additional taxes, as he's proposed in the past," said Reed. "Obviously, there are some areas we were encouraged with, with the governor's proposed budget today, particularly the focus on workforce development and training our young folks for jobs that are going to exist in the future."
The annual three-week run of budget hearings is slated to get started in both chambers on Feb. 20, following the President's Day holiday.
The state's fiscal year ends on June 30, at which time a balanced budget has historically been needed to be enacted to ensure the continued operation of state government.
Jason Gottesman is the Harrisburg Bureau Chief of The PLS Reporter, a news website dedicated to covering Pennsylvania's government.