Opinion
Returning to a workout routine feels like heavy lifting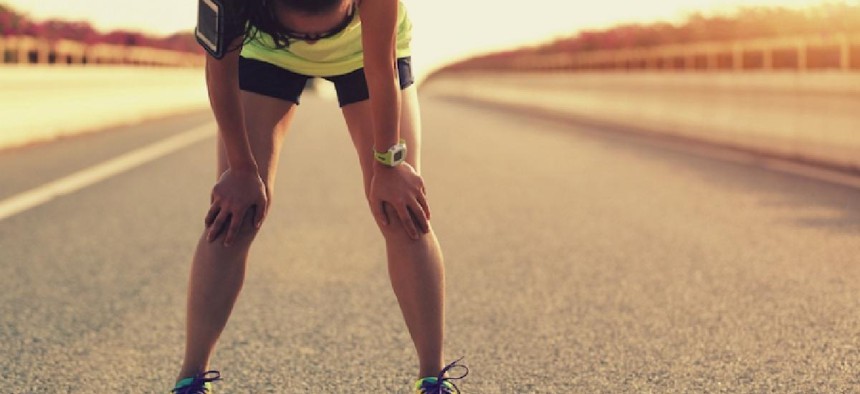 At the beginning of the pandemic, my husband looked optimistically into the future and said to me: "We will make the best use of this time." So, he bought a NordicTrack exercise bike, despite my doubts that either of us would ever use it. Nevertheless, within a few weeks, it was delivered to our door, and assembly of our S22i Studio Cycle, and subsequently, our home "gym," was underway. 
Days, weeks and months went by, and we fell into a routine of watching morning COVID-19 news briefings broadcast by Philadelphia Mayor Jim Kenney and his team, followed by Gov. Tom Wolf and Health Secretary Rachel Levine. Later, in the evenings, we broke out wine. Motivation waned.
What my husband essentially purchased in late March 2020 was a $2,000 T-shirt hanger, which does a fine job collecting dust and other laundry in our bedroom. 
Fast-forward to today, and I still lack any drive to get on the NordicTrack. This is because, for more than a decade, I got from points A to B in Philadelphia via my actual bike, a 1974 Raleigh Sprite fixed-gear (with no kickstand.) So, for me, I never saw the purpose or appeal in riding a bike going nowhere. I'd rather do Pilates. 
That's where the hard part comes in. Many people love the way they feel after working out – refreshed, fulfilled, energized (or exhausted) and that awesome, sore-muscle ache the next day. In my case, afterwards, I sleep like a baby. 
But getting back into that regimen, and finding the time and motivation to do it, is not easy. So, what's the solution? 
In City & State's July issue, we took the bold step of asking some of our Pennsylvania legislators to give us some health and wellness advice. These people, many who sit on the Health and Human Services Committee, and/or the Committee on Aging and Youth, don't profess to be workout experts, fitness gurus or the perfect picture of health, but they were good sports for this survey (no pun intended.) Those who did agree to answer our questions for this feature offer an interesting perspective during a time when many of us need a little encouragement to get back into our bathing suits. I hope you enjoy.