News & Politics
Davis looks to build momentum with $1M ad buy, union endorsement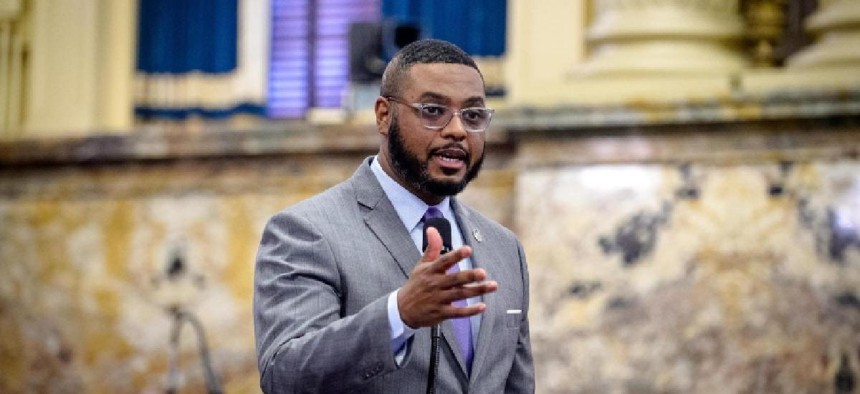 As Democrats face off in a primary election contest to determine who will be the party's lieutenant governor nominee this fall, candidate Austin Davis is hoping to pick up as much momentum as possible so he can join his prospective running mate – presumptive Democratic gubernatorial nominee Josh Shapiro – on the Democratic ticket this November.
Davis, who currently represents the 35th state House District, has so far locked down support from all of the party's legislative leaders in the General Assembly, secured the state Democratic Party's endorsement and exited January with over $500,000 in cash on hand. Now, he is looking to win the support of voters through a $1.2 million ad buy that will flood the state's major media markets in advance of the May 17 primary election. 
Kunal Atit, Davis' campaign manager, told City & State that the ad buy will help inform voters of Davis' record of public service, including his time as a senior advisor to the Allegheny County executive, as well as his stint as a state lawmaker. 
"Austin has dedicated his adult life to leveling the playing field for working families dealing with the same challenges he faced growing up as the son of a bus driver and a hairdresser," Atit said in a statement. "This ad buy ensures that voters will get to know Austin and his record and why Attorney General Josh Shapiro has chosen him as the running mate he needs to help keep Pennsylvania blue."
The ad buy includes multiple 30-second TV ads that will air in all of the state's major media markets in the leadup to the primary. The campaign also plans to invest in mailers and digital ads. 
Davis is embroiled in an increasingly tense Democratic primary that also includes state Rep. Brian Sims and Ray Sosa, a Montgomery County banker and insurance broker. All three candidates will be on the ballot in May, as lieutenant governor nominees are chosen in separate elections from gubernatorial candidates in Pennsylvania. 
The primary has been contentious at times, with seven Democratic leaders from the General Assembly urging Democrats to coalesce around the Shapiro-Davis ticket earlier this month. "Too much is at stake for a long, drawn-out primary process for Lt. Governor that will cost millions of dollars that could be better spent on defeating Republicans and winning up and down the ballot," the Democratic leaders wrote. 
In their open letter to Pennsylvania Democrats, the lawmakers also accused Sims of putting his own interests above those of the party. For his part, Sims, accused the Shapiro campaign of trying to push him out of the race in a statement to The Philadelphia Inquirer.
Davis is also likely hoping that his endorsements will help separate him from the rest of the Democratic field. To date, he's been endorsed by Shapiro, Gov. Tom Wolf, the Pennsylvania Democratic Party, multiple statewide labor unions and over 60 state lawmakers. 
He picked up an additional endorsement this week from the Pennsylvania Association of Staff Nurses and Allied Professionals – a union made up of over 9,000 nurses and health care workers. 
Maureen May, the president of PASNAP, said the Shapiro-Davis ticket will be the right advocate for her members in the state Capitol. 
"For our professions and for our patients, PASNAP proudly endorses state Rep. Austin Davis for Pennsylvania Lieutenant Governor," May said in a statement. "We believe he and AG Josh Shapiro will keep the needs of patients and direct care providers among their top priorities while at the helm in Harrisburg."