Campaigns & Elections
New report takes stock of Muslim voter participation in Pennsylvania
The Muslim American nonprofit Emgage is working to get the community more involved in politics.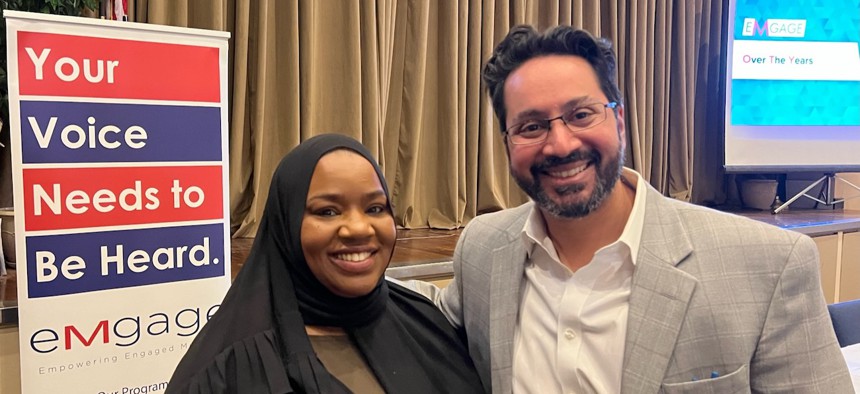 EmgageUSA, a national nonprofit organization that seeks to empower Muslim American communities, released a report Wednesday analyzing Muslim voter turnout during the 2020 election. The voter impact report both tracked Muslim American voters in 12 states and their participation following Emgage's Million Muslim Votes campaign.  
The campaign, which sought to turn out a historic number of Muslim American voters, helped contribute to a 27% increase in the registered Muslim voter population between 2016 and 2020. 
"The intention of this campaign is really to improve the priority of Muslim voters and build our propensity (to vote) and build our voter bloc," Aysha Ahmed, national deputy organizing director of Emgage, said. "The more that we engage in every cycle and every year, the better and stronger it becomes. This is really the first time ever this is being done in such a strategic scientific manner."
Using states' voter files and self-reported data, along with a name-match algorithm that includes an ethnicity score, Emgage was able to identify likely Muslim voters and reach out to their communities. 
One barrier to getting an accurate count of Muslim American voters is that not everyone who identifies as Muslim or has converted to Islam has also changed their name. 
"I think that national numbers for Muslims tend to be grossly undercounted," state Sen. Sharif Street, a Democrat from Philadelphia, said. "We tend not to realize that over the last 30 years millions of African Americans have converted to Islam. I am one of those people." 
Emgage went beyond the voter files by connecting with Muslim communities around the state and meeting with more potential voters that wouldn't have come up in a name search. Additionally, the report analyzed trends in the Muslim population overall. 
About 80% of Pennsylvania's Muslim voter population lives in the eastern part of the state. Except for Allegheny County, the commonwealth's Muslim population primarily resides in Philadelphia, Chester, Bucks, Lehigh and Montgomery counties. In total, Pennsylvania has nearly 170,000 registered Muslim voters, according to the report. 
When asked about what issues Muslim American voters are concerned about, Mohamed Gula, national organizing director for Emgage, said people just want to see progress. 
"There's a lot of voter apathy," he said. "There's a lot of people still healing from COVID, and the very first people you're going to look to are going to be your leaders." He added that, just like other voters, Muslim Americans are concerned about paying the bills and having access to quality health care and education. 
As more Muslim Americans engage in the political process, voting rights are also among the top concerns. The report found that 52% of registered Muslim voters voted early or via absentee ballots in 2020. 
Voting in person "is a luxury that some folks aren't able to afford," Ahmed said. "You can't be taking that time off, putting money aside to travel to a voting location."
Street said Pennsylvania is just beginning to make strides to recognize the Muslim American community more. He pointed toward the School District of Philadelphia as a prime example. Starting in 2016, the district began adding Muslim holidays to its academic calendar because so many of its students were Muslim.  
Salima Suswell, national senior organizing advisor and Pennsylvania executive director of Emgage, said it's reassuring to hear from elected officials who are compassionate about diversity and inclusion. 
"It's validating when you hear elected leaders speak about Islam, when you hear them say 'Ramadan Mubarak' to us," she said. "It's validating for us to know that there are folks who know and understand our way of life that are advocating for us, whether it be at a city, state or federal level."
There has been more Muslim American representation in the electorate in recent years as well. Rashida Tlaib and Ilhan Omar became the first Muslim American women elected to Congress in 2018. During that election cycle, more than 100 Muslim candidates filed and ran for office around the country, Ahmed said. 
In Philadelphia alone, officials including Street and state Rep. Jason Dawkins identify as Muslim, as well as Philadelphia City Councilmember Curtis Jones, City Commissioner Omar Sabir and Sheriff Rochelle Bilal. 
Gula said the commonwealth can utilize its diversity to lead by example. 
"We will find that what works in Pennsylvania is going to work in the rest of the nation," he said. "We found that the conversations that we have in Pennsylvania (are) actually representative of what we see across the country because it's really in Pennsylvania that we find the most diversity when it comes to the Muslim community."