News & Politics
Lawmakers Laughlin and Collett are vouching for independent voters' voices in primary elections
Pennsylvania is one of only nine states that doesn't allow unaffiliated voters to participate in primaries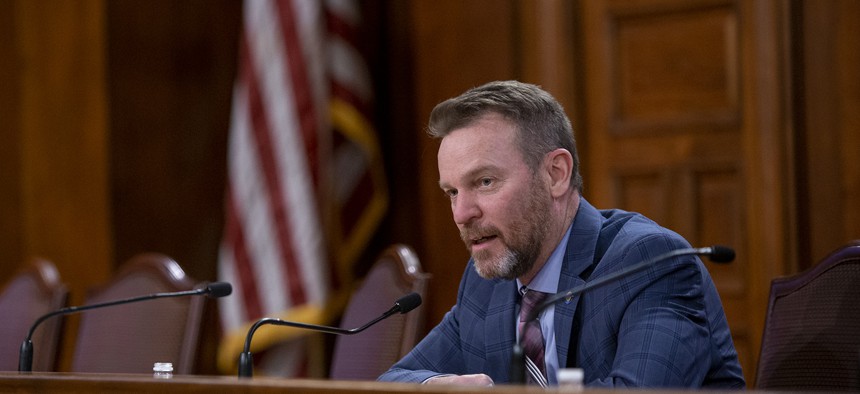 There's at least one election-related issue that has maintained bipartisan support through the last couple of years: open primaries. But despite lawmakers' and advocates' best efforts, independent voters will still be blocked from the upcoming May primary. 
State Sens. Dan Laughlin, a Republican from Erie County, and Maria Collett, a Democrat from Bucks County, want to change that for future elections. The two were joined by good government advocates on the Capitol steps Tuesday morning calling for the commonwealth to open future primary elections to registered unaffiliated voters. 
"This is actually good for our parties because most independents were either a Democrat or Republican before they decided to register as an independent," Laughlin said at the press conference. "This isn't some grand scheme to steal away primary votes from a better candidate so you're winning in a fall with a different candidate. This is about engaging the voters and letting them vote."
Laughlin introduced Senate Bill 690 nearly a year ago. Collett is a co-prime sponsor of Laughlin's legislation, which would allow unaffiliated voters to choose a party primary to take part in. The bill has a companion in the House, as well, House Bill 1369, which was introduced last year by state Rep. Chris Quinn, a Republican from Delaware County. The proposals mirror a bill brought up by former state Sen. Joe Scarnati that passed through the Senate in 2019 by a 42-8 vote. 
As it stands, Pennsylvania is one of only nine states that doesn't allow unaffiliated voters to participate in primary elections. Other states have primaries that are open to members of any party, however, Laughlin's proposal would open up primaries just for unaffiliated voters.
David Thornburgh, former head of the Philadelphia-based good-government group Committee of Seventy, is chair of Ballot PA, a statewide coalition of civic and business organizations pushing for the commonwealth to open its primaries. He estimated that there are more than 1.1 million independent voters in the state. When Laughlin first introduced the bill last year, that number was estimated to be about 800,000 voters. 
"It's the fastest-growing part of the electorate in the commonwealth, and they're shut out of primary elections," Thornburgh said. "They're denied their right to vote in every election, even though, as taxpayers, they help fund those same elections. So, simply put, it's not fair."
Collett expressed similar sentiments about the importance of voter participation. 
"The right to vote and participate in our democracy is at the very core of what it means to be an American. When we deny 16% of the voters have the ability to vote in open primaries, we deprive ourselves of the opportunity to have a truly representative government and a responsive government," she said. 
Regardless of the merit and previous success surrounding open primary legislation, the bills remain untouched in the legislature. The companion bills in each chamber have been referred to their respective State Government committees but have yet to receive any consideration.