Campaigns & Elections
Still a topic today, here's what GOP U.S. Senate candidates said about election certification during Tuesday's debate
Democratic U.S. Senate candidates in the race have not challenged the 2020 election results.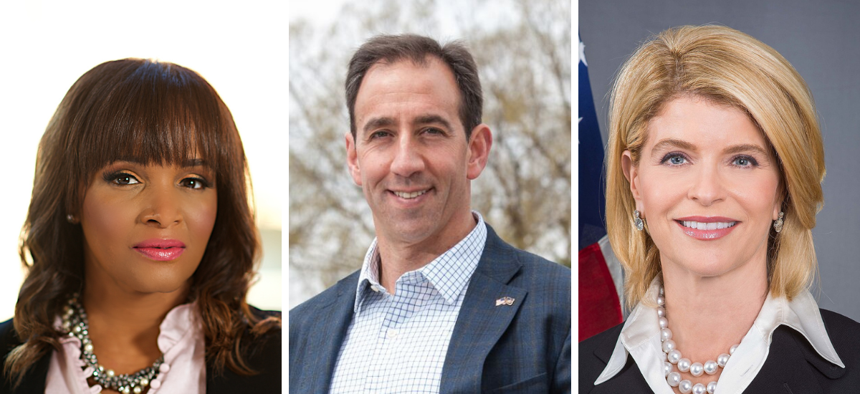 By Marley Parish
The 2020 election still has a place in the 2022 cycle, with Republicans running for U.S. Senate in Pennsylvania promoting baseless voter fraud claims and touting reform plans as they seek their party's nomination ahead of the May 17 primary. 
Republican candidates faced questions this week about whether their party should move on from the 2020 election and if they would have voted to certify Pennsylvania's Electoral College results, confirming now-President Joe Biden's victory against former President Donald Trump.
"I don't recall anyone asking the Democrat senatorial candidates that question," conservative commentator Kathy Barnette said Tuesday during a televised debate.
Democrats in the race – U.S. Rep. Conor Lamb, Lt. Gov. John Fetterman, state Rep. Malcolm Kenyatta and Jenkintown Borough Council member Alex Khalil – have not challenged the results.
Legal challenges to the 2020 results failed in court, and post-election audits carried out after the presidential election found no evidence of fraud. Most GOP candidates, however, have continued promoting baseless claims that Democrats stole the 2020 presidential election.
Montgomery County real estate investor and businessman Jeff Bartos was the only GOP candidate this week to say that he would have voted to certify the 2020 election results.
"Unfortunately, Joe Biden's the president," Bartos said Monday.
Bartos said that the 2020 election acted as a "catalyst" for current events – citing rising costs and Russia's war on Ukraine. 
"There were irregularities," Barnette said. "How do I know that? Because I was a candidate in 2020. I know what I experienced. It was real, and it was wrong."
Barnette lost to U.S. Rep. Madeleine Dean in 2020 by roughly a 20-point margin. A Trump ally, Barnette has continued to propagate the "Big Lie" throughout her campaign. During a Monday night debate, she said the GOP should "absolutely not" move on from the 2020 election, claiming that "elections have consequences."
"And we must understand what happened," Barnette added. "And we must hold people accountable, not just understand, but we need to hold people accountable."
Former Trump administration ambassador Carla Sands, also a candidate in the race, reminded Barnette of her loss and said she supported banning third parties from helping to fund election operations.
Barnette said Tuesday that she "never said" she won her election – "what I said was that it was wrong."
She claimed the election "was stolen" with the help of election grant money offered by Meta Founder Mark Zuckerberg. Sands directed viewers to a film by far-right author Dinesh D'Souza that promotes the "Big Lie."
Philadelphia attorney George Bochetto, who helped write the defense brief in Trump's second impeachment, claimed that Trump lost the election because Democrats "exploit[ed]" Act 77, the 2019 law that let Pennsylvanians vote by mail without an excuse.
Montgomery County attorney Sean Gale said he would not have voted to certify the Electoral College results, saying that Act 77 is unconstitutional. He added that "the blood is on the hands of every single Republican state senator in Harrisburg who voted for it."
Trump-endorsed celebrity doctor Mehmet Oz repeatedly reminded viewers of that backing on Monday, as he shared the debate stage with former hedge fund CEO Dave McCormick for the first time since the former president weighed in on the race.
McCormick called a lack of confidence in election results "a tragedy" and proposed voter ID as "the most important thing," along with banning third-party donations for election operations.
"We cannot move on," Oz said of the 2020 election. "Under the cover of COVID, there were draconian changes made to our voting laws by Democratic leadership, and they have blocked appropriate reviews on those decisions."
Marley Parish is a reporter for the Pennsylvania Capital-Star, where this story first appeared.