Campaigns & Elections
Your 2022 Pennsylvania governor's race campaign finance cheat sheet
Gubernatorial candidates spent over $9 million in the first three months of 2022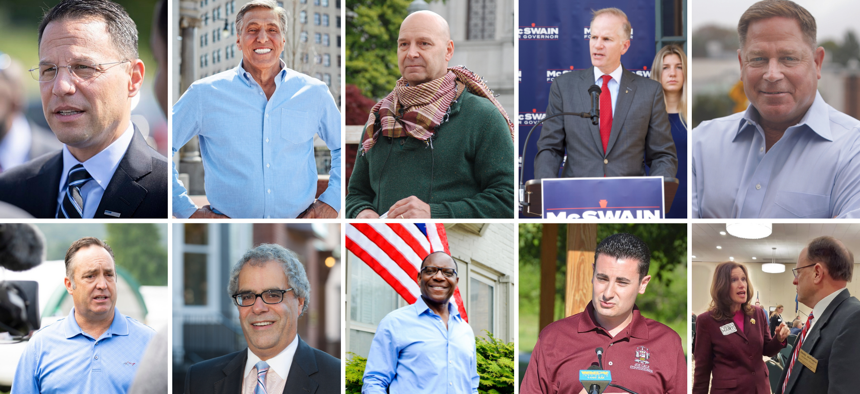 With about a month left until the state's primary elections for governor take place, every dollar counts. For months, candidates – particularly on the Republican side – have been jockeying for position as they seek to earn their party's nomination and face presumptive Democratic nominee Josh Shapiro in the fall. 
But in order to do that, GOP candidates must first win the primary, which has left a field of nine Republicans using every dollar at their disposal to separate themselves from the rest of the pack. In the first three months of 2020 alone, Republicans and Shapiro have spent well over $9 million as they look to spread their respective messages to every corner of the commonwealth. 
Below, City & State examines the highlights from recent campaign finance reports in the state's race for governor, which cover the first three months of the year and offer a glimpse into which candidates have a major financial advantage heading into the May 17 primary. The following candidates are listed in descending order based on the amount of cash they had on hand at the end of the reporting period. 
The Democrat
Josh Shapiro
Raised: $4,529,178.86
Spent: $1,939,946.51
Cash on hand: $16,006,342.43
View report
A few people may have had to pick their jaws up off the floor after seeing Democrat Josh Shapiro's first campaign finance report of 2022. The presumptive Democratic nominee brought in an impressive $4.5 million in the first three months of the calendar year and finished March with more than $16 million in cash on hand – a massive nest egg that Shapiro can hold onto until the general election, giving him a major advantage over prospective GOP opponents. 
The Republicans
Bill McSwain
Raised: $1,433,188.05
Spent: $546,492.70
Cash on hand: $1,699,534.62
View report
Few Republicans had a better haul in the first three months of 2022 than former U.S. Attorney Bill McSwain. Not only did McSwain rank among the top two GOP candidates in terms of fundraising, but he also pulled in nearly $6 million in in-kind contributions, including $4 million in TV ads from the Commonwealth Leaders Fund, a political action committee affiliated with the Commonwealth Partners Chamber of Entrepreneurs. Looks like that Commonwealth Partners endorsement is beginning to pay dividends. 
Doug Mastriano
Raised: $372,554.80
Spent: $325,663.82
Cash on hand: $1,091,369.64
View report
State Sen. Doug Mastriano probably didn't pull in the level of contributions he was looking for, but Mastriano still finished the reporting period with more than $1 million in the bank, making him one of just two GOP candidates to do so. The Franklin County state senator also had another thing going for him that most candidates don't – success in recent primary polls. A recent poll from The Hill and Emerson College found Mastriano leading the primary race with support from 16.2% of voters, while a separate poll from Fox News found that Mastriano is one of four candidates with double-digit support. 
Lou Barletta
Raised: $430,745.48
Spent: $317,822.52
Cash on hand: $356,291.95
View report
Former U.S. Rep. Lou Barletta is another candidate who makes up for his lack of fundraising with polling success. Barletta raised just $430,000 this reporting period and ended March with $356,000 on hand. Recent polling on the Republican primary race for governor, however, shows Barletta leading the Republican field. A survey released this month from The Hill and Emerson College shows the former congressman with a 4-point lead over the incumbent state senator, though more than a quarter of GOP voters said they were undecided. 
Jake Corman
Raised: $589,627.08
Spent: $2,381,205.23
Cash on hand: $270,846.18
View report
This likely isn't the financial statement that state Senate President Jake Corman wanted to see one month out from the primary election. Corman spent more than $2.3 million during the most recent reporting period, with more than $1.5 million of that devoted to TV ads. He only brought in $589,000 – putting Corman at a cash disadvantage heading into the home stretch of the primary cycle.
Charlie Gerow
Raised: $46,907.00
Spent: $121,924.01
Cash on hand: $179,072.70
View report
Charlie Gerow didn't raise a lot in the most recent reporting cycle, but he also didn't spend a whole lot, leaving him among the top five candidates in terms of cash on hand at the end of the reporting period. Still, Gerow faces some hurdles to securing the GOP nomination, with the political consultant polling in the single digits according to a survey recently conducted by The Hill. However, with a large segment of GOP voters undecided, this financial statement doesn't necessarily spell doom for his campaign. 
Dave White
Raised: $1,790,895.21
Spent: $4,104,884.75
Cash on hand: $171,308.09
View report
Dave White has the honor of being the biggest spender out of all the candidates – Democrat or Republican – during the last reporting period. The Delco businessman also raised more than each of his opponents, bringing in $1.7 million, including donations from unions. White raised $200,000 from the United Association of Plumbers & Pipefitters and $100,000 from the Steamfitters Local Union #420. Much of the money raised by White has already been spent, however, as he finished the period with a little more than $171,000 on hand. 
Nche Zama
Raised: $35,448.00
Spent: $47,189.13
Cash on hand: $134,455.13
View report
Dr. Nche Zama has made a name for himself in the Republican primary, often highlighting his medical acumen and walking prospective voters through his humble beginnings in Africa. The heart surgeon appeared to struggle with fundraising in the most recent cycle, raising just $35,000 in the first three months of 2022. Still, Zama ended the period with more cash on hand than Montgomery County Commissioner Joe Gale and former U.S. Rep. Melissa Hart, so it could be worse.
Joe Gale
Raised: $58,495.85
Spent: $28,514.67
Cash on hand: $33,132.81
View report
Joe Gale has established himself as one of the more conservative candidates in the GOP primary race, but Gale's unrelenting passion for challenging the status quo hasn't translated into a whole lot of financial success for the incumbent Montgomery County commissioner. Gale raised $58,000 and closed March with $33,000 in the bank, putting him toward the bottom of the pack in terms of the amount of financial resources he has available. 
Melissa Hart
Raised: $34,310.00
Spent: $29,860.00
Cash on hand: $7,200.00
View report
Former U.S. Rep. Melissa Hart has stepped up her attacks on the rest of the GOP field as of late, referring to four candidates and their debate demands as "diva-esque" and hitting Bill McSwain for a recent endorsement he received from Sean Parnell. The attacks come as Hart has floundered in the fundraising sphere, raising just $34,000 from January through March and finishing the reporting period with a little more than $7,000. With a lack of cash, Hart will have to separate herself from the field through other means, and it looks like she's attempting to do just that.