Campaigns & Elections
Leigh Chapman says GOP Senate primary 'likely headed toward a recount'
Chapman is required by state law to order the recount by Thursday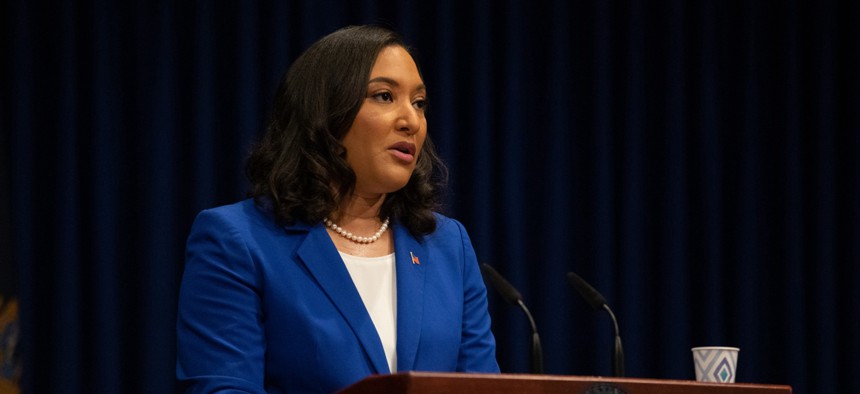 Pennsylvania's top election official said Tuesday that the state's Republican primary race for U.S. Senate is "likely headed toward a recount" as the race's two leading candidates remain separated by less than 1,000 votes, according to unofficial election results.
During an appearance on CNN's "At This Hour with Kate Bolduan," Acting Secretary of State Leigh Chapman said the race between celebrity physician Dr. Mehmet Oz and former hedge fund executive Dave McCormick is likely to trigger the state's automatic recount law.
"Our gut (feeling) is that it's very likely that this is headed towards a recount," Chapman said. "In Pennsylvania, the recount law is when the margin is within half of 1%. Right now, it's looking like we're within 0.1%."
It's been more than a week since voters cast their ballots in the state's primary elections, though the Republican Senate primary has remained too close to call. According to unofficial election results from the Pennsylvania Department of State, Oz held a 998-vote lead over McCormick as of Tuesday afternoon. 
Chapman said Tuesday that the Department of State issued guidance to counties asking them to count undated mail-in ballots after a federal appeals court ruled that the state's requirement to date mail-in ballots is "immaterial." Following that ruling, McCormick asked the state's Commonwealth Court to require that counties count undated mail-in ballots. 
Chapman said official election results are due by 5 p.m. Tuesday. If the margin between Oz and McCormick remains under 0.5%, Chapman will be required to order a recount under state election law. The department is required to order a recount by 5 p.m. Thursday, but a defeated candidate may waive a recount if they so choose. 
The acting secretary said that the state can avoid long, protracted vote counts in the future if lawmakers approve legislation allowing counties to pre-canvass mail and absentee ballots ahead of Election Day.
State election law currently allows counties to begin processing and counting mail-in ballots beginning at 7 a.m. on Election Day, though county officials have routinely lobbied state lawmakers to give counties more time to pre-canvass ballots.
"In Pennsylvania, we're not allowed – county officials aren't allowed – to start opening and processing those mail-in ballots until Election Day, and that's why it takes so long for the process to play out here," Chapman said. "But the legislature can make an easy fix. They can change this by allowing us to pre-process ballots at least two weeks before Election Day, like states like Florida do, so we can make sure that we are providing election results on election night, which then will improve voters' confidence in our election system."