Analysis
Voter registration update: PA GOP further narrows Dems' registration edge
If voting registration figures are a lagging indicator of partisan enthusiasm, then Republicans are heading into the state's primaries with a major head of steam.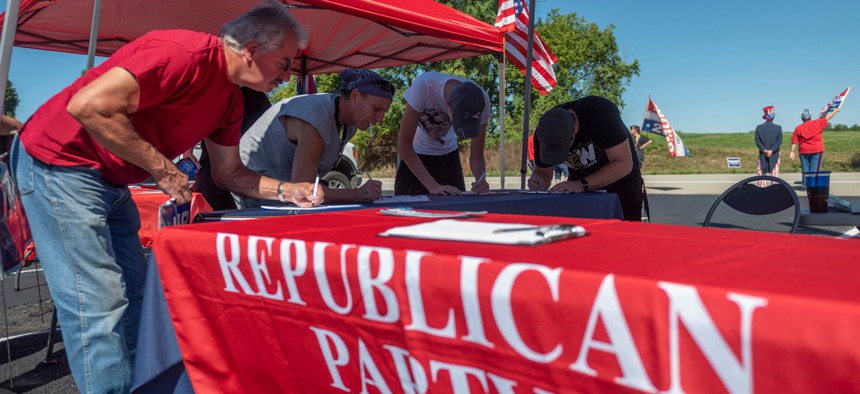 By Nick Field
If voting registration figures are a lagging indicator of partisan enthusiasm, and I believe that they are, then Republicans are heading into Pennsylvania's 2022 primaries with a major head of steam.
It turns out that the decline in COVID-19 rates through the first months of the year did not do much to improve President Joe Biden's approval rating, which has been stuck in the low 40s since last fall.
In that time, Democrats' registration advantage took a hit. Last October, they held a statewide lead of 605,493; today it stands at just 553,827. To get a sense of where that stands historically, in May 2018, Democrats held an advantage of 815,317.
Four years ago, Pennsylvania had 4,042,928 Democrats and 3,227,611 Republicans among 8,460,068 total registered voters. Last week, Pennsylvania had 4,000,290 Democrats and 3,446,463 Republicans among 8,735,712 total registered voters.
To find out just where the GOP is making these gains, let's dive into the region by region numbers!
A quick note: I explore our changing voter trends by tracking the gains one party accumulated in registrations over the other party. For example, R+500 means that the Republican Party gained a net 500 more registered voters in that county than the Democratic Party did over this time period, while D+500 indicates the opposite.
Central:
Blair: R+408
Bradford: R+306
Cameron: R+59
Centre: R+286
Clearfield: R+804
Clinton: R+256
Columbia: R+484
Elk: R+414
Huntingdon: R+201
Juniata: R+167
Lycoming: R+367
McKean: R+103
Mifflin: R+208
Montour: R+149
Northumberland: R+619
Potter: R+40
Snyder: R+90
Sullivan: R+86
Tioga: R+97
Union: R+104
Even in these relatively small counties, the GOP continues to post consistently solid gains. Over my years of doing this, I've found Centre County to be a good bellwether. If Democrats aren't adding voters there (the home of Penn State University), it tends to suggest they're in the midst of a troubling trend.
Northeast:
Carbon: R+572
Lackawanna: R+1,594
Luzerne: R+2,864
Monroe: R+884
Pike: R+258
Schuylkill: R+843
Susquehanna: R+221
Wayne: R+291
Wyoming: R+81
These are tough results for Scranton Joe, especially when his 2020 victory was aided by slight improvements in this region's rural counties. Republican growth in Lackawanna and Luzerne counties, which slowed a bit over the last few years, is now again resembling its rapid 2015-2017 pace. Any statewide Republican victory will require an impressive performance in those two counties, as Donald Trump did back in 2016. 
Northwest:
Clarion: R+187
Crawford: R+414
Erie: R+1,532
Forest: R+46
Jefferson: R+187
Mercer: R+978
Venango: R+266
Warren: R+280
The lakeside county of Erie is one of the commonwealth's most pivotal, as Pennsylvania's northwest corner has gone back and forth from former President Barack Obama to former President Donald Trump to President Joe Biden. Therefore, the above result is particularly concerning for the state's Democrats. Democratic Senate primary leader John Fetterman, a fervent believer in Erie's bellwether status, has already made multiple visits here and will definitely make more should he win the nomination.
South Central:
Adams: R+650
Bedford: R+356
Cumberland: R+409
Dauphin: R+554
Franklin: R+593
Fulton: D+8
Lancaster: R+681
Lebanon: R+329
Perry: R+232
York: R+1,695
Over the past few years, Pennsylvania Democrats have experienced some encouraging growth in this region, but not so this year (besides that peculiar result in Fulton County). Long-term, though, Dauphin and Cumberland counties remain promising spots for blue growth. Meanwhile York County, and to a perhaps diminishing extent Lancaster County, remain powerhouses of Republican voters.
Southeast:
Berks: R+1,896
Bucks: R+2,212
Chester: R+123
Delaware: D+1,037
Lehigh: R+1,085
Montgomery: D+722
Northampton: R+1,336
Philadelphia: R+6,945
Even during terrible times, the collar counties of Delaware and Montgomery counties still saw Democratic gains. Other than that, however, these numbers are fantastic for Republicans, with key gains in Northampton, Lehigh, Berks and especially Bucks counties. For decades, Bucks has been a must-win county for any statewide Democratic candidate and any long-term erosion there would be dangerous. Finally, those Philadelphia numbers are probably a result of voter roll updates, although I'll be keeping an eye out to see if the Democrats are hitting any kind of ceiling there.
Southwest:
Allegheny: R+3,928
Armstrong: R+314
Beaver: R+1,498
Butler: R+909
Cambria: R+1,595
Fayette: R+1,676
Greene: R+442
Indiana: R+418
Lawrence: R+905
Somerset: R+676
Washington: R+1,902
Westmoreland: R+3,328
Republicans have been feverishly gaining ground in southwestern Pennsylvania for years, as Appalachian ancestral Democrats continue to officially leave a party they stopped voting for long ago. Particularly impressive are the totals in Allegheny, Westmoreland, Washington, Fayette, Cambria and Beaver counties. 
At this pace, Fayette will flip from having a Democratic plurality of registrants to a Republican plurality by the end of this year. That would leave just Allegheny and Beaver as blue counties in the southwest. In fact, it shouldn't take much longer for Beaver to flip as well and leave Allegheny as the lone blue oasis amidst a red sea.    
Conclusions
Perhaps paradoxically, the political momentum in America tends to belong to the party out of power. Fear, anger and the pain of losing fuel an opposition whose passion burns brighter than that of the victors. 
In the first weeks after Jan. 6, amid reports of an exodus of Republicans from voter rolls across the nation, some Democrats dared to dream this cycle might be different. The party even managed to make some gains that spring. Alas, this moment would prove to be short-lived.
During the second half of 2021, the Biden White House suffered a series of successive blows: the Delta variant sparking another COVID wave, the collapse of the Afghan government during the U.S. troop withdrawal, U.S. Sen. Joe Manchin, W-Va., killing the Build Back Better bill and spiraling economic inflation. 
All the while, Pennsylvania Republicans were cutting into the Democrats' aforementioned registration advantage. Now, with the primaries nearing and the two GOP statewide contests remaining competitive, it appears a healthy share of ancestral Democrats finally changed their status to vote in Tuesday's closed primaries. 
So are Republicans destined to sweep the Keystone State contests in November? Well, despite how rosy the picture seems at this moment, there's plenty that can still go wrong. For instance, potential nominees like Doug Mastriano, Kathy Barnette and Mehmet Oz all have considerable vulnerabilities. 
Remember that the last time the Pennsylvania GOP managed to win governor and U.S. Senate races they depended not just on the red wave of 2010, but also a pair of strong nominees in U.S. Sen. Pat Toomey and former Gov. Tom Corbett. Even with a favorable national environment, a poor choice of nominees could cost the GOP these races.
Nevertheless, these are concerning numbers for Pennsylvania Democrats. The party must find a way to pick up the pace, especially in the vote-rich Southeast. Perhaps probable nominees Josh Shapiro and John Fetterman can indeed pull off victories in the face of strong national headwinds. 
We're in a time of great uncertainty, but the beauty of elections is that we'll know much more on Tuesday night.
Correspondent Nick Field covers southeastern Pennsylvania and its suburbs for the Capital-Star, where this story first appeared. Follow him on Twitter @Nick_Field90.