Campaigns & Elections
Who is running for governor as a Republican in 2022?
With the Republican field changing by the day, we have your guide to gubernatorial candidates seeking the Republican nomination.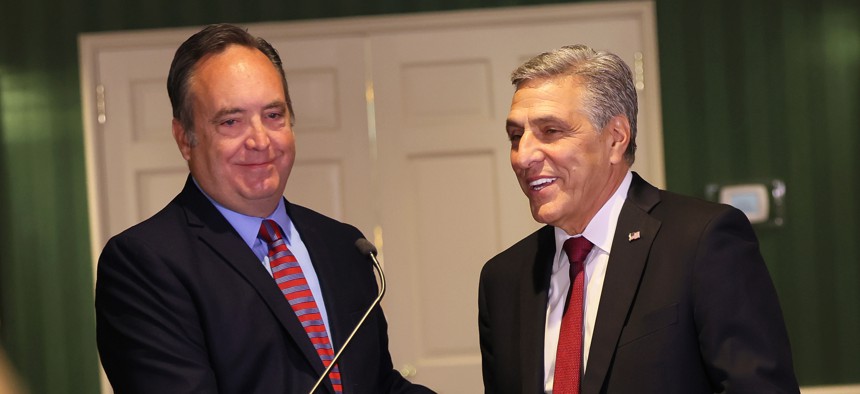 Pennsylvania Republicans have been battling with Gov. Tom Wolf since he unseated then-incumbent Tom Corbett in 2014. With Wolf's time in Harrisburg coming to an end, plenty of Republicans threw their hat in the ring to take his spot in the executive office. 
The state's May 17 primary election is a high-stakes affair, with the governor's office, a U.S. Senate seat and U.S. House races all up for grabs. The importance of the gubernatorial race has only increased in recent weeks with the leak of the draft Supreme Court opinion signaling the high court's willingness to overturn federal protections for abortion. Wolf has been the only thing standing in the way of the GOP-controlled legislature rolling back abortion rights – a Republican candidate who can win the executive office would give the party total control of the legislative agenda in Harrisburg. 
The once-crowded field of candidates now sits at seven. Several of the candidates have held out for an endorsement from former President Donald Trump, but only one has received any statement from him – which turned out to be an anti-endorsement. And as we inch closer to Tuesday, candidates have begun dropping out to back one particular candidate. 
The winner of next week's primary will then face off against Attorney General Josh Shapiro, the preordained Democratic candidate with heavy backing from his party.  
With less than one week left in this primary season, here's your guide to gubernatorial candidates seeking the Republican nomination. 
State Sen. Doug Mastriano
State Sen. Doug Mastriano, representing Franklin County, unsuccessfully ran for the U.S. House of Representatives in 2018 before winning a special election for the 33rd senatorial district in 2019. A vocal Trump advocate throughout his time in Harrisburg, Mastriano even helped organize bus rides for supporters to join him in Washington, D.C. on Jan. 6, 2021. He claims he did not participate in the insurrection, but has continued to cultivate ties with the former president. One of the most conservative candidates in the field, Mastriano has led in polling, with a recent Trafalgar Group poll showing more than 27% of voters saying they would vote for him. The polling success comes in spite of recent controversies including an alarming academic paper he wrote that downplayed civilian deaths in military activity. 
Dave White
Dave White, who runs a plumbing and HVAC company in Delaware County, is also on the list of Republicans running for governor. The businessman is a third-generation union steamfitter who has leveraged his ties to labor unions and blue-collar workers to carve out a space in the Republican primary field. White is a former county councilman who lost his reelection bid in 2017. Although he comes from outside the Harrisburg circle, White has been among the leaders in polling throughout the campaign. He placed third in the recent Trafalgar Group poll, with about 15% of voter support. White has also garnered endorsements from several county GOP leaders and from state Senate Majority Leader Kim Ward. 
Former U.S. Attorney Bill McSwain
McSwain, a former Trump-appointed prosecutor in Philadelphia, would often exchange blows with Philadelphia Mayor Jim Kenney and District Attorney Larry Krasner, claiming they were soft on crime. McSwain, who resigned from his position just before President Joe Biden's inauguration, made headlines last July when he claimed Trump's attorney general, Bill Barr, told him not to investigate claims of voter fraud. Trump countered that recently with his own anti-endorsement of McSwain, calling him a "coward, who let our country down" for not doing more to back up Trump's repeated lies about the 2020 election. Like most Republicans, McSwain has often criticized Wolf for his COVID-19 response. The 2020 election and pandemic response will continue to be major talking points throughout this election cycle. 
Former U.S. Rep. Lou Barletta
Barletta filed his petition in his hometown of Hazelton, where he went from city councilman to mayor. From there, Barletta made his way to Washington, winning the U.S. House of Representatives race for Pennsylvania's 11th congressional district in 2010. His attempt to jump over to the Senate failed, however, as he lost to U.S. Sen. Bob Casey in 2018. A strong opponent of illegal immigration, Barletta was also a member of former President Donald Trump's transition team in 2016. He came in second in the most recent Trafalgar Group poll, with more than 17% of voter support. And within the last two days, both State Senate President Pro Tempore Jake Corman and former U.S. Rep. Melissa Hart have dropped out and endorsed Barletta in an attempt to back a more moderate candidate who they believe has a better chance at winning a statewide election. 
Montgomery County Commissioner Joe Gale
Gale was the first Republican to formally announce his candidacy for governor back in February 2021. An avid Trump supporter, he has criticized the Pennsylvania GOP and pledged to be a conservative populist. He's also caught attention for calling the Black Lives Matter Movement a hate group and saying Trump's presidency was sabotaged. Throughout the campaign, he's criticized Harrisburg Republicans who voted in favor of Act 77, which expanded mail-in and absentee voting. 
Dr. Nche Zama
Zama is now the lone political newcomer in the race. A well-known cardiothoracic surgeon, Zama is based in East Stroudsburg, Monroe County, and focused much of his announcement speech on his work as a humanitarian and skilled surgeon. He claims that for too long, Pennsylvania has been "sick" and that Harrisburg has been too broken to properly support its economy and education and health care systems. 
Charlie Gerow
A longtime conservative activist, Gerow also threw his hat into the ring last year. Although he's not a sitting official, Gerow is another Republican hopeful with a history in Harrisburg. He runs a communications and marketing firm near the Capitol, and has appeared as a political commentator on public affairs shows in central Pennsylvania for years. Looking to set himself apart from other conservatives, Gerow said his top priorities include allowing ballot initiatives sponsored by voters and allowing voters to recall a governor.