Campaigns & Elections
Pennsylvania Democrats to choose next party chair at Gettysburg meeting
Gerald Lawrence and Sharif Street are running to be the Pennsylvania Democratic Party's next leader.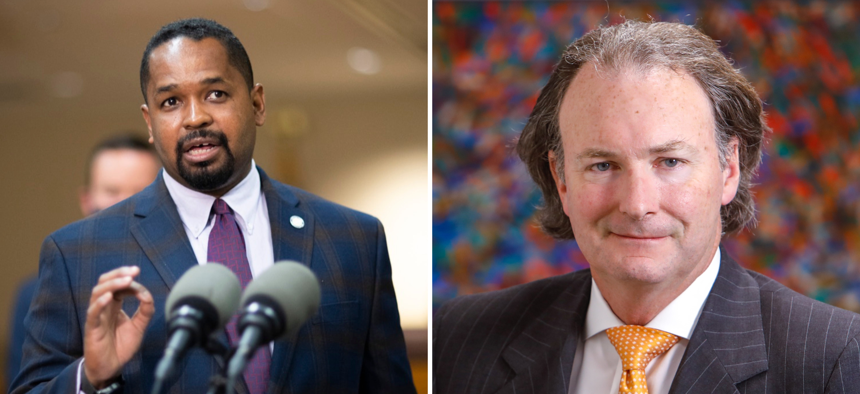 Pennsylvania Democrats will choose the party's next leader this weekend when state committee members gather in Gettysburg on Saturday to elect a slate of leaders to represent the Pennsylvania Democratic Party. 
State Sen. Sharif Street, the current vice-chair of the Pennsylvania Democratic Party, and Jerry Lawrence, a 25-year state committee member, will face off in an election to be the party's next chair after a contentious battle between the two Democrats. 
Street has been vice-chair of the party since 2018, when he was elected alongside Nancy Patton Mills, the party's current chair. Street was not immediately available for comment but wrote in a letter to state committee members that he would work to ensure that Democrats in urban and rural areas feel represented by the party, according to a report from The Philadelphia Inquirer. 
In the letter, Street wrote that "Black and brown people in urban areas feel that the party has taken them for granted," adding that "rural Democrats feel the party has forgotten about them."But Street's bid to be the party's next chair has faced pushback from other high-ranking Democrats in the state, who have instead thrown their support behind Lawrence, who leads the party's southeast caucus. 
Lawrence has the backing of Democratic gubernatorial nominee Josh Shapiro, his running mate Austin Davis, Gov. Tom Wolf, U.S. Sen. Bob Casey and the state's Democratic congressional delegation. 
Lawrence told City & State that he plans to be a unifier if elected chair and that he hopes to bring change to the party. "My message is my team will lead by consensus, working to unite Democrats and not let our differences or personal aspirations separate us," Lawrence said. "We need a change from others' long-time playbook and messaging using our differences to divide us. The stakes are too high right now to put self-interest above party unity."

Lawrence also said he would look to build party support in rural communities, and said he plans to offer support to local party infrastructure. "We will give them tools and resources like improved coordinated and focused messaging, talking points, literature templates, social media content, staff and the support they need from the state party," he added. 
In his own letter to state committee members, Shapiro said Democrats should support a candidate who can focus exclusively on leading the party – a subtle swipe at Street, who is an incumbent state senator. 
The letter, which was also signed by Davis, said "We've made it clear for months that our State Party should not be led by an elected official who must juggle competing priorities in facing re-election, serving their constituents, maintaining their own political relationships, and putting their own ambition ahead of what our Party needs. We want someone in this role who will focus exclusively on our State Party and our collective task."
Street, in response to opposition from Shapiro, appeared to take a shot at the gubernatorial nominee's support for Lawrence: "Our party cannot simply be an extension of a statewide candidate's campaign," Street wrote in his letter to state committee members, according to the Inquirer. 
Committee members will also be electing other party leaders, including a vice-chair, treasurer, corresponding secretary and recording secretary.