Campaigns & Elections
Proposed Constitutional amendment aims to give states more power over campaign spending
State Rep. Meghan Schroeder is leading a push to limit the influence of dark money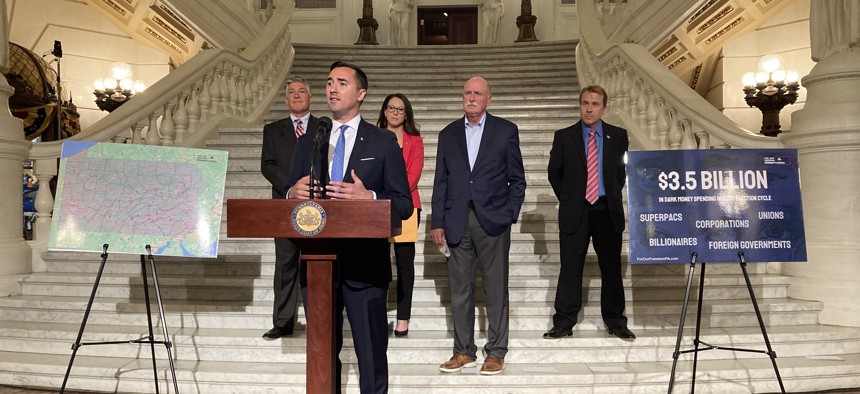 Democrats had their sights set on Pat Toomey's Senate seat six years ago, in a political battle that turned out to be the most expensive U.S. Senate race that year. Now, the race between Lt. Gov. John Fetterman and Dr. Mehmet Oz to replace Toomey is already expected to be one of the most expensive contests this election cycle. 
And with a flood of cash expected to deluge Pennsylvania this fall, a national nonprofit organization is looking to kickstart a campaign to limit the influence of money in politics, with Pennsylvania in its crosshairs. 
On Tuesday, leaders from American Promise outlined a plan to push for an amendment to the U.S. Constitution that would give state legislatures more power to regulate political spending. The resolution, which petitions Congress to approve the amendment, is being sponsored by state Rep. Meghan Schroeder, a Bucks County Republican, who said Tuesday that a so-called "For Our Freedom" amendment would give states more authority in determining how to regulate campaign spending. 
"We need to regulate the rules and transparency that govern our campaign finance system," Schroeder said at a Harrisburg press conference. "However, in order for this to happen, we need a constitutional change."
In her co-sponsorship memo, Schroeder wrote that the amendment "doesn't prescribe a specific remedy or enshrine any specific regulation into the Constitution. Rather, it simply says that elected officials have the authority to regulate this money as they see fit in their respective jurisdictions."
The amendment would become the 28th Amendment to the U.S. Constitution if it is ratified by 38 states; 22 states have already approved resolutions calling for the amendment to be added to the Constitution. 
The amendment would allow Congress and state legislatures to regulate and limit political contributions and spending for campaigns, elections and ballot referendums. It also would also give states the ability to differentiate between people and organizations, and give states the ability to prohibit spending from "artificial entities," a nod to the 2010 Citizens United v. Federal Election Commission Supreme Court decision.
A report released by American Promise highlighted the political forces that are expected to wade into Pennsylvania's 2022 elections, with the Senate Leadership Fund, Senate Majority PAC, National Republican Senatorial Committee, Democratic Senatorial Campaign Committee and The Lincoln Project at the top of the list due to their spending activity in recent elections. 
Bill Cortese, the executive director of American Promise, said the amendment could help undo the effects that the Citizens United decision has had on politics across the nation and limit the influence of dark money in the state. 
"Pennsylvania is not a playground for billionaires or the D.C. consulting class," Cortese said. "Pennsylvanians deserve to determine who leads their state and who they send to Washington."
The proposed amendment is also supported by David Black, the former president & CEO of the Harrisburg Regional Chamber and CREDC, and Jennifer Mann, a former Democratic state representative from Allentown. 
Schroeder's resolution has not been formally introduced, but she circulated a letter on Tuesday asking her colleagues to co-sponsor the measure, which is expected to be introduced in the coming weeks. A spokesperson for House Republicans did not immediately respond to a request for comment.