News & Politics
House GOP offensive against Krasner advances as members named to committee
The panel includes three Republicans and two Democrats.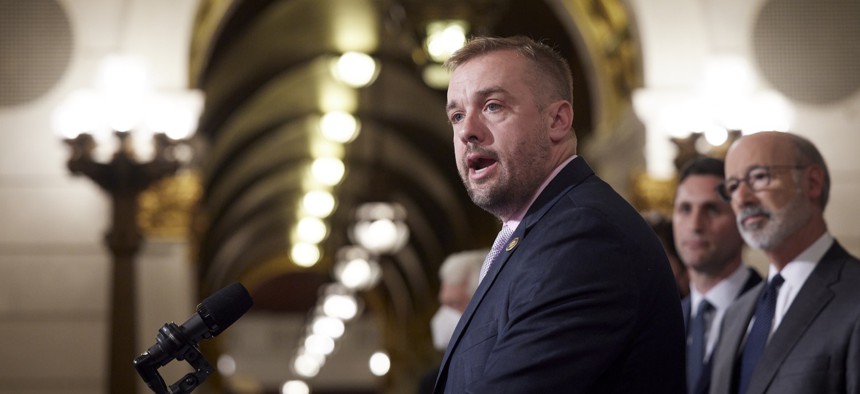 House Speaker Bryan Cutler on Monday announced the members of a newly formed legislative committee tasked with investigating rising crime in the city of Philadelphia – complete with subpoena power that could ultimately recommend whether or not state lawmakers should begin impeachment proceedings against Philadelphia District Attorney Larry Krasner. 
Cutler said in a statement Monday that the following members were named to the panel: state Reps. John Lawrence, a Republican from Chester County who will chair the committee; Wendi Thomas, a Republican from Bucks County; Torren Ecker, a Republican from Adams County; Amen Brown, a Democrat from Philadelphia; and Danilo Burgos, another Philadelphia Democrat. 
"This bipartisan group of lawmakers understands that what residents and visitors of Philadelphia are currently experiencing must change," Cutler said in a statement. "I am confident these members will work together to find solutions and hold those in power accountable for allowing crime in Philadelphia to reach the levels they have today."The panel was formed in late June with the passage of House Resolution 216, which created the five-member committee – known as the Select Committee on Restoring Law and Order – as part of an effort to investigate crime and determine whether state lawmakers should take any steps to try and reduce crime rates in the state's largest city. 
Under the resolution, the committee may recommend new laws and policies, and may even recommend impeachment of public officials up to and including Krasner. 
Last month, three Republican lawmakers announced their intention to introduce articles of impeachment against Krasner, citing rising homicide rates in the city. Philadelphia, which recorded 562 homicides in 2021, has already seen 283 murders this year, according to data from the Philadelphia Police Department. Democrats have labeled the effort as a political stunt that would disenfranchise voters who overwhelmingly voted to reelect Krasner in 2021. 
Jessica Brand, a spokesperson for Krasner's campaign, dismissed the committee outright as a distraction by Republicans. "This is a farce of a committee in a farce of an investigation put out by legislators to detract from the fact that they won't pass gun reform, won't pass a budget that adequately invests in communities, and instead are spending their time attacking democracy, the rights of women, and the rights of LGTBQ+ communities," Brand said. "We shouldn't pretend like it is anything else."