News & Politics
Polls: Fetterman is beating Oz in the Senate race
Fetterman holds a double digit lead in polls conducted by Fox News and a national super PAC.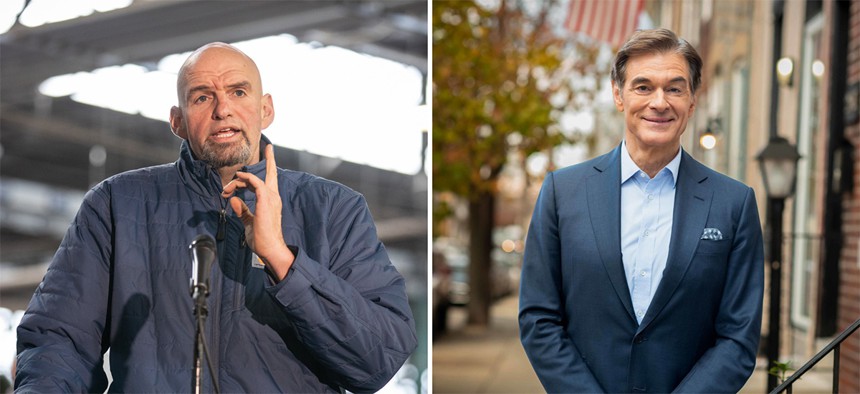 John Fetterman may have been off the campaign trail over the last two and a half months, but his absence doesn't appear to have done much to hurt his standing in the polls, according to a new survey. 
The poll, from Center Street PAC, which bills itself as a "nonpartisan political action committee focused on promoting rational governance and combating extremism," shows Fetterman with a 14-point lead over Dr. Mehmet Oz, the celebrity physician known for his talk show who was elected as the state's GOP nominee in May. 
Fetterman has support from 52% of likely voters, according to the poll, while Oz has the backing of 38% of likely voters in this November's election. However, 10% of voters remain undecided.
Matt O'Brien, the co-founder of Center Street, said the poll is bad news for Oz and his chances of winning in November. "If I were a Republican donor, I would think twice about putting significant dollars into this race," O'Brien said in a statement. "Even showing a huge lead for Fetterman, if anything, this poll understates his advantage. Barring some black swan event, Oz has no chance to win."
Jacob Perry, the other co-founder of Center Street PAC, pointed to Oz's favorability numbers, saying they present a particular challenge for the Republican nominee. According to the super PAC's survey, 53% of registered voters disapprove of Oz, compared to 32% who disapprove of Fetterman. "It's not just that Pennsylvania voters prefer Fetterman. Despite almost all of them knowing who Dr. Oz is, they don't like him," Perry said. "With those numbers, it's hard to see where Oz could pick up votes, particularly against an equally well-known opponent with such strong favorability."
The poll surveyed 1,206 adults on July 29, and has a margin of error of +/- 3%. Campaign spokespeople for Oz and Fetterman did not respond to requests for comment for this story. 
The Center Street survey follows a recent poll from Fox News which also showed Fetterman with a double-digit lead over Oz. That poll, which was conducted in the second half of July, found Fetterman with a 47% to 36% lead over Oz. That poll similarly found that approximately 11% of voters were undecided, and that 3% of respondents plan to vote for Everett Stern, an independent. 
The Fox News poll, which surveyed 908 Pennsylvania voters from July 22 to July 26, had a margin of error of +/- 3%.