News & Politics
John Fetterman and Mehmet Oz appear to be at odds over Inflation Reduction Act
Democrats' climate and inflation reduction package draws a mixed response from Senate hopefuls.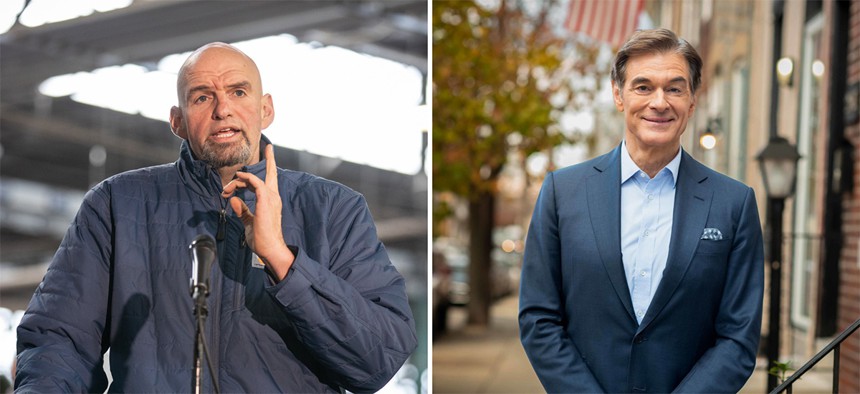 Democrats in the U.S. Senate passed a sweeping climate, health care and deficit-reduction package over the weekend – overcoming an evenly-divided Senate thanks to a tie-breaking vote from Vice President Kamala Harris. The measure would invest $300 billion in deficit-reduction efforts, allow Medicare to negotiate prescription drug prices and incentivize clean energy projects.
The ripple effects of the weekend vote are already being felt in the Keystone State, with incumbent lawmakers and Senate hopefuls weighing in on how the bill will impact Pennsylvanians. 
Pennsylvania's two top senators were split on the measure, with Democratic Sen. Bob Casey voting in favor of the bill, saying it will "lower health care and energy costs for families," while Republican Sen. Pat Toomey said the bill could worsen inflation, rather than alleviate it, calling the package "another partisan tax-and-spending spree."
The legislation, known as the Inflation Reduction Act of 2022, contains elements designed to reduce the national deficit, cap out-of-pocket Medicare costs at $2,000 and reduce greenhouse gas emissions. The measure would also levy a new 15% tax on billion-dollar corporations, according to multiple analyses of the bill prepared by Senate Democrats. 
Even as the bill awaits action in the U.S. House, it has already become a topic of conversation in Pennsylvania's U.S. Senate race. Democrat John Fetterman, the state's lieutenant governor, supports the omnibus bill, and Republican Dr. Mehmet Oz has said he has concerns about it. 
In a statement following the Senate vote, Fetterman called the measure a "common-sense proposal" that will benefit working Pennsylvanians. 
"This critical bill will reduce the budget deficit, make health insurance and prescription drugs cheaper, make sure that massive corporations actually pay their fair share of taxes, make huge strides in dealing with climate change, and invest in more American energy across the board," Fetterman said. 
Fetterman also cracked a joke at the expense of Sen. Joe Manchin, a moderate Democrat whom Fetterman has criticized for being too moderate. "Thank you to Joe Manchin – who I have always been a fan of and have never once criticized," Fetterman said, tacking on a winking emoji at the end of the statement.
Oz hasn't been as receptive to the passage of the legislation. His Senate campaign did not respond to multiple requests for comment about whether he supports or opposes the bill. But Oz told WPXI last week that he has some concerns about the proposal. 
"I am concerned about some of the things that are written in the bill that I saw a very early draft of," Oz told the Pittsburgh-based TV station. Oz also said he would support legislation that increased natural gas production in the state, WPXI reported. 
Other Pennsylvania Republicans, such as U.S. Reps. Guy Reschenthaler and John Joyce, ripped the proposal, saying it will worsen inflation and prove harmful to American manufacturers. 
In a statement, House Speaker Nancy Pelosi, a Democrat, said the U.S. House "will return and move swiftly to send this bill to the President's desk."