News & Politics
PA pols react to Senate passing sweeping health care, climate and deficit-reduction bill
The estimated $740 billion package passed Sunday looks to tackle drug costs, greenhouse gas emissions and more.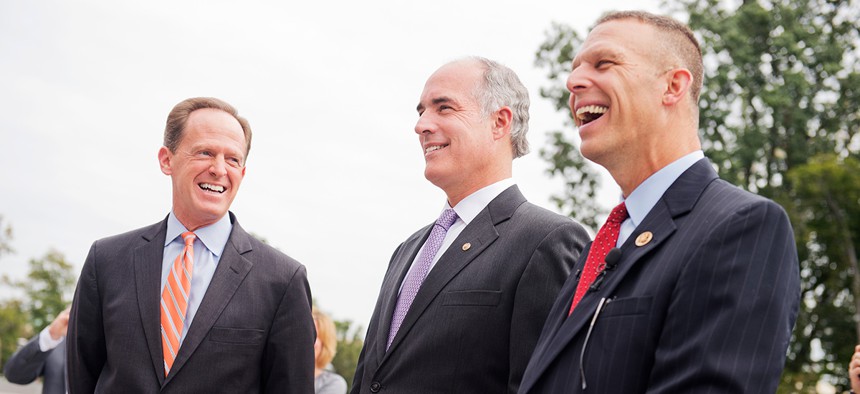 Along a party-line vote, the U.S. Senate passed an estimated $740 billion package Sunday that seeks to combat climate change, lower health care costs and reduce the federal deficit. As the sweeping bill package moves to the House for final approval, Democrats and President Joe Biden have now moved a centerpiece of their economic agenda forward after it was declared dead numerous times. 
Vice President Kamala Harris was the deciding vote in the deadlocked Senate, where no Republicans supported the legislation, now known as the Inflation Reduction Act of 2022. With many projections and polls showing a potential tough outing for Democrats in the upcoming midterms, the compromise package – which included a breakthrough deal with Sens. Joe Manchin, a Democrat from West Virginia, and Krysten Sinema, a Democrat from Arizona – could be a selling point for party leaders in November. At the same time, Republicans like Sen. Pat Toomey are calling out the legislation as "corporate welfare" that "does nothing to alleviate the inflation tax Americans are feeling every day." 
Below are reactions from some of the commonwealth's most prominent politicians – and a few others – who offered a range of thoughts on the bill and how it will affect the nation's economy on the verge of a recession. 
Gov. Tom Wolf
As families struggle with soaring prices and temperatures, I applaud @POTUS and Congressional Democrats for taking action.

The Inflation Reduction Act would help return stability to our economy and tackle climate change at a historic magnitude.

I urge Congress to act swiftly.

— Governor Tom Wolf (@GovernorTomWolf) August 5, 2022
Sen. Pat Toomey
With inflation skyrocketing, gas prices at near-record highs, and our economy likely in a recession, the last thing Americans need are more corporate welfare, higher taxes, and more government spending.

— Senator Pat Toomey (@SenToomey) August 7, 2022
Sen. Bob Casey 
Between the infrastructure law, CHIPS+ and now the Inflation Reduction Act, @SenateDems have passed legislation that will boost our economy and create jobs in our infrastructure, supply chain, domestic manufacturing and clean energy sectors. @POTUS's agenda is delivering for PA.

— Senator Bob Casey (@SenBobCasey) August 7, 2022
Lt. Gov. John Fetterman
Woo hoo!

Senate Democrats came together around Common Sense legislation

The Inflation Reduction Act will:

✅ Start reducing inflation
✅ Drive down costs (inc. drug costs)
✅ Cut the red tape to Make More Sh*t in America
✅ Reduce the budget deficit

➕ a whole lot more

— John Fetterman (@JohnFetterman) August 7, 2022
U.S. Rep. Susan Wild
My thoughts on the Senate passage of the Inflation Reduction Act pic.twitter.com/0t9rhCHUDO

— Rep. Susan Wild (@RepSusanWild) August 7, 2022
U.S. Rep. Guy Reschenthaler
Congressional Democrats are pushing a massive tax-and-spend proposal that will crush Americans already struggling under record-high inflation.

Cutting wasteful spending would ease inflation.

Spending more money will only make it worse.

— Rep. Guy Reschenthaler (@GReschenthaler) August 6, 2022
U.S. Rep. John Joyce
Senator Schumer's spending-spree legislation includes over $350 billion in new taxes on American manufacturers and workers, just as our economy is entering a recession. This is clearly not what Pennsylvanians need right now.

— John Joyce, M.D. (@RepJohnJoyce) August 3, 2022
U.S. Rep. Brendan Boyle
Today is a big day for and indeed the
I look forward to voting for this historic package in the House this week. #InflationReductionAct https://t.co/gCfS0wr5L7

— US Rep Brendan Boyle (@RepBrendanBoyle) August 7, 2022
Republican Congressional Candidate Guy Ciarrocchi
.@RepHoulahan & Pelosi, #Biden take the #GreenNewDeal (which only the far-left support) rename it #InflationReductionAct & add-in hiring 87,000! #IRS agents. Then, they expect us to believe that more Agents + Billion$$ more, and punishing oil & gas production fights #Inflation?‍♂️ pic.twitter.com/dGPnlVXj6d

— Guy Ciarrocchi (@guyciarrocchi) August 5, 2022