U.S. Congress
Matt Cartwright to shell out six figures on two new TV spots
His opponent, Republican Jim Bognet, released an ad of his own this week ahead of a visit from Joe Biden.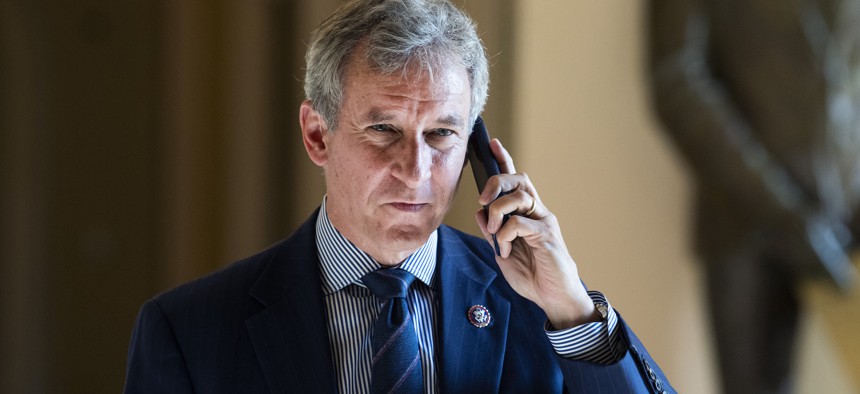 As U.S. Rep. Matt Cartwright and Republican challenger Jim Bognet continue to trade shots in the race for Pennsylvania's purple 8th Congressional District, Cartwright's reelection campaign will spend six figures touting his ties to his district in two new TV ads over the next week, his campaign told City & State. 
In one ad, a U.S. Marine Corps veteran named Sam praises Cartwright over the incumbent congressman's commitment to veterans, while the other ad looks to develop a contrast between Cartwright and Bognet. Cartwright's campaign declined to disclose exactly how much he spent on both.
In the latter ad, Cartwright criticized Bognet over his past as a political operative, looking to frame Bognet as an outsider. 
"Marion and I have lived in northeastern Pennsylvania the last 34 years. We raised our family here," Cartwright says in the 30-second spot. "That whole time, my opponent wasn't here. He was off being a lobbying executive, pushing tax cuts for the rich, cuts to Medicare and Social Security."
Whether it's veterans, seniors, or local business owners, Matt Cartwright will continue to be a fighter for our community and ensure we continue to have a voice in Washington.
- David Early
Bognet's campaign pushed back against characterizations that he was a lobbyist, and ripped into Cartwright over a commercial where the congressman praised a major donor's law firm, which featured remarks from Cartwright that were used without the congressman's consent. The ads were later taken down.
"With how much money Cartwright has taken from lobbyists in this election you would think he would be able to tell who was a lobbyist and who was not, because Jim Bognet has never been a lobbyist in his life," said Bognet campaign manager Joe Desilets. "It's rich that a corrupt Congressman who was just exposed in a scandal where he was selling his office and position to his largest donor and supports taxes on Social Security benefits would throw out these ridiculous claims and lies about Jim."
A spokesperson for Cartwright said the ads underscore Cartwright's relationship with NEPA voters. 
"Northeastern Pennsylvanians know how Matt has always stood up for those who need it most and that he works for us," said David Early, a spokesperson for Cartwright's campaign. "Whether it's veterans, seniors, or local business owners, Matt Cartwright will continue to be a fighter for our community and ensure we continue to have a voice in Washington."
The ad buy comes as President Joe Biden visits northeastern Pennsylvania this week, where he is scheduled to deliver a speech at Wilkes University's Marts Center on Tuesday, and a speech in Philadelphia on Thursday. 
In preparation for Biden's visit, Bognet's campaign released an ad of its own, ripping into the Biden administration over inflation, gas prices and the cost of groceries. In the ad, Bognet also touts his own connections to the district, reflecting on his high school football career in Hazleton. 
"Memories of northeast Pennsylvania end too often after high school. People leave and don't return," Bognet says. "Biden only made things worse – inflation, groceries, gas. Today, everything costs more. I believe we can have a better future, and it starts with changing Washington."
Bognet's ad is airing on broadcast, cable and online channels, according to a release. 
Election forecasters at Politico have labeled the 8th Congressional District as a "toss up," while FiveThirtyEight believes Cartwright is "slightly favored" to win the 2020 rematch with Bognet. Internal polls conducted on the race show both candidates within single digits of each other. 
This story has been updated to include additional information about a commercial that used footage of U.S. Rep. Matt Cartwright.