Elections
Pennsylvania state House races to watch
Several races in the November election could decide the fate of the General Assembly under a new administration.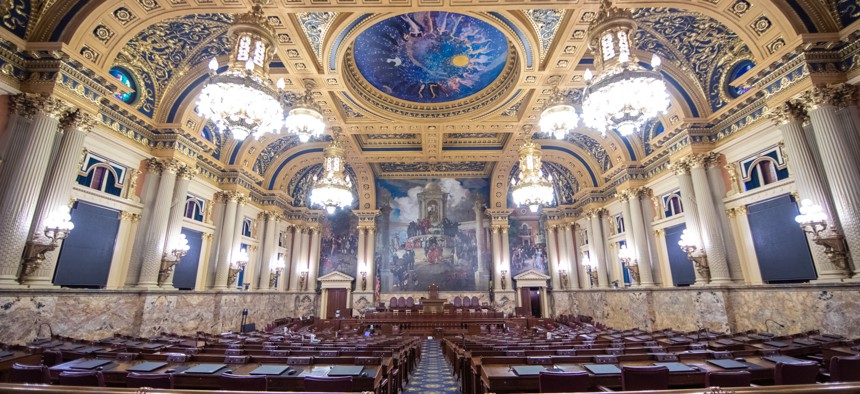 The nation's eyes are on the commonwealth's high-profile, high-stakes races for the U.S. Senate, House and governor – but majority rule in Washington, D.C., and the executive mansion aren't the only things up for grabs in this year's general election. 
Republicans have held the majority in both chambers of the General Assembly since 2011. Prior to that, Democrats held a slim majority in the House from 2007 through 2010. As both parties jockey for power in Harrisburg, several races could have a major impact on the makeup of the legislature – and its relationship with a new governor. 
Currently, the GOP holds 28 of 50 Senate seats – with 21 Democrats and one Independent – while in the House, Republicans hold 113 of the 203 seats. As Democrats make a push to flip at least one of the chambers in November, the party has a lot of work ahead of it. Democrats would need to flip at least four Senate seats or 12 House seats in order to gain a majority in one chamber. However, after redistricting, new maps show Republicans with a narrow majority of 104 seats, based on voter makeup. 
With that in mind, City & State has highlighted several close races that could determine the fate of the 2023 General Assembly. And while the implications of each race won't be fully known until all the ballots are counted in November, the outcomes will give us the first glimpse of how the commonwealth's new district lines will affect its political makeup.
Check out some of these 15 House races to watch below: 
House Races:
3rd Legislative District: Ryan Bizzarro (Democrat) vs. Joe Kujawa (Republican)
Voter Spread, according to Dave's Redistricting: Dem +4.2
Redistricting shifted the Erie region districts around, but the 3rd district still looks to be the incumbent state Rep. Ryan Bizzarro's to lose. The Democratwill have to fend off Republican candidate Joe Kujawa, a former Millcreek Township supervisor. The district now includes all of Millcreek and Fairview Townships and is slightly more Democratic than the previous map. 
7th Legislative District: Tim McGonigle (Democrat) vs. Parke Wentling (Republican)
Voter Spread: GOP +5.2
What was once thought to be a matchup between sitting lawmakers has now turned into a toss-up election. Republican state Rep. Parke Wentling, who represents the 17th district, was drawn into the new 7th district, currently represented by Democrat Mark Longietti. But after Longietti announced earlier this year that he would not be seeking reelection, Mercer County Commissioner Tim McGonigle stepped up and won the Democratic nomination. 
Now, Wentling is looking to keep a seat for himself in Harrisburg and take one away from the Democrats in the more conservative-leaning district. The new 7th district stretches along western Mercer County from Shenango Township and the area surrounding Greenville. 
13th Legislative District: David Cunningham (Democrat) vs. John Lawrence (Republican) 
Voter Spread: GOP +3.6
State Rep. John Lawrence held off a challenger during the primary election, but with the new district lines, the general election could still be up in the air. David Cunningham of Highland Township has replaced Democratic nominee Chamir James on the ballot, officially kicking off his campaign in late July. 
The late start may be too much to overcome for Cunningham as he faces off against an incumbent who's held the seat since 2010. The district, which includes Chester County and surrounding rural areas, has a slight conservative lean, which should bode well for Lawrence as he looks to stay in his seat. 
30th Legislative District: Cindy Kirk (Republican) vs. Arvind Venkat (Democrat) 
Voter Spread: Dem +3.7
Dr. Arvind Venkat, an emergency room physician with Allegheny Health Network, has quickly become a popular candidate and gained a significant fundraising advantage in the bid to represent the 30th district. Venkat, a Democrat, is up against another health care professional: Republican Cindy Kirk, a UPMC nurse administrator and member of Allegheny County Council. 
The suburban Allegheny district runs along the Ohio River and Pittsburgh's North Hills. While the area used to be a Republican stronghold, with Trump winning by 5% in 2016, it has shifted toward Democrats, with President Joe Biden winning the district by 6% in 2020. 
Note: Current state Rep. Liz Misgorski was drawn out of the district and is now challenging state Sen. Lindsey Williams for the 38th Senate district seat. 
39th Legislative District: Andrew Kuzma (Republican) vs. Richard Self (Democrat)
Voter Spread: GOP +8.9
Two newcomers are vying for the 39th legislative district seat after Kuzma took down incumbent state Rep. Mike Puskaric in the primary election. Now Kuzma, an Elizabeth Township commissioner, will go up against Richard Self, who mounted a successful write-in campaign to earn the Democratic nomination.  
This area, represented by Rick Saccone for a decade, is strongly conservative. The new district has shifted north toward Upper St. Clair, including Elizabeth and Somerset Townships, as well as Jefferson Hills, Finleyville and portions of South Park. 
44th Legislative District: Valerie Gaydos (Republican) vs. Debra Turici (Democrat)
Voter Spread: GOP +1.1
Two-term incumbent state Rep. Valerie Gaydos will square off against Democrat Debra Turici in the general election. Turici is co-chair of the West Hills Women's Democratic Organization and a former leader of the Pennsylvania State Educator Association. 
The 44th district, encompassing communities around Moon Township just west of Pittsburgh, underwent slight changes during redistricting. New boundaries for the conservative district are scaled back from Ross Township and now include Leetsdale.  
88th Legislative District: Sara Agerton (Democrat) vs. Sheryl Delozier (Republican)
Voter Spread: GOP +4.0
State Rep. Sheryl Delozier, a Republican from Lower Allen Township, is seeking an eighth term in Harrisburg this November. She's pitted against Democrat Sara Agerton, a Dillsburg native and Mechanicsburg Borough councilwoman. 
Under the new maps, the 88th district includes Hampden Township, most of Lower Allen and the boroughs of Mechanicsburg, New Cumberland and Shiremanstown. The district remains competitive with a slight Republican lean. 
118th Legislative District: James Haddock (Democrat) vs. James May (Republican) 
Voter Spread: Dem +5.6
Residents of the 118th district will see a new representative during the next term after state Rep. Mike Carroll announced he would not be running for reelection. The two candidates battling for his spot are James Haddock, a Democrat from Pittston Township, and James May, a Republican from Ransom Township. Haddock serves as the Luzerne County Prothonotary and Clerk of Courts Manager, and as the owner of Haddock Rentals, while May is a former Army officer and chaplain who previously served as regional press director for the Department of Transportation. 
May narrowly lost his race for the 2020 state House against Democrat Bridget Kosierowski in the 114th district. With Kosierowski's new district shifted north and Carroll on his way out, this seat is up for grabs. The district has a Democratic lean, encompassing communities in Lackawanna and Luzerne counties.   
119th Legislative District: Vito Malacari (Democrat) vs. Alec Ryncavage (Republican) 
Voter Spread: GOP +5.1
Some fresh faces want to make a name for themselves in the 119th district race. Republican Alec Ryncavage, a cybersecurity business owner and Plymouth Borough councilman, is up against Vito Malacari, a Hanover Township resident and teacher in the Northwest Area School District. 
The winner will take over from state Rep. Gerald Mullery, a Democrat who is not seeking reelection. The district, which includes areas of Luzerne County southwest of Wilkes-Barre, has a Republican lean, which may not bode well for Democrats hoping to hold onto the seat. 
120th Legislative District: Aaron Kaufer (Republican) vs. Fern Leard (Democrat)
Voter Spread: GOP +3.7
Incumbent state Rep. Aaron Kaufer faces write-in candidate Fern Leard, who received enough votes in the May primary to earn the Democratic nomination. Leard, a Dallas Township resident, said she is a longtime advocate for health care and education. Kaufer, a Republican from Kingston, is seeking his fifth two-year term in Harrisburg. 
The slightly conservative district consists of parts of Luzerne County including the townships of Dallas, Exeter, and Kingston and the boroughs of Forty Fort, Luzerne and Wyoming. 
137th Legislative District: Joe Emrick (Republican) vs. Anna Thomas (Democrat)
Voter Spread: Dem +0.9
In the most tightly contested district in terms of voter spread, incumbent state Rep. Joe Emrick, a Republican from Upper Nazareth Township, is looking to hold off Anna Thomas, a Democrat from Bethlehem Township. 
Thomas, who was born and raised in Bethlehem Township in a family of Malaysian immigrants, served on the Bethlehem Area School District school board. In his newly drawn district, Emrick is dealing with a slightly Democratic-leaning area that includes Nazareth, Bethlehem Township, Palmer and Hanover. 
142nd Legislative District: Joe Hogan (Republican) vs. Mark Moffa (Democrat)
Voter Spread: Dem +5.4
Another seat up for grabs is in the 142nd district, where incumbent state Rep. Frank Farry is making a run for the state Senate. In his place for the GOP is Joe Hogan, a Middletown Township resident who worked for the late Congressman Mike Fitzpatrick and recently worked as program director for the Redevelopment Authority of Bucks County. His Democratic opponent is Penndel Borough resident Mark Moffa, a small media company publisher and a former Penndel Borough council member who lost his run for Penndel mayor last year. 
The new 142nd legislative district is slightly Democratic, covering all of Langhorne Borough, Lower Southampton Township, Penndel Borough and parts of Middletown and Northampton townships. 
143rd Legislative District: Shelby Labs (Republican) vs. Gwen Stoltz (Democrat) 
Voter Spread: GOP +4.7
State Rep. Shelby Labs, who upset incumbent state Rep. Wendy Ullman in 2020, will have to fend off a new opponent this time around. Labs, a Republican from Plumstead Township, will have to defeat another Plumstead resident to earn a second term in Harrisburg. Her opponent is Gwen Stoltz, a contract medical writer for physicians and educational organizations. 
The 143rd district includes the townships of Plumstead, Bedminster, New Britain and Tinicum, and the boroughs of Dublin, Perkasie and Sellersville. Despite still being a Republican-leaning district, Stoltz is looking to take the seat back into Democratic hands. 
144th Legislative District: Brian Munroe (Democrat) vs. Todd Polinchock (Republican)
Voter Spread: Dem +4.4
Incumbent state Rep. Todd Polinchock may have his work cut out for him in his pursuit of a third term in Harrisburg. Polinchock, a Republican from Warrington Township, is a retired Navy Commander and experienced realtor. He's up against a fellow Navy veteran in Democrat Brian Munroe. Munroe, who is also a former police officer, serves on the Warminster Township Board of Supervisors.   
The Democratic-leaning district includes Warminster, Warrington, Ivyland and part of New Britain Township. 
160th Legislative District: Catherine Spahr (Democrat) vs. Craig Williams (Republican)
Voter Spread: Dem +1.5
Having narrowly defeated a Democratic candidate in 2020, incumbent state Rep. Craig Williams has another fight on his hands during this election cycle. Williams, a Republican from Concord Township, is a U.S. Marine Corps veteran who beat Democrat Anton Andrew by fewer than 700 votes in the 2020 general election. Spahr, a senior transportation planner in the Delaware County Planning Department, won the Democratic nomination this time around after losing to Andrew in 2020. 
This district underwent some changes during redistricting as well: Its boundaries no longer include Kennett Square and instead push further north toward West Chester.