News & Politics
This week's headlines: The FBI confiscates Scott Perry's phone and Ron DeSantis is coming to Pennsylvania
Here is a roundup of the week's hottest political news.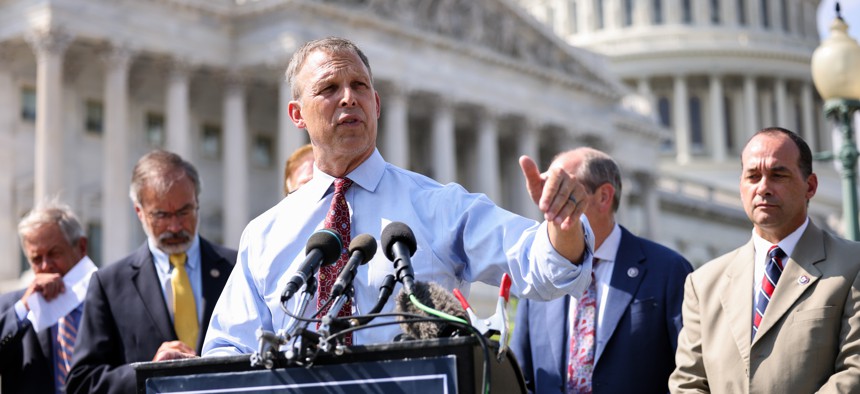 Who would have guessed that the FBI and Ron DeSantis would have become central characters in the state's political news cycle this week? It was a busy – and at times, shocking – week in Pennsylvania politics, a week that may have raised more questions about some of the state's major political players than it did answers. From U.S. Rep. Scott Perry having his phone taken away by the FBI, to Lt. Gov. John Fetterman returning to the campaign trail after an extended absence, keep reading for the week's top stories. 
Scott Perry has his cell phone confiscated by the FBI
It appears that the FBI has entered the chat. Just one day after raiding former President Donald Trump's Mar-a-Lago estate, U.S. Rep. Scott Perry revealed that FBI agents confiscated his cell phone on Tuesday while he was traveling with his family. Perry, who has garnered the attention of the January 6th Committee over his ties to former Deputy Attorney General Jeffrey Clark, said he was "outraged" by the action and said the phone contained personal and political information. "None of this is the government's business," he told Fox News. Speaking of the FBI, the bureau was reportedly in the state Capitol this week delivering subpoenas. It's shaping up to be an eventful midterm election cycle.
Ron DeSantis to stump for Doug Mastriano at Pennsylvania rally
One of the rising stars in the Republican Party will make a stop in Pennsylvania next week to stump for Pennsylvania GOP gubernatorial nominee Doug Mastriano. Florida Gov. Ron DeSantis will join Mastriano on Friday, Aug. 19 for a rally hosted by Turning Point Action in Pittsburgh. DeSantis has regularly been floated as a potential presidential candidate in 2024, and will lend some star power as Mastriano looks to defeat Attorney General Josh Shapiro in the general election this November. The event is part of a series of "Unite and Win" rallies being held across the U.S., with two more rallies set to be held in Arizona and Ohio. 
John Fetterman returns to the campaign trail 
John Fetterman is making an appearance at a public campaign event this week as he begins to ramp up his schedule after suffering a stroke in May. Fetterman made a stop at a Camp Hill fundraiser on Wednesday and is scheduled to appear at a campaign rally in Erie on Friday night. During his time off the trail, Fetterman frequently sparred with his general election opponent, Dr. Mehmet Oz, on social media. Fetterman went after Oz over his residency and ties to the state of New Jersey, where Oz lived prior to running for Senate in Pennsylvania. Oz, meanwhile, began to criticize Fetterman for taking too long to return to the campaign trail, unveiling a "Basement Tracker" that counted the days Fetterman went without holding a public event. 
Mastriano has brief meeting with January 6th committee
Mastriano, the state's Republican gubernatorial nominee, met virtually this week with the U.S. House select committee investigating the Jan. 6, 2021 attack on the U.S. Capitol, but the video meeting ended less than 15 minutes after it began, according to The Philadelphia Inquirer. The Inquirer reported that Mastriano will challenge the committee's subpoena, news that came after he and his attorney asked to record his testimony in full, a request that the committee denied. Mastriano attended a rally in support of former President Donald Trump the day of the Capitol attack, but he has stated that he did not enter the Capitol that day.