Campaigns & Elections
Freedom From Religion Foundation launches campaign to counter Christian nationalism in state politics
The Wisconsin-based organization wants to convince politicians that secular voters constitute a large and growing voting bloc.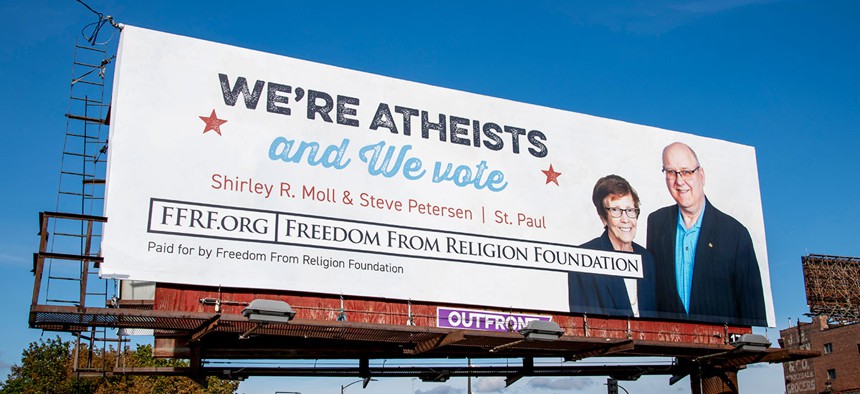 By Daniela Altimari
Growing up in the heart of the Bible Belt in central Alabama, Chris Nelson attended a Pentacostal church. He explored other denominations in college and later became a Lutheran.
But Nelson, 41, has fallen away from religion in recent years. He says he's grown alarmed by the rise of right-wing politicians whose embrace of a particular brand of conservative Christian beliefs has blurred the lines between church and state in Alabama. The legislature in 2019 passed one of the strictest anti-abortion laws in the nation. This year, lawmakers approved a measure that criminalizes transgender health care for minors.
"Alabama has a Republican super-majority and they tend to lean heavily on culture war issues and they couch it in religious language, which I guess plays well with their base,'' Nelson said. "They realize it's an easy way to influence people and win elections.''
Nelson is part of an organized effort to speak out against faith-based policies in the public sphere. The campaign is led by the Freedom From Religion Foundation, a Wisconsin-based non-partisan advocacy group that promotes secular values.
"We want government out of our bedrooms, out of our health care and we're tired of getting no representation,'' said Annie Laurie Gaylor, co-president of the foundation, which says it has about 38,000 members nationally. This month, the group funded dozens of billboards and newspaper ads in state capitals to highlight the political power of atheists. (Nelson's photo appears on one such billboard and in newspaper ads in Huntsville, Birmingham and Montgomery next to the phrase, "I'm an atheist and I vote.")
According to the Pew Research Center, 63% of Americans identified as Christian in 2021, down from 75% a decade ago. "Nones" – people with no religious affiliation – are among the fastest growing demographic, accounting for three in 10 U.S. adults, Pew found.
Mastriano is way out there. He's a pedal-to-the-metal Christian nationalist.
- Mark Silk
Despite the decline in church attendance, some conservative politicians have put forth the notion that the U.S. is a white, Christian nation. Their platforms often meld religious doctrine on matters such as abortion and LGBTQ rights with a belief in so-called QAnon conspiracy theories, along with false narratives about the COVID-19 pandemic and the 2020 election.
Christian nationalism, the belief Christianity is intrinsic to American civic life, is gaining ground with some Republican voters as well. A new survey by the University of Maryland's Critical Issues Poll found that 61% of Republicans supported declaring the U.S. a Christian nation, even though more than half believe such a move would be unconstitutional.
Doug Mastriano, the Republican nominee for governor of Pennsylvania, has called the U.S. a Christian nation and dismisses the separation of church and state as "a myth." Other political figures, such as U.S. Reps. Marjorie Taylor Greene of Georgia and Lauren Boebert of Colorado have voiced similar views.
"Mastriano is way out there. He's a pedal-to-the-metal Christian nationalist,'' said Mark Silk, director of the Leonard Greenberg Center for the Study of Religion in Public Life at Trinity College in Hartford, Connecticut. "Clearly, there are some pretty extreme things that are out there and the Republican Party in its Trumpist mode is playing in that sandbox. You've got to be a social conservative" to succeed as a Republican, he added.
The Freedom From Religion campaign aims to convince politicians that secular voters constitute a large and growing voting bloc, Gaylor said. 
"We wanted to take our message to the legislators in capital cities to remind them that we exist,'' she said.
Silk said he is not sure how much influence the ads will have. "Most people who are not going to church are not anti-religion, they're just checked out,'' he said. "These groups can heighten awareness but I haven't seen anything that suggests that this is something that moves the needle.''
'A Closet Rationalist' 
Ray Matthews, a retired librarian from Salt Lake City, considers himself a Republican in the mode of Abraham Lincoln, not former President Donald Trump. 
"I turned away from the party when they started embracing the religious right,'' said Matthews, a former Mormon who left the church in the mid-1990s. "I've always been a closet rationalist."
Matthews said he's troubled by the deep ties between state government and The Church of Jesus Christ of Latter-day Saints, Utah's predominant religion. More than 85% of state legislators are members of the church. 
"In our culture here, there isn't a strict separation between our religious life and our governmental life,'' he said. "White Christian nationalism is right beneath the surface here, but a lot of people don't recognize it."
Matthews worked to elect Republican Gov. Spencer Cox, who earlier this year vetoed a bill banning transgender athletes from competing in scholastic sports. (The legislature voted to override the veto.)
A longtime volunteer with the American Civil Liberties Union in Utah, Matthews said he agreed to join the Freedom From Religion Foundation campaign as a way to counteract the influence of the church over state policies. "The word 'secular' is blasphemy around here,'' he said.
The foundation's efforts aren't just focused on red states. "We're not in the Bible Belt,'' said Jack Shields, an atheist from New Hampshire whose photo appears on a billboard that hangs over a busy street in Manchester. "But Christians are sticking their nose under the tent."
Unlike Alabama and Utah, New Hampshire lawmakers have not passed new abortion restrictions. But Shields said he fears the wall between church and state is eroding, citing a 2021 state law allowing public money to go to religious schools.
"Christians are taking their moral sense of duty and imposing it on the rest of the population,'' he said.