Campaigns & Elections
Fetterman and Oz face off in their first and only debate of U.S. Senate campaign
The candidates traded attacks and outlined their stances on abortion, crime and a host of other issues.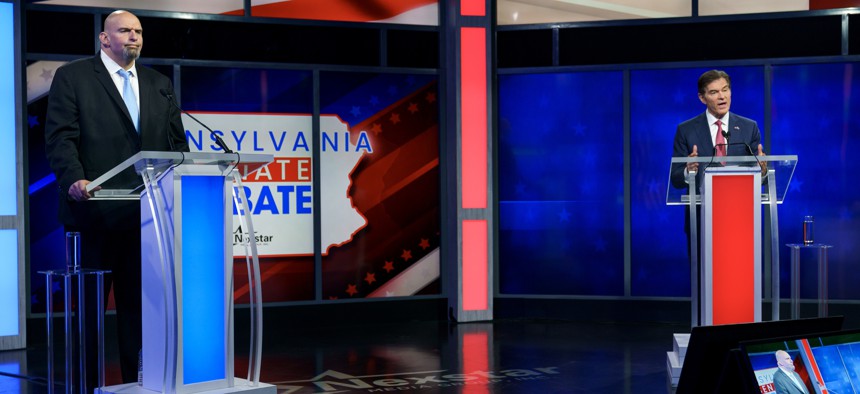 After months of attack ads and political posturing, Lt. Gov. John Fetterman and Dr. Mehmet Oz met for their first and only U.S. Senate debate – an opportunity seized upon by both candidates to make their respective cases to voters with just two weeks to go until Election Day. 
The hour-long debate, hosted by Nexstar and ABC 27, marked the first time the two nominees have met face-to-face for a debate, as well as the first time Fetterman has participated in a debate since suffering a stroke back in May. Fetterman used closed captioning to help him with lingering auditory processing issues – an accommodation that the Oz campaign agreed to beforehand.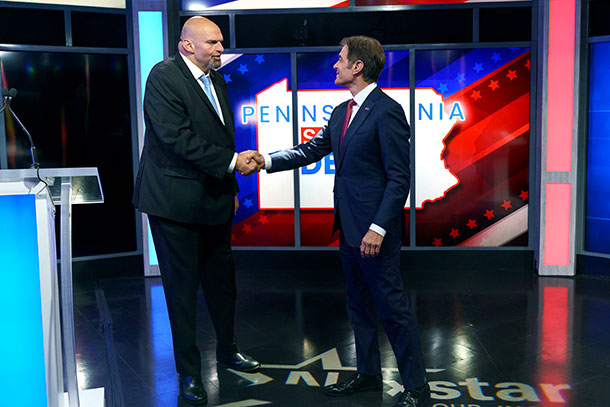 The two candidates immediately traded verbal barbs on stage, with Fetterman looking to portray Oz as wealthy and out of touch, while Oz framed Fetterman as too extreme on the issues. 
Both campaigns ended the night praising the performance of their candidates, as each looked to gain an edge heading into November. Here are some of the highlights from the night:
Answers on abortion
Tuesday's debate gave both candidates a chance to flesh out their positions on abortion, a topic that has been in the spotlight since the U.S. Supreme Court overturned its 1973 Roe v. Wade ruling that guaranteed a federal right to abortion access in June. 
Fetterman reiterated his support for women's reproductive rights. "Roe v. Wade should be the law," Fetterman said in response to a question regarding his stance on the issue. 
The lieutenant governor also said he would support using federal funds to help provide transportation to people seeking abortions.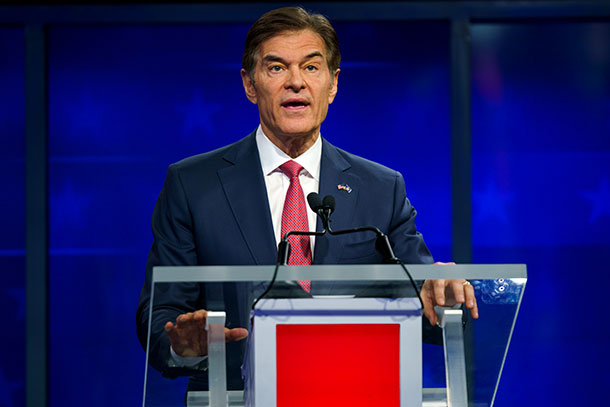 Oz, whom Fetterman has repeatedly pressed to answer whether he would vote on a federal abortion ban sponsored by U.S. Sen. Lindsey Graham, said he doesn't believe the federal government should have any say on the matter. 
He said conversations about abortion should be left up to "a woman, her doctor and local political leaders."
"There should not be involvement from the federal government," Oz said. "The abortion decision should be left up to states."
Crime and public safety
Oz has made combating crime a centerpiece of his Senate campaign and has attempted to paint Fetterman as an extremist, pointing to Fetterman's past support for criminal justice reforms as chair of the Pennsylvania Board of Pardons. 
Fetterman said he was motivated to run for mayor of Braddock to address gun violence, adding that he stands by his record: "I ran to be mayor back in 2005 in order to fight gun violence, and that's exactly what I did."Oz disagreed: "The city was dangerous under your leadership," Oz said, while also touting endorsements he has received from police unions. 
Fetterman's health
The status of Fetterman's recovery from his May stroke loomed large over the debate. In the leadup to the event, Fetterman's campaign sought to temper expectations, highlighting that Oz went into the debate with "a huge built-in advantage."
At times, Fetterman mixed up some words and hesitated before answering, which his campaign acknowledged after the debate. During the debate, Fetterman was asked whether he would release more medical records to prove his fitness for office.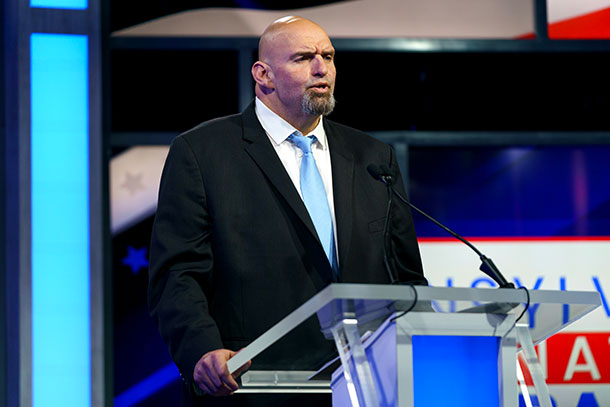 He didn't directly answer the question, but referenced a recent doctor's note released by his campaign, in which his physician said Fetterman is "recovering well" and has no work restrictions.  
"My doctor believes that I'm fit to be serving, and that's what I believe," Fetterman said. 
Following the debate, Fetterman spokesperson Joe Calvello praised his candidate's performance under the circumstances. "For a man who was in a hospital bed just several months ago," Calvello said, "he performed pretty damn well."
Oz moves to the middle
For someone who was endorsed by former President Donald Trump just months ago, Oz looked to portray himself as a candidate who will appeal to all Pennsylvanians and bring Democrats and Republicans together. 
"I want Washington to be civil again," Oz said early in the debate. "We need to be less radical."
"Washington keeps getting it wrong with extreme positions," Oz said, adding that he wants to bring "civility" and "balance" to the Senate. 
Fetterman's campaign challenged Oz's responses and quickly looked to frame Oz as a partisan on abortion, the environment and foreign policy. The Fetterman campaign also announced it will begin airing ads highlighting Oz's remarks on abortion beginning on Wednesday. 
Oz's campaign, however, tried to frame Fetterman as the extreme candidate. "Dr. Oz believes we need more balance in Washington and less extremism," said Oz spokesperson Barney Keller. "He is running to bring people together – Republicans, Democrats and Independents – to try to form consensus to get things done."