Campaigns & Elections
Pennsylvania's U.S. Senate debate, as told through tweets
A peek into the Twitter discourse surrounding John Fetterman and Mehmet Oz's first debate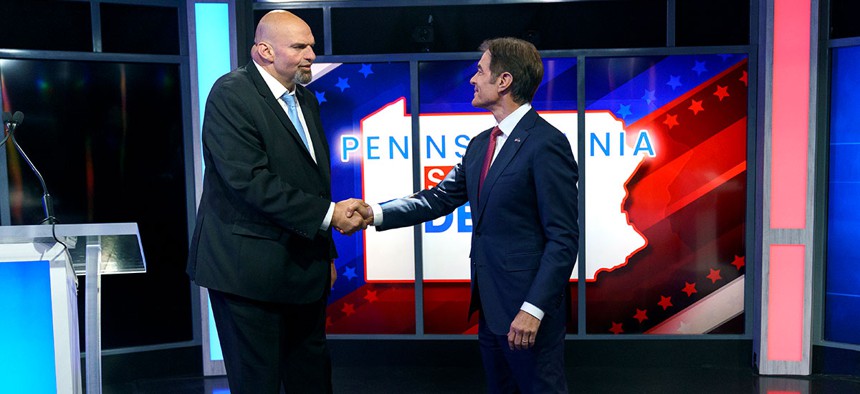 Tuesday night's U.S. Senate debate between Lt. Gov. John Fetterman and Dr. Mehmet Oz sparked plenty of chatter among politicos - with many of them raising questions about Fetterman's health and ongoing recovery from a stroke after watching and listening to the Democratic candidate speak haltingly and repeat phrases throughout the night. Others defended Fetterman and praised him for debating Oz just months after his stroke. 
Oz's performance also earned praise – and some detractors, as Democrats pounced on one of his answers, which resulted in a made-for-social-media moment that has already been turned into a negative ad. 
Twitter isn't real life – far from it. But if you need a quick refresher on the debate, or simply want to see what the Twitter discourse looked like in the aftermath, we rounded up 13 tweets that capture the reactions to the first, and likely only, debate between Oz and Fetterman. 
Fetterman opened the night by addressing what he called the "elephant in the room" – the stroke he suffered on May 13. "I might miss some words during this debate, mush two words together, but it knocked me down, but I'm going to keep coming back up," he said.
Joe Scarborough, the host of MSNBC's "Morning Joe," expressed concerns with Fetterman's debate performance.
Others, however, came to Fetterman's defense. Political strategist and commentator Ana Navarro-Cárdenas said Fetterman deserves credit for entering the fray despite his auditory processing issues. 
Ernest Owens, a journalist and CEO of Ernest Media Empire, said GOP criticisms of Fetterman's condition amount to ableism.
Others, like the conservative writer and commentator David French, argued that it's not ableist to question Fetterman's fitness for office. 
A lot of attention has been paid to Fetterman's stroke and his debate performance, but an answer by Oz on how to regulate abortion access drew scorn from Democrats. Oz said there "should not be involvement from the federal government" to regulate abortion, and suggested that abortion decisions should be up to "women, doctors (and) local political leaders."
The Fetterman campaign quickly announced they will run ads featuring Oz's debate comments. Fetterman campaign manager Brendan McPhillips added that within hours of the debate ending, the campaign raised $1 million.
Oz's answer may have also inspired a new Halloween costume. 
Both candidates were pressed on their past opposition to fracking, and in a rare moment of agreement between the two, they both said they support the practice in Pennsylvania. 
Oz criticized Fetterman for failing to address his past statements on fracking. The celebrity physician said he has been "consistent" on the issue, a statement that doesn't quite square with his past writings. 
The debate's moderators got some love from state Rep. Jason Ortitay on the social media platform. 
Nexstar, the organization that hosted the debate, defended itself against criticisms made by the Fetterman campaign regarding the closed captioning system that Fetterman used throughout the evening. 
There were a lot of Twitter reactions throughout the night, but Populism Updates ended the night with some humor, reminding us all, again, that Twitter isn't always representative of the average voter.