Capitol Beat
Kim Ward becomes first woman to be appointed president pro tempore of the state Senate
The Westmoreland County Republican will succeed Jake Corman after spending the past two years as the Senate's first female majority leader.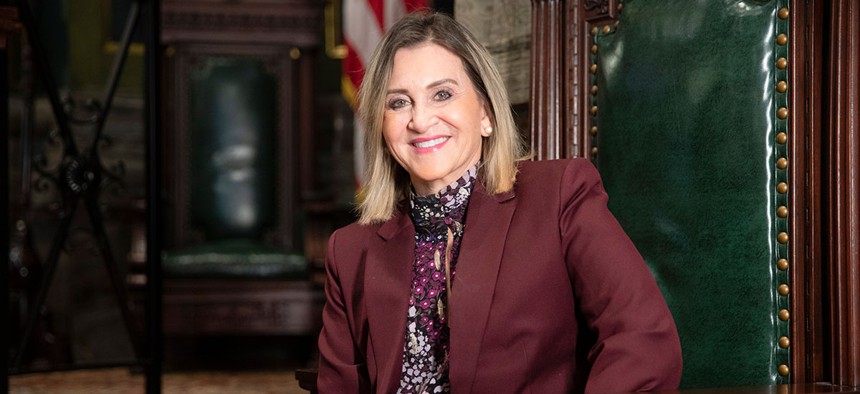 There's a shakeout on State Street.
Following a midterm election where the commonwealth elected its next governor and junior U.S. Senator, the changes occurring go well beyond the statewide races. 
Amid a series of retirements, reelections and upsets, the political makeup of the General Assembly will be more different than ever before. With the final votes still being tallied, lawmakers in Harrisburg began to recognize the shifts in power following the surprising returns in favor of Democrats and several new faces in party leadership. 
While both parties are still jockeying for control of the state House, Republicans held firm to maintain a majority in the state Senate. Longtime state Sen. Jake Corman is being relieved of his Senate President Pro Tempore duties as his time in the legislature comes to an end. Corman, a Centre County Republican who's served in the state Senate since his father retired from the same seat in 1999, is passing the torch to a successor who isn't new to breaking glass ceilings: state Sen. Kim Ward. 
Ward "is relentless. She works very hard," Corman told City & State. "She is good at asking people to help get things accomplished, which is important in politics and campaigns. You can't do everything yourself. You've got to be out there getting people to help work and she was always very good at that."
Ward became the first woman in state history to hold the position of Senate Majority Leader when she assumed that role more than two years ago – just two weeks after being diagnosed with breast cancer. The Westmoreland County Republican managed to handle the diagnosis and medical procedures even as she took on the leadership position during the pandemic. 
Ward said the transition was a "bigger challenge than I could ever imagine." In a matter of months, she underwent a lumpectomy, orchestrated the passage of the state budget, then had a prophylactic mastectomy and her ovaries removed. Throughout the entirety of the budget process in the spring and summer of 2021, she didn't miss a single day of work. 
The five-foot-tall lawmaker doesn't need a big physical presence to command a room, but a stool her fellow Republicans gifted Ward – inscribed "Senate Majority Leader Kim Ward – Shattering Glass Ceilings One Step at a Time" – certainly helps her garner more attention.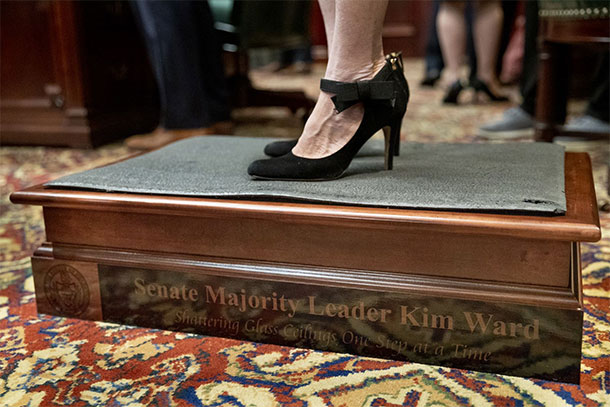 "For being smaller in stature, as far as height, she's very tough," Corman said. "If there's no other way, she would be happy to run you over if that's what it takes to achieve her goal. Don't look at that exterior and think, 'Oh, she's a sweet woman.' She's very skilled and very tough."
Ward's connection to Corman goes back to before her days in Harrisburg. She served as the Southwest regional director for then-U.S. Sen. Rick Santorum's 2000 reelection bid, whose campaign manager was Corman's mother, Becky Corman. More than two decades later, Ward has gone from working under Becky Corman to replacing her son as the Senate President Pro Tempore. 
"I hadn't really put those two things together, but it's been 22 years since I met Becky Corman," Ward told City & State. "She was a very good mentor when it came to a lot of political stuff."
Ward's introduction to the Corman family was just the beginning. After getting involved in Santorum's campaigns, Ward went on to win election as a Hempfield Township supervisor. From there, she triumphed in races for Westmoreland County Commissioner in 2007 and for state Senate in 2008, replacing former state Sen. Bob Regola on the ballot two months before the election.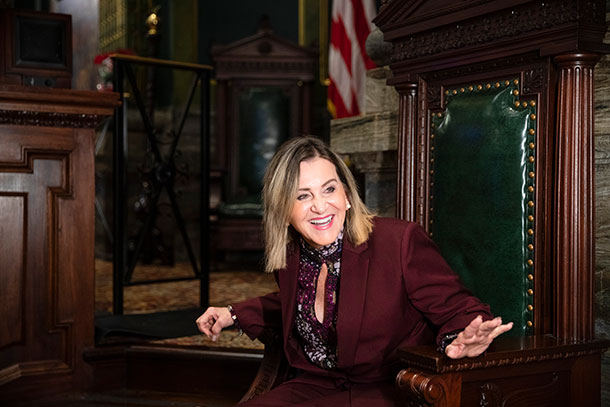 Once in Harrisburg, Ward's intensity and political prowess helped her quickly make a name for herself. She won reelection in 2012 by nabbing both the Republican and Democratic nominations, and by 2013, she was appointed to her first leadership position within the caucus.
Now, after more than two years in that role, Ward has had her fair share of surprises.  
"I didn't expect to have gray hair after just two years," Ward told City & State. "Working with the other side of the aisle has made a lot of this easier … the governor and I call each other and we always say we don't agree on a lot, but we are civil and we try to help each other and that has helped my members."
Ward said coming to an agreement on a variety of issues during this past year's budget negotiations was difficult, but that she gets bored if she's not doing something difficult. 
I'm not going to say I'm ever going to be quiet about policy because I can't.
– Kim Ward
The $45.2 billion state budget signed into law by Gov. Tom Wolf was historic in many aspects. Ward said the bipartisan approval to lower the corporate net income tax reduction and ban third-party election grants was a step in the right direction. Looking ahead to next year's legislative session, Ward said she expects the cost of living and election integrity to remain at the top of many lawmakers' lists. 
"It's really (incumbent) upon us to do what we can if it helps the people that we represent. They don't want us to be a lot like D.C, where they just say 'no' to everything. You can't do that," Ward said. "We need to do things that will continue to help our economy – like we did with the CNIT."
Corman said that while Ward did well in her role as majority leader, the duties of president pro tempore might suit her better. 
Majority leaders are tasked with overseeing their caucus, running everything from the session calendar and legislative agenda to floor debates and amendment discussions. The Senate President Pro Tempore, on the other hand, presides over the chamber, including the parliamentarian, chief clerk and all Senate employees.    
Ward is "a people person and she knows how to move pieces on the chessboard around very well. I think that's a lot of Pro Tem work because you have so much oversight over so many people," Corman said.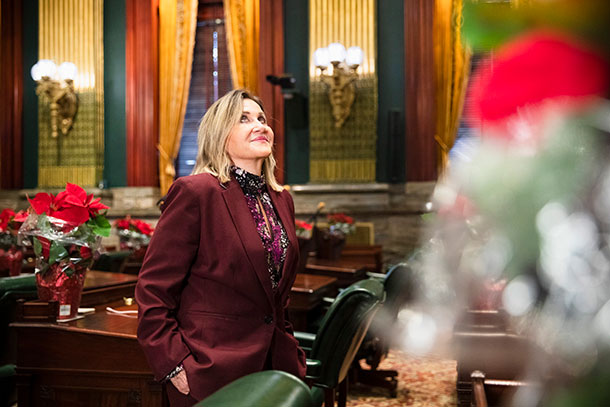 Charlie Gerow, a Republican political strategist, told City & State that there may not be any significant changes in terms of leadership style, but Ward's background may lend itself to being more cognizant of local governments' needs. 
"Corman kind of grew up in the Senate, whereas Kim Ward's background is in local government," Gerow said." I think that there are a significant number of people in local government that will be happy about that."
That local, hands-on approach is part of Ward's personality. Despite taking on a role that focuses more on management than policy, Ward said she won't let that stop her from voicing her opinion. 
"I'm not going to say I'm ever going to be quiet about policy because I can't," Ward said. "I'm going to ask the majority leader if I can have a student desk in his office."
When asked what she'd tell her younger self, Ward told this reporter that one can't be afraid to take risks. 
"I would say that you should never be afraid to do something. Sometimes, I've held back and I would say to people, 'don't hold back if you want to do something. Don't worry about if someone's going to say something negative or wonder if it doesn't work," she said. "I've gotten braver as I've gotten older and I'm not afraid to lose. I'm not afraid to get push-back."
Although Corman didn't have much advice for Ward as she steps into the role, he said that for anyone in government, patience is key. 
Corman said that he and Joe Scarnati, a former lieutenant governor – and once a state Senate President Pro Tempore himself – often used the phrase, "If you don't know what to do, don't do anything." 
"People have a tendency to react quickly to things and sometimes that reaction is not a positive one," Corman said. "An answer might not materialize today but it may materialize tomorrow. You just have to sort of allow for that patience and allow for things to unfold and not necessarily force them."
A lack of hesitation may be a good thing in some contexts. When asked what she learned from Corman, Ward said her biggest takeaway was Corman's willingness to build relationships and work with his party members.   
"Even if you don't agree with what someone wants to do, is trying to do, or perhaps is being unfairly tagged with by the leader, you still step up because you serve them and you help them," Ward said. "You just always need to be there for your members."