News & Politics
Josh Shapiro is sworn in as Pennsylvania's 48th governor
Shapiro promised to be 'a governor for all Pennsylvanians.'
Josh Shapiro took the oath as Pennsylvania's 48th governor on Tuesday, reflecting back on his rise to the governor's mansion while promising to deliver on campaign promises to strengthen education, improve public safety and unite a state that has been plagued by political division in recent months.
"With my feet firmly rooted in 'We The People' of Pennsylvania, with my heart open to others, and my eyes fixed ahead, I'm prepared now to do my part to move our commonwealth forward," Shapiro said in an inaugural address delivered on a cold, cloudy day in Harrisburg.
Shapiro's speech, which lasted a little over 20 minutes and took place on a stage built behind the state Capitol, recalled some of the biggest achievements of his career, but did so by shining a light on Pennsylvanians, rather than on policies. 
Speaking from the stage, Shapiro name-dropped several of his invited guests, like Tim Lewis, an employee at a construction firm who was the victim of wage theft and who got his money back after Shapiro, as state attorney general, charged the company with four counts of theft. 
Other guests on stage included gun violence prevention advocates, survivors of child sex abuse and the wives of fallen police officers. 
"I want you to know that you, the good people of Pennsylvania, will always be my North Star," Shapiro said. "I'm mindful of the fact that you shared those stories with me because you believe that I can make a difference for you."
Shapiro was also joined by his cabinet nominees and members of his senior staff, as well as public officials from around the commonwealth. Most of the state's living governors were in attendance, as were the state's row officers: Treasurer Stacy Garrity, Auditor General Timothy DeFoor and acting Attorney General Michelle Henry. 
A conservative Jew, Shapiro was sworn in on three Bibles – a personal family Bible that he has used in every swearing-in ceremony since 2005; a Hebrew Bible that survived a mass shooting at the Tree of Life Synagogue in 2018, and a Bible that was carried by Herman Hershman, a Philadelphia resident and a Corporal Technician 5th Grade, in World War II.
I want you to know that you, the good people of Pennsylvania, will always be my North Star.
- Gov. Josh Shapiro
He defeated GOP state Sen. Doug Mastriano in last year's midterm election for governor, winning by nearly 15 points and securing more than 3 million votes – a first for a gubernatorial candidate in the Keystone State. 
Shapiro will have an ally by his side in the state Capitol, as his running mate, former state Rep. Austin Davis, was sworn in as Pennsylvania's lieutenant governor Tuesday morning. By taking the oath of office, Davis became the first Black lieutenant governor in state history, as well as the youngest lieutenant governor in the nation.
Davis paid homage to some of Pennsylvania's Black elected leaders throughout history, and said that his historic accomplishment was "paid for by the blood, sweat and tears of those who came before me."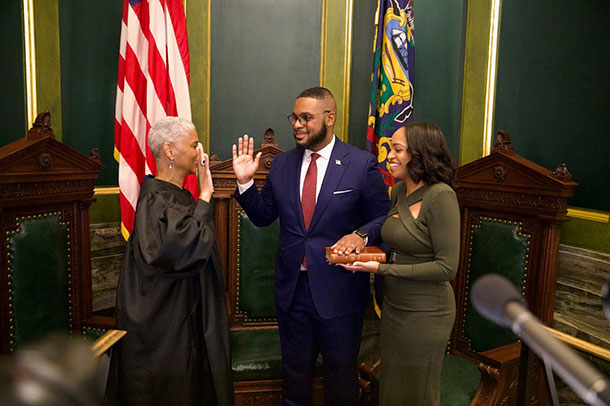 "I often say the people closest to the pain should be closest to the power," Davis said. "That's why, today, I have a message for every parent, working the night shift to give their child a fair shot, every small town kid looking for a path to make a better life for themselves, or anyone who feels unseen or forgotten, across our commonwealth. I say to you, that you are not alone, that I hear you and understand your concerns, because I've lived them, and that as your next lieutenant governor – I will be your champion."
Shapiro's swearing-in was acknowledged by leaders on all sides of the political spectrum. Pennsylvania State Education Association President Rich Askey pledged to work with the Shapiro administration "to make Pennsylvania's public schools the very best that they can be."
Shapiro allies at the Pennsylvania Budget and Policy Center, a progressive think tank, also welcomed new leadership in the governor's office.
"We are gratified that his inaugural address embraced many of the progressive ideals we and he have long championed," said PBPC Director Marc Stier. "We look forward to working in a collaborative way with him, with his administration and with the Democratic and Republican leaders of the General Assembly in support of these shared ideals."
As we look ahead, it is our hope that Gov. Shapiro governs under that same spirit and with a true willingness to find common ground.
- House Republican Leader Bryan Cutler
House Republican Leader Bryan Cutler said in a statement that if Shapiro lives up to his campaign promises, he sees room for bipartisan collaboration.
"As a candidate, Gov. Shapiro offered many policy proposals that provided a path to bipartisan accomplishment and real progress for our shared goals," Cutler said. "As we look ahead, it is our hope that Gov. Shapiro governs under that same spirit and with a true willingness to find common ground."
Shapiro took office Tuesday after spending six years as attorney general, where he led a groundbreaking investigation into abuse in the Catholic Church and prosecuted one of the largest prevailing wage theft cases in U.S. history. 
During his first term as attorney general, he became a vocal critic of President Donald Trump's administration, often challenging the former president's immigration policies, labor rules and other executive orders.
Shapiro takes office at a time when state government couldn't be more unpredictable.
The GOP-controlled state Senate started the new legislative session by passing a slate of constitutional amendments, most of which were opposed by Democrats. At the same time, lawmakers in the state House have failed to agree on operating rules for the new legislative session and have yet to pass any legislation after electing an unexpected candidate as speaker of the House. 
Shapiro is also facing questions about how transparent his administration will be when it comes to the gubernatorial transition process, which has been funded through private contributions.
But even as the 49-year-old politician readies himself for a role replete with challenges and difficulties, he's doing so with a sense of optimism and an eye toward the future. 
"In every chapter of this Pennsylvania story, we got better, we got stronger, we got more tolerant. Our story is one of progress and prosperity, and today, we come together under the banner of this new administration to write our next chapter," Shapiro said. "Only by setting the table of opportunity and inviting all to come and sit and partake, can we advance the cause of real freedom."