News & Politics
Ortitay, Cephas, Gaydos, named to Mark Rozzi's new bipartisan work group
Three Democrats and three Republicans have been picked to fix the gridlock in the state House.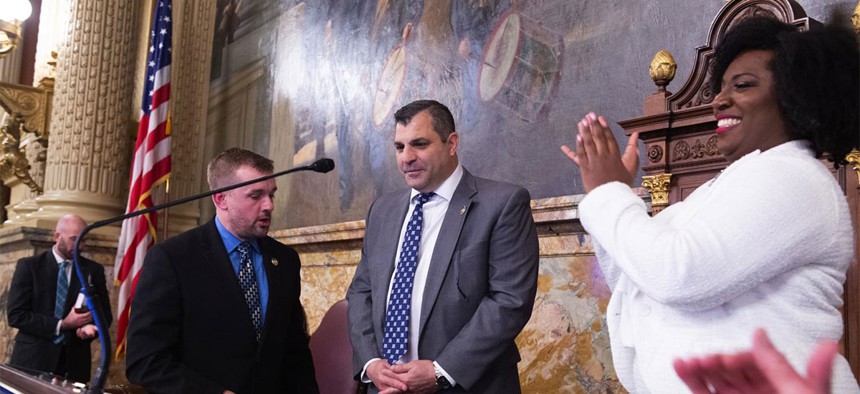 Pennsylvania House Speaker Mark Rozzi on Thursday named the six lawmakers who will comprise a work group aimed at fixing ongoing gridlock in the state House. 
The work group will be made up of six state representatives, including three Democrats and three Republicans, and will meet for the first time on Tuesday, Jan. 17 – the same day as Gov.-elect Josh Shapiro's inauguration. 
The three Republicans on the panel are state Reps. Paul Schemel, Jason Ortitay and Valerie Gaydos. Democrats Morgan Cephas, Peter Schweyer and Tim Briggs will round out the rest of the work group. 
Rozzi said the six lawmakers are tasked with "finding a bipartisan agreement" to end an ongoing impasse in the House over the chamber's operating rules and a proposed amendment to the state constitution. 
"Each member represents varying interests and regions in the commonwealth and has shown a commitment to principle over politics," he said in a statement. Rozzi noted that the work group does not include any members of legislative leadership, but said he hopes legislative leaders will continue negotiations. 
A spokesperson for House Democrats said the caucus is "hopeful that these discussions will yield the outcome necessary so that members will soon be able to return to the special session to finally provide survivors of childhood sexual abuse with a path toward justice."
Lawmakers were called back to Harrisburg for a special session this week to vote on a proposed constitutional amendment creating a retroactive window for child sex abuse survivors to sue their abusers. However, progress on the amendment stalled in the state House, prompting Rozzi to form the six-person group.
Rozzi said Thursday that the work group will "meet regularly until a path forward is reached."