Capitol Beat
Donna Bullock shares PA Legislative Black Caucus priorities for 2023
Police reforms, passage of the CROWN Act and raising the minimum wage are key goals this year.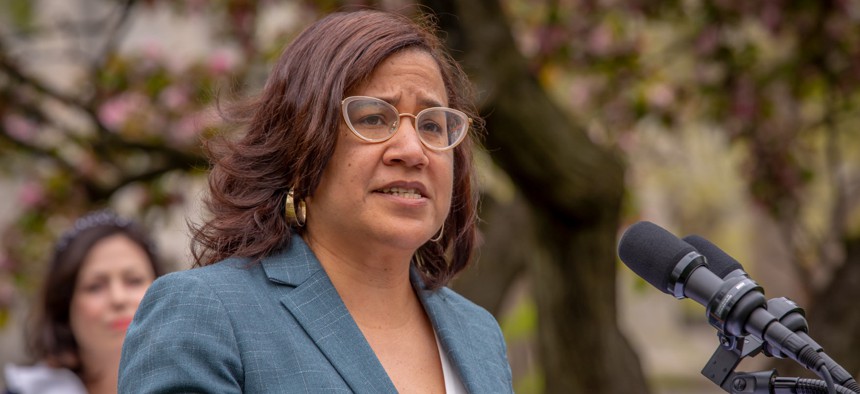 This year, the Pennsylvania Legislative Black Caucus celebrates its 50th anniversary, and does so with the largest and most diverse coalition of members in caucus history. 
The caucus now has 37 members, made up of lawmakers from different corners of the state – from major population centers like Philadelphia and Pittsburgh – to other cities and communities such as Harrisburg, Reading, Lancaster and Norristown. The group has also expanded the number of LGBTQ members and women that serve in its ranks – and PLBC Chair Donna Bullock says the overall growth of the caucus, both numerically, and in terms of diversity, is a step in "the right direction."
Bullock told City & State in a recent interview that the caucus intends to prioritize policing reforms in the new legislative session, and also hopes to garner support for legislation that would prohibit discrimination based on a person's hairstyle. 
That legislation, named the Creating a Respectful and Open World for Natural Hair Act, or CROWN Act, would prohibit such discrimination in schools and workplaces, Bullock said. She also highlighted a number of ideas – raising the minimum wage, expanding access to housing and addressing debt – that she said could help all Pennsylvanians. 
"We want to make sure that these folks can provide for their families, send their children to school, and live their best lives just like any other Pennsylvanian would want, but we also know that while many Pennsylvanians may be struggling with the same issues, the disparities are even more concerning and increased for Black Pennsylvanians," Bullock said.
The caucus was formally organized in 1973 by Democrat K. Leroy Irvis, who was the House Majority Leader at the time. The official formation of the caucus came after Black lawmakers initially began meeting in secret to discuss their legislative goals.
Ongoing gridlock in the state House will likely delay the consideration of the caucus' present-day priorities in Harrisburg, but Bullock noted that the growth of the caucus demonstrates that the state is making progress in sending more people of color to the General Assembly. 
She also highlighted the historic midterm elections of Austin Davis as the state's first Black lieutenant governor, and the election of Summer Lee as the commonwealth's first Black congresswoman. 
"Pennsylvanians are moving in the right direction, because it's Pennsylvanians who elected these folks, and I'm proud of that," Bullock said. "I'm proud of the fact that we are moving that needle forward. Do I think we need to do more? Absolutely. Having these folks in leadership now shows that we're ready to do that – and hopefully we'll continue on that path."