News & Politics
Malcolm Kenyatta makes school audits an early focus of the auditor general race
A decision to eliminate a school audit bureau could resurface in next year's auditor general race.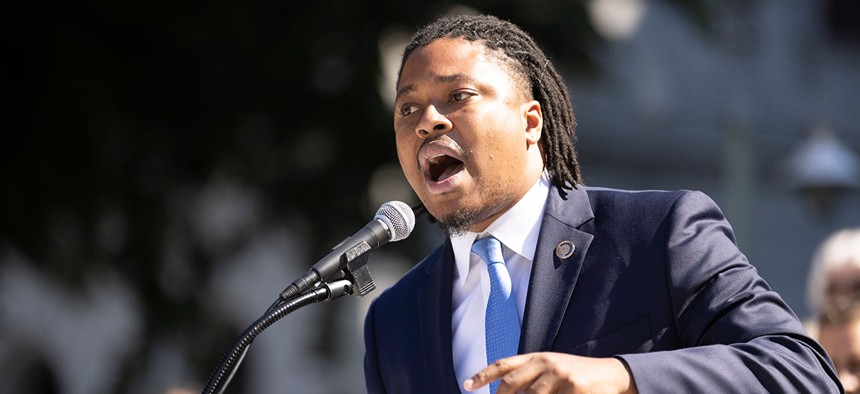 Pennsylvania's race for auditor general is officially underway, with state Rep. Malcolm Kenyatta seeking the Democratic nomination next year with hopes to challenge Republican Auditor General Timothy DeFoor in the general election. 
Kenyatta, who was unsuccessful in the state's U.S. Senate Democratic primary last year, called for new leadership in the office as he announced his campaign on March 9, and said he sees a chance for Democrats to flip the seat in their favor after losing it to Republicans in 2020. 
"We must take back the seat as Democrats, and I think we can," he told reporters at a press conference outside the Pennsylvania Capitol. "And I think I'm the guy to do it."
Kenyatta outlined a three-point plan for how he would run the office, which is tasked with auditing state and local government entities under the state's Fiscal Code. The Democrat said he wants to use the watchdog role to identify instances of wage theft and worker misclassification, while also leveraging the office's oversight powers to focus on improving health and safety throughout the state. "We can use this office to look at the ways big hospital nonprofits and big long-term care facilities utilize state dollars," he said. He also drew a stark contrast with DeFoor on auditing the commonwealth's schools and promised to re-establish a school audit bureau that was eliminated under DeFoor's administration.
In March 2022, DeFoor announced his office would eliminate its Bureau of School Audits, shifting the duty of conducting certain school-related audits back to the Pennsylvania Department of Education. 
The move concerned legislative Democrats, as well as the state's largest teacher's union. Last year, Rich Askey, president of the Pennsylvania State Education Association, wrote a letter to DeFoor explaining that following the decision to end the audits, "it is unclear who will perform them, how they will be performed, or when, if ever, they will be done."
Kenyatta stepped up his criticism of the school-audit decision upon entering the race: "It makes no sense that our auditor general is not auditing one of the biggest expenses that we appropriate every year out of this building. It makes no sense that we have nobody checking to make sure people driving our kids to school every day have the proper license, that folks who walk into our buildings have the proper credentials and background checks to be there," he said. "I will fix that problem."
We can use this office to look at the ways big hospital nonprofits and big long-term care facilities utilize state dollars.
– State Rep. Malcolm Kenyatta
At the time he announced the decision, DeFoor's office stressed that the audits being transferred back to the Department of Education "were not fiscal audits but limited to issues such as reimbursement for transportation costs, teacher and bus driver certification and fire/safety drill compliance."
His office also stressed that budget cuts and staffing issues led to the decision to close the bureau and shift the audits back to the department. 
According to DeFoor's office, the number of auditors in the bureau had shrunk from 120 in 2013 to fewer than 50. "Our department was performing these audits for decades on behalf of PDE," DeFoor said in a statement at the time. "There are several factors that led to this decision, but as we looked carefully at the work of our department one thing has become clear – we need our auditors to focus on the work we are required by law to perform." 
DeFoor's office did not comment on Kenyatta's criticisms and referred City & State to the March 2022 statement, in which the auditor general doubled down on the decision, saying the move will improve efficiency in the office.   "Since I took office in 2021, we have worked to transform the department to be more efficient and effective to better serve taxpayers and this move supports that effort," DeFoor said.