Interviews & Profiles
'Pragmatic progressive' Maria Quiñones Sánchez on finding her niche in a crowded Philly mayor's race
The former City Councilmember won four terms in office without support from Democratic party leaders.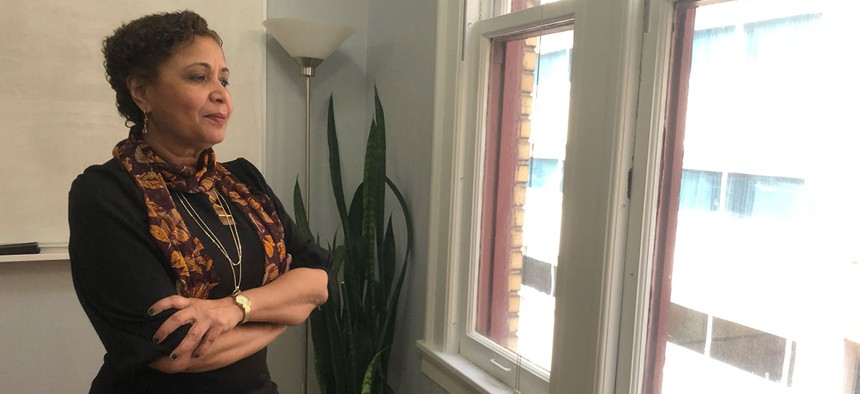 When asked about her "pragmatic progressive" label, Maria Quiñones Sánchez said, "I like the 'badass' one better."
At 54, Quiñones Sánchez recently overcame a battle with breast cancer. She said she is relying on her lived experiences as the difference maker in her run for Philadelphia mayor. 
"This is not a vanity campaign. This is not a philosophical exercise for me. This is what I live every day," she said during an exclusive interview. 
She announced in October 2021 that she was diagnosed with breast cancer and had undergone a mastectomy. At the time, she said, everyone thought the diagnosis would rule her out of this year's consequential mayoral race. 
"When I was going through my cancer situation, all the political pundits were texting me and saying 'oh, now you're out of the race.' I said 'no, it actually centered me more."'
The former City Councilmember from North Philadelphia's 7th District became one of the first candidates to resign and officially run, stepping down in September. Quiñones Sánchez – who was the city's first Latina legislator – would not only be the first female mayor in the city's history, but also the first person of Latino descent to hold the mayor's office. 
I feel very, very strongly – notwithstanding all the men in the race – that this is a time for a woman.
– Maria Quiñones Sánchez
Representing some of the poorest neighborhoods in the city, Quiñones Sánchez said she's the only candidate in position to address the on-the-ground struggles many residents are facing. 
"I lived in public housing. I grew up in North Philadelphia," she told City & State. "Really doing the grunt work in the neighborhoods – that uniquely puts me in a position to understand what our challenges are, but more importantly, what the opportunities are with them." 
Representing Kensington and largely underserved areas, Quiñones Sánchez, a Democrat, is used to not having the campaign funding or her party's backing that other candidates enjoy. 
"I got elected every single time without party support. And what the polls affirmed is that we can win every single Democrat demographic," she said. 
With more than a decade of experience in City Hall, Quiñones Sánchez said she's been working on behalf of her constituents in Kensington for years, while other candidates are just beginning to visit the neighborhood. She said beyond showing face, residents are looking for a mayor who can connect with them and recognize their strengths. 
"One of the reasons why I leaned into running is because I know that the only thing that's going to fix Kensington is strong leadership and a belief in the people that are there that they deserve better," she said. "People in North Philadelphia don't feel like folks downtown see them and see the hard work that they're doing … There's only a few of us in the race that could really manage that conversation and build the kind of trust."
Quiñones Sánchez made connections in North Philadelphia well before she ran for public office. She previously led the education nonprofit ASPIRA, which helped found the Eugenio Maria de Hostos Charter School, the city's first bilingual charter school. She then – like fellow Councilmembers-turned-candidates Cherelle Parker and Derek Green – got her start in politics under former City Councilmember Marian Tasco. 
She lost her first run for a Council seat in 1999 but won eight years later, defeating incumbent Daniel Savage without the support from the ward leaders in her district. From there, she established herself as a supporter of affordable housing and small business-friendly policies.   
Earning that "pragmatic progressive" name via her legislative record, Quiñones Sánchez said she wasn't "going to let the perfect be the enemy of the good." 
"I dont have the luxury of a bullhorn, where I can wake up everyday and decide what I want to scream about and what I have the moral authority on," Quiñones Sánchez. "I have a challenging district, so you have to be progressive but you also have to deliver every day."
Quiñones Sánchez has her work cut out for her if she is to persuade a significant portion of the city's progressive voters. Other left-of-center candidates such as former City Councilmember Helen Gym and former City Controller Rebecca Rhynhart will be battling for the same votes, and have already earned endorsements from the likes of labor unions and former mayors. They're also among the leading female candidates in a race that has partially centered around identity. 
Neil Oxman, a Democratic political consultant, told City & State that endorsements and identity may play a bigger role in this election given the crowded primary field. 
"I really believe no one is going to get to 30 (percent of the vote). You're going to win in the 20s so, yes, it all helps," Oxman said. 
Quiñones Sánchez recognized that, saying she believes it's time to see a woman leading the city. "I feel very, very strongly – notwithstanding all the men in the race – that this is a time for a woman," she said. "I think the city is ready to embrace that, as other large cities have."
–––
4 quick questions with Maria Quiñones Sánchez:
What is your stance on having an elected school board? No. I've run in a district that is pretty corrupt and without party support. The job of an elected board will require people to raise money and it would really concern me what special interests would be carried out within those elections. 
Would you consider a rent control system? No. I have some really good pilots around fix-rate housing. I think rent control in New York hasn't worked and we've seen the abuse. Fixed-rate housing is about providing predictability for the landlord and stability for the housing folks.  
Would you look to reform the soda tax? I'm a tax fairness girl. First of all, there is no energy about repealing it because of some of the work that's being done, but I do think the tax should be reviewed for fairness purposes. There's too many healthy options in there so it is no longer a soda tax, it is a beverage tax that is regressive. 
How would you prioritize getting the city back to 2 million residents? We are a day's drive from about 75% of the population in this country. If we build out our infrastructure and make it a walkable city and a safe city, then I think people are going to want to come here and continue to come here.